by Matthew Adams
During one summer, I took a holiday in the seaside town of Paignton. Paignton is one of three towns in Torbay alongside Brixham and Torquay. It is part of a supposed English Riviera that has miles of sandy beaches along its coastline, and some great coastal landscapes.
When visiting in late August I expected sunshine, but it rained for much of the week. It was not great weather for a trip to the seaside. Paignton has a number of beaches along its coastline such as Goodrington Sands, Broadsands Beach and Hollicombe Beach. Paignton Sands is the stretch of beach that includes Paignton Pier which I visited during a wet day in August. The pier includes an arcade, bingo hall, café, seafood and ice cream takeaways.
Dartmouth Steam Railway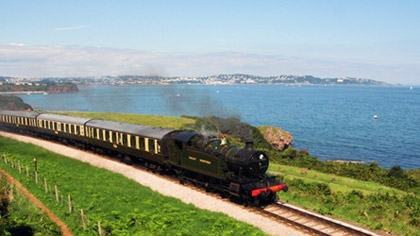 The Dartmouth Steam Railway is a preserved steam railway line that runs from Paignton through to Dartmouth. This is one of the few remaining U.K. steam railway lines which has a variety of rolling stock locomotives. Locomotives such as the 4277 Hercules, 7827 Lydham Manor and 75014 Braveheart run the 6.7 mile railway from Paignton to Kingswear.
This was something I couldn't miss in Paignton. From Paignton station I boarded one of the steam locomotives which passed Goodrington Sands Halt and Churston en route to Kingswear. The train passed the Saltern Cove and Armchair Rock, and then crossed over the Broadsands Viaduct. After crossing the Greenway Viaduct, the River Dart came into view on the just before the train stopped at Kingswear Station.
When I arrived, the station was packed out. This largely due to the annual Dartmouth Regatta. Consequently, I did not cross the River Dart into Dartmouth. One of the highlights of the Dartmouth Regatta is the Red Arrow displays. During one such display the Red Arrows flew over Paignton, and I spotted some fairly low flying aircraft from my hotel.
Oldway Mansion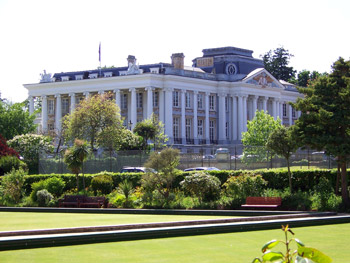 Among the more notable buildings in a Paignton is Oldway Mansion. This is a large 19th century building built in the same style of the Palace of Versailles. I visited the intriguing building in Paignton, which is something of an architectural landmark.
At the building's entrance is the grand staircase. Ornate paintings, partly based on the original design of the Versailles Palace, decorate the ceiling above the marble and bronze grand staircase. Also above the staircase hangs a reproduction of the Crowning of Josephine by Napoleon painting. The original is, as you probably guessed, on display in Versailles.
There are 17 acres of landscaped gardens around Oldway. The gardens strike upon an Italian theme, and contain various subtropical plants and shrubs. In addition, the grotto gardens include a waterfall that passes over a rocky cave into a pool below.
Torquay and Brixham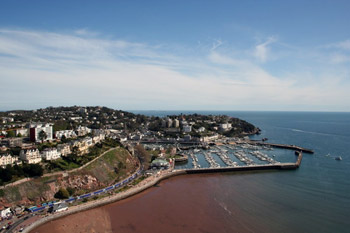 On the final couple days of my holiday the weather was a little better, and I went into two of the neighbouring towns. The first I visited was Torquay. Torquay is a town that includes exotic gardens along its seafront, Living Coasts, Kents Cavern, Babbacombe Model Village and Cockington Court which is about a mile away.
The historic building of Torre Abbey is also in Torquay. This restored building now includes painting and sculpture art exhibitions. Instead of going inside, I went into the Torre Abbey gardens. Outside Torre Abbey there is also Abbey Park. This is a picturesque seaside location that includes tennis courts and pitch & putt golf course.
Finally, I made the trip to Brixham aboard one of the regular boat crossings that run from Paignton to other towns in Torbay. Brixham is primarily a fishing port in Torbay with a rich maritime history. There you can board a replica of Drake's Golden Hind, and the Brixham Museum displays a variety of boat models within its galleries.
In Brixham I headed for the Royal Estate, otherwise Berry Head, which is a coastal headland nature reserve. Guillemots, Razorbills and Black-legged Kittiwakes seabirds flock to the coastal cliffs of Berry Head. At Berry Head there is also a promontory Napoleonic fortress which guarded the Torbay naval anchorage. The former artillery house now includes a display which provides further details on the fort.
After visiting Brixham, my holiday had finished. A week in Torbay certainly made for an interesting vacation. Aside from soaking up the sun on Paignton's beaches, soak up the history at Torbay's museums, steam railway, Oldway Mansion and Berry Head.

English Wine Tasting Tour to Sussex from London
If You Go:
♦ Dartmouth Steam Railway
♦ Berry Head
♦ Paignton Pier
♦ Paignton
♦ Brixham
Photo credits:
Paignton Beach and pier by Herbythyme / CC BY-SA
The Dartmouth Steam Railway by Geof Sheppard / CC BY-SA
Oldway Mansion by Ianmacm at English Wikipedia / Public domain
Torquay Harbour by averoxus / CC BY
About the author:
Matthew Adams is a freelancer that has produced a variety of articles for various publications and websites such as Swing Golf Magazine,TripAdvisor, Captured Snapshot, Coed Magazine the Washington Post and Vagabundo Travel. Matthew also has his own golf blog at: amateurgolfer.blogspot.co.uk