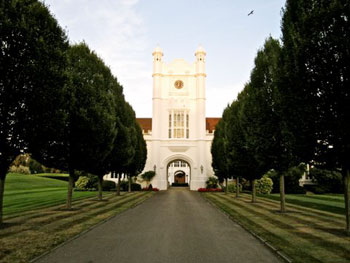 by Angela Allman
"Hi. We have a reservation for afternoon tea for two, please. At 4:45."
In my American ignorance, I thought afternoon tea simply referred to the hot drink of water and loose leaves, served with milk and sugar, when in fact, it does not. 'Tea' in Britain can also be used to refer to a meal, no matter how big or small.
Afternoon tea is a time-honored tradition in Britain, and this is my first proper tea experience. It is believed that the 7th Duchess of Bedford, Anna, started the fashionable trend in the 19th century. At the time, two meals a day were customary, morning and night. The Duchess began ordering tea and snacks to her room to ward off hunger and lift the afternoon 'sinking feeling'. She then began inviting her friends around, and the trend soon spread like wildfire throughout the country.
Today, it's not a regular practice but an occasional excuse to wear your most fashionable attire, where even the working class can behave like an aristocrat if only for a few hours, speaking in terms of oneself. For example, 'One should never slurp, but sip one's tea.'
I am wearing simple white linen trousers, a black tube top, and flip-flops. Stonie is in jeans and flip-flops also. Somewhere caught between our footwear and tattoos, we don't necessarily blend in at the Danesfield House, an award-winning, posh hotel and spa in the English countryside.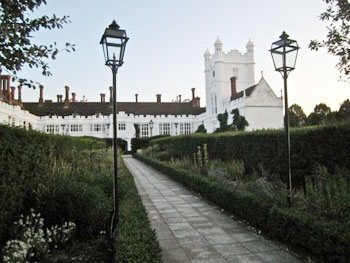 We are a bit early and have a chance to amble round the gardens. Pebble pathways weave like a labyrinth through trimmed hedges in varying shades of green. A fountain sits in the center with a cherub standing on top and the soft sound of trickling water. We watch a bride and groom looking out over the cliff, down to the River Thames. His arm wraps around her slender waist over the buttons elegantly running down the back of her lace dress. Their guests photograph them as they laugh and kiss in the late afternoon sun.
Our table is ready and we make our way back to the Orangery, an atrium-turned café, passing the white iron patio seating, bucket stands of champagne, and the sophisticates soaking in the Sunday rays. We enter the glass building and are ushered to our table. I sit down near the window, and Stonie sits across from me. The table is set with crisp white linens and a full set of cutlery, gently reflecting in the glass tabletop, and a menu laying on a black slate place mat. I open the menu. The top reads, 'At half past three, everything stops for tea.' We order two of the classics, Danesfield Afternoon Tea. Stonie chooses the Darjeeling tea, while I opt for the Ceylon.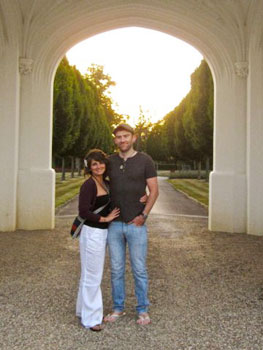 We sit back in our sleek armchairs and people watch through the windows. Our separate teapots arrive along with sugar cubes and milk in a sterling silver pitcher. I lift my teapot and pour it into my cup. The tealeaves come pouring out with it. I look over the table at Stonie, sheepishly, and see that he has made the same mistake.
"Amateurs," he says with a smile. We chuckle, dump our teacups back into the pot and try again with the mini strainer. I add milk and a raw sugar cube and stir.
"Now, you have to drink it like this," Stonie demonstrates, sipping his tea with thumb and three middle fingers gripping the delicate handle, pinky finger extended straight into the air. I laugh and mimic him.
Then a three-tiered platter is brought out. The top tier holds a heaping pile of scones, (similar to biscuits in the U.S.). The middle tier has two ramekins, one with strawberry jam and one with Cornish clotted cream. And the bottom tier has small rectangle sandwiches. Next to the tower is a platter of bite-sized desserts with a selection of tarts, brownies and cakes.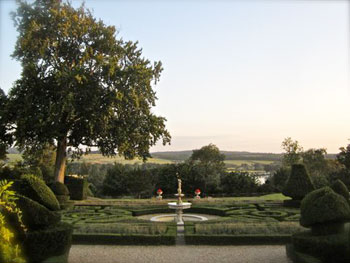 We start on the sandwiches. They're thinly spread with different fillings, like hummus, roast beef, and egg mayo. Frankly, I am not impressed. They're made with commercially packaged bread, crusts are cut off and only about 1/3 of the slice is used. I wonder what they do with the rest of the sandwich. If I'm going to pay £21 for sandwiches, I would like fresh bakery-worthy bread, not the Wonder bread my mom used for bologna sandwiches in my school sack lunch. However, this is traditional afternoon tea, and that's the way the sandwiches are made. Besides, I'm hungry.
We finish off the sandwiches and move onto the scones. I top up my tea. I've never had Cornish clotted cream. I ask Stonie, "Can you put the clotted cream and the jam together?" thinking I'd be breaking some unwritten teatime law.
"You can do whatever you like," he replies.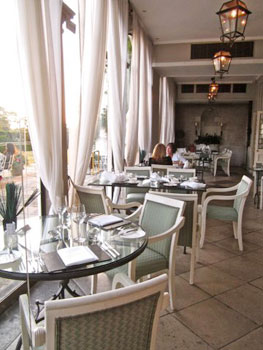 I cut a raisin scone in half and spread the jam first, then the cream. It's so thick, I use my finger to scrape it off the spoon and lick my finger clean. Not the best manners, I'm aware, but we've already broken so many other rules of etiquette.
The scones are absolutely delicious. Fresh and warm. There's a slight saltiness to the dough, a nice complement with the sweet cream and the jam. We have two scones each, and Stonie goes for a third. We don't talk. We simply revel in the gluttony. I'm filled up, but we're indulging ourselves. I start on a strawberry tart. Then a fudge brownie. Then a lemon cake. Stonie joins in on the desserts. I cut the lemon cake in half to share. He devours the piece in one mouthful. Fruit cake. Almond cake. Another tart. And then…
"I can't eat one more thing," I sigh, sitting back in my chair. Good thing I've worn loose-fitting pants, I think.
"Alright, I'll have the last scone," Stonie says, helping himself and finishing off the clotted cream. He's about to stick his finger in the ramekin to wipe it clean, a naughty gleam in his eye. He thinks twice and says, "If we were home, I'd lick it clean." He sets it down and eats the last scone with content satisfaction.
I refill my teacup one last time. By now, my tea is over-brewed and bitter. I have a few sips and decide against it.
Stonie asks for the bill, £21 each ($34). We leave completely satiated.
"Next time, let's go for the champagne tea," I say with a smile.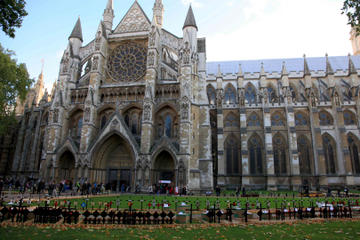 Highlights of London Walking Tour Including Afternoon Tea
If You Go:
More on the Danesfield House
♦ History: The property of the Danesfield House has a history of settlement and encampment of over 4,000 years, including nomadic tribes and Danish adventures, hence the name. The present house was completed in 1901, and was requisitioned by the Royal Air Force (RAF) during WWII, who set up an Intelligence unit. Photos can be seen within the hotel today of military business dealings, including Winston Churchill's youngest daughter, Mary Soames. The house became a hotel in 1991 and has won multiple awards.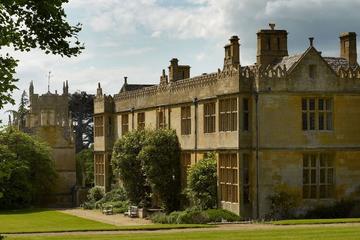 Cotswolds & Afternoon Tea at the home of an Earl from London
About the author:
Angela Allman is originally from northern California with a Master's Degree in Education and has lived around the world. She's an avid scuba diver and adores food, music, and napping. She now spends her time in English pubs, toasting pints to the blank page. You can view her travel blog here http://www.travelingange.com/
All photographs by Angela Allman.