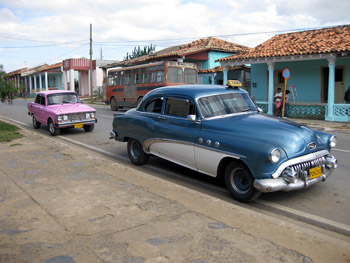 by Paul Norton
Whenever we asked someone where to go in Cuba, they would invariably exclaim "You MUST go to Viñales!" When we asked why, the replies were seldom convincing. Words like "beautiful, rural, quaint and restful" were used. While these were admirable attributes, they didn't really convey the unique charm of this little town near the western tip of Cuba.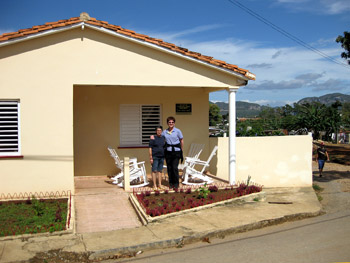 The words of our friends reverberated in our heads as our big Viazul bus pulled into town. The usual crowd of entrepreneurs pressed up against us as we disembarked, most wanting to take us back to their casa particular for accommodation. We already had the name and address of one that we hoped to stay at, so we fought our way through the hordes and made it to the office of the local cab company. Upon arriving at our destination, we found that the house was already occupado. Not to worry – we were introduced to Yiya, who happened to be walking by. Before we knew it, her Casa Candelaria Negrin (House of the Black Candle) was our home away from home for the next few days.
Yiya made us right at home with wonderful mojitos, whipped up in mere seconds. She prepared table-groaning feasts with tasty fish, fresh fruit, and pretty much anything else we wanted. And that's not to mention the cake! She was especially proud of her many scrapbooks, filled with comments written by happy guests from all over the world. Our lodgings were neat, clean and inviting.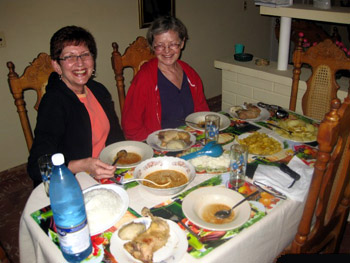 There's always a bit of a sense that the casa hosts want to keep a bit of distance from you. They generally eat separately, or at a different time, and they usually have separate living quarters. It's understandable … you are invading their home. Don't get the wrong impression, though. Yiya and her family were friendly, hospitable and as informative as they could be, given the language difference!
The Viñales Valley, located in Cuba's Pinar Del Rio (River of the Pine) province, is a UNESCO World Heritage Site. As a cultural landscape enriched by traditional farm and village architecture, the region's predominant feature is the limestone outcrops known as mogotes (haystacks). These huge round-topped hummocks emerged from the sea millions of years ago, during the Jurassic period.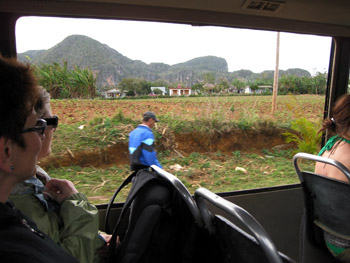 The area is a magical terrain of hills and caves where life centres on growing tobacco. Farmers, most of who came from the Canary Islands, arrived around 1800 and began cultivating tobacco across the region. Two hundred years later, the tobacco grown in the distinctive red soil of the area is still the lifeblood of the Viñales Valley. Only the best leaves get sent to Havana, where hundreds of workers called torcedores or anilladores hand roll them into cigars. Cuba still produces 65 million cigars a year, packed in cedar boxes and exported world-wide.
A small green bus takes the tourists around the valley. For only 5 CUC (convertable pesos) it's a good deal. You can ride all day, with stops at the tourist hotels, in the village, and at the caves and other out-of-town sights. The old bus is rather spartan, with no windows and hard seats. It roars along at breakneck speed, so it's advisable to always have your camera at the ready, pointed out the window in case something looms into view for a few fleeting seconds. You can hop off anywhere and wait until the next time it comes around to hop back on.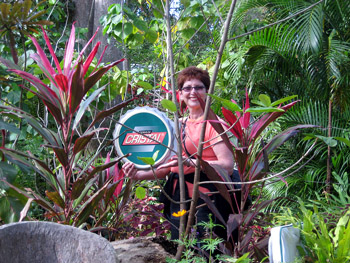 One of the more interesting attractions in Viñales is the little Casa de Caridad Botanical Gardens located at the north-eastern end of town. Started many decades ago by two sisters, their descendants are now running the gardens. The lush gardens in the sizable back yard feature a mix of ornamental and medicinal plants and flowers, as well as palm and fruit trees. Adding to the curious nature of the grounds are homemade decorations like heads ripped off dolls hanging everywhere. The Miranda sisters were well-known practitioners of voodoo back in the day. No admission is charged, but a 1 CUC donation is warmly appreciated.
One of the best-known sights in Cuba is the century-spanning range of transportation choices. Viñales is no exception. American cars from the 1930s to the 1950s share the roads with derelict trucks, horse and carts, sleek tourista buses, farm machinery of all sorts, scooters, fancy newish European, Asian and South American autos, and the ever-present gangs of bicycles.
An intriguing element of travel in Cuba is el amarillo (The Yellow Man). The Cuban government's system for facilitating hitchhiking is by far the most economical way for foreigners to travel in Cuba. Named for the colour of the uniforms of its administrators, the system consists of points where certain vehicles are required to stop and pick up hitchhikers. In the daytime, when the amarillo is present, you pay a nominal fee. The money all goes to the government; drivers don't get any of it. As a result, it's cheaper at night, when the amarillo has gone home and drivers can make some money themselves. There's a yellow man at the north-eastern end of Vinales, across from the Botanical Gardens.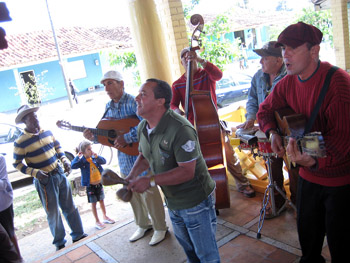 Music is in the Cuban people's DNA. Almost every restaurant, coffee bar and nightclub in Viñales offers great entertainment. Given the rural nature of the area, the music is different from that in the big cities like Havana and Santiago de Cuba. On our first night, we ended up in an open air night club called Polo Montanez Centro Cultural. For a 3 CUC cover, we were treated to traditional groups, a contemporary salsa band, singers, dancers, fire-eaters and more!
While walking down Salvadore Cisneros (the main street) one day, we saw a fellow carrying what appeared to be the bridge for a stand-up bass. Aha, we thought. La música! We followed him to a funky little coffee bar a few blocks down the way. A wonderful group of traditional Cuban players entertained there that afternoon on the patio, and we came back that evening for an equally enjoyable group on a little stage inside. It was astonishing how much beautiful noise came from their ancient, run-down instruments. As was our custom, we bought discos compacticos from any musicians selling them. They make great souvenirs, and it helps them pay the bills.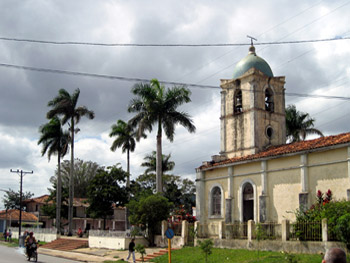 Regretfully, we were only in Viñales for a few days. It wasn't nearly long enough to see all the sights. We didn't get to the horseback riding, caving, hiking or bird watching. There are also magnificent beaches to the north, less than an hour's drive away. We hope to go back again soon, take our bicycles, and spend at least a week there. Sleepy old Viñales is full of warm, friendly people, enchanting adventures and breathtaking sights. Similarly to those folks who said it to us, we now say to you, "Just GO! You won't regret it."
If You Go:
AIR:
If you live in Canada, non-stop flights are available to Cuba from these airlines:
Western Canada: Air Transat www.airtransat.ca
Eastern Canada: Air Canada www.aircanada.com
BUS:
Víazul is Cuba's tourista bus line, and is by far the best choice of public transportation to tour the island. They run comfortable, air-conditioned long-distance coaches with washrooms and televisions to most places of interest to tourists. The Korean-made buses are in good repair, reliable and punctual. Schedules can be found on their website. The buses can be used by anyone including Cubans, but in reality, few Cubans can afford the CUC fares. Reservations can be made in advance, but are usually unnecessary except at peak travel times. Do not waste your time making an on-line reservation on the website – that rarely works. Refreshments are not served, despite what the website says. Bring your own if you can. The buses do stop for meal breaks at highway restaurants. They are often over air-conditioned, so have something warm to wear.
www.viazul.com
CASA PARTICULARS:
There are many Web sites that list available casa particulars. (Regrettably, Yiya's Casa Candelaria Negrin is not to be found on them.) They can be reserved on-line, but there are so many stories of travellers who have shown up only to find they have been double-booked, it may be better to just show up and find one there. In the rural areas such as Viñales, the rates are generally 20 to 25 CUC per room per night. Here's a few web sites. If you do a Google search, you'll find more.
www.cuba-junky.com/cuba/cuba-casa-particulares.htm
www.casaparticular.info
www.bedincuba.com
www.cubaccommodation.com
www.casaparticular.org
About the author:
Paul Norton does many things …. Radio show host/producer, graphic artist and web designer to name just a few. He'd love to be able to afford to travel more. His second trip to Cuba took place in February 2010. Visit www.paulnorton.ca.
All photographs are by Paul Norton or Sue Malcolm.
More pictures can be viewed at www.paulnorton.ca/vinales2010.