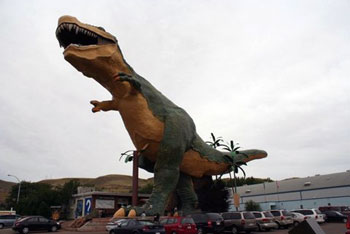 by Robin Konstabaris
It was late in August when my friends and I decided to visit the Badlands of Alberta, Canada. Most of Alberta is flat, and there was no real direct route, so we just drove down various prairie highways and roads to get there.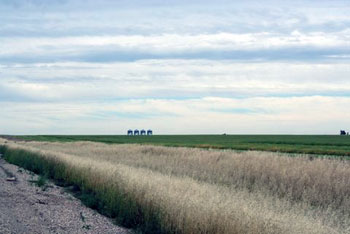 The grasses were high, it was hot but not sunny, the huge domed sky blanketed with a thin layer of clouds. We were not beset by any pesky bugs like mosquitoes, but there was a fair share of crickets which seemed the only wildlife we could detect. The roads were lined with wire fences, and every now and then we would see a row of modern silos, which are metal and tubular rather than wooden like the classic grain elevators that are almost nearly extinct on the Canadian prairies. We came to a row of four which appeared to us to be very far away, but as we approached them, we found they were near and tiny. Our eyes had been fooled! The flatness of the land and the lack of any defined shadows had really played a number on our depth perception.
The Badlands are valleys which are surrounded by hills that have eroded to show the geological strips of the ages. The valley floors are lush enough near the rivers, but the hills and non-irrigated plains are barren. Some scraggly bushes might grow here and there, and yellow tracks of grass, but mainly they are bald and prehistoric, with the occasional jutting hard rock formations that have resisted the ravages of time. It was oddly quiet but I couldn't help imagining the sound of saloon doors flapping open and closed. We were not expecting such exposed vastness, and would not have been surprised to see the coyote chasing the roadrunner, although we only saw a tumbleweed or two. It was hot and dry but not dusty like you might think. The dust had blown away long ago.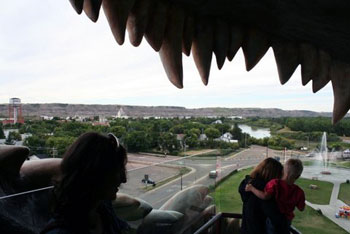 Drumheller is the heart of the Badlands and the dinosaur fossil capital of the world. Its main industry is dinosaurs and the town lets you know it. Look, there is Fred and Barney's All You Can Eat Chinese and Western Buffet! Many businesses had fiberglass dinosaurs in front. The fire hall had one painted like a dalmatian, and another one had been painted all steampunk and metal. Well, no one knows what a dinosaur's skin really looked like, do they? A lot of kids like dinosaurs so many of the town's visitors were families with children. The downtown is small with no structures over two stories, with little cafes that serve grilled cheese sandwiches and chicken fingers and not very good coffee. We felt like no real living was done there, as if the town only existed so the children and their parents had some infrastructure to meet their needs after they were done looking at dinosaur bones.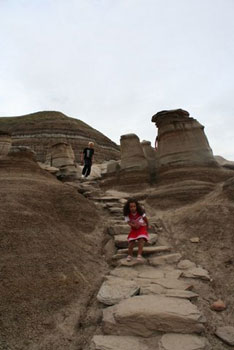 In front of the Dinosaur Museum there was a T-Rex so large we could climb steps inside and six or seven people could gaze out of it's mouth for a sweeping view of the town with the Badlands behind it.
"This is the last thing you would see if eaten by the giant T-Rex of Drumheller," I said to Step and Linda.
The insides of the giant T-Rex were painted in what I suppose was a representation of its digestive tract interspersed with prehistoric landscape but it was so poorly done it just looked like preteen vandals had been let loose with spray paint cans and electrician tape.
Many tourist guides and official Badlands media had representations of the monolithic hoodoos, which were only sixteen kilometres from the giant T-Rex. Hoodoos are rock formations that have hard flat tops that have prevented the rock below them from eroding away. We had seen beautiful pictures of the towering hoodoos with the sun setting behind them, and pictures of them dominating the sweeping, arid landscape around them. Such a phenomenon of nature!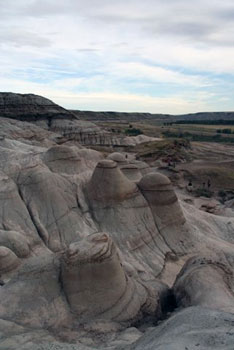 The road to the Hoodoos, although along a river, was not verdant at all. The dry, golden road with its walls of striped history really did make us feel like we were in the wild west, heading for the canyons. We were prepared for Nature's majesty! But upon arrival at these Hoodoos, we discovered them to be few and only four feet tall.
The site was crowded and little kids were able to climb upon them with no trouble at all. Over the years, people had scratched their names into the hoodoos, and the whole site was sad and diminutive and desperate.
We laughed at how Alberta, with it's flatness and vastness and lack of shadows, had fooled us for the second time that day, and I set about taking my own photos of the hoodoos which showed them without people and reaching for the summits of the desert sky, therefore doing my part to perpetuate the myth of their mystery and silent grandeur. Because sometimes, especially when we're out seeking adventure, if life refuses to amaze us with its reality, we have to let a little fiction in to sweeten our day and our memories.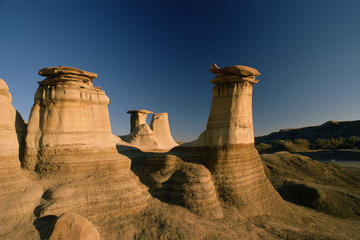 Drumheller and Badlands Full-Day Tour with a Small Group
If You Go:
Travel Drumheller
Drumheller Hoodoos
Royal Tyrrell Museum
Fall/Winter 2012/13
September 1 – May 14
♦ 10:00 a.m. – 5:00 p.m. Tuesday through Sunday
♦ Note: Closed Mondays, except for public holidays
♦ Open Remembrance Day (November 11) and Monday, November 12
♦ Closed Christmas Eve – Monday, December 24 & Christmas Day – Tuesday, December 25
♦ Closed New Years Day – Tuesday, January 1
Spring/Summer 2013
♦ May 15 – August 31
♦ 9:00 a.m. – 9:00 p.m.
♦ Open seven days a week, including holidays.
Allow 2 to 3 hours for a thorough visit of the Museum galleries.
Royal Tyrrell Museum Gift Shop is open during regular Museum hours.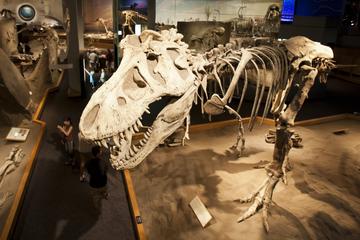 Canadian Badlands Day Trip from Calgary
About the author:
Robin Konstabaris is a visual artist and cartoonist best known for her former weekly comic strip "Clip 'n' Save". She is currently honing her creative writing skills.
All photos are by Robin Konstabaris.