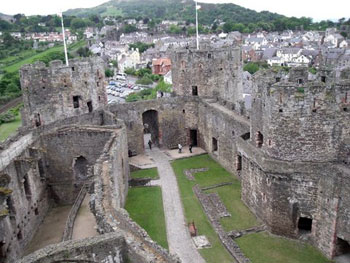 by Roy A. Barnes
The country of Wales may only be small, but every nook and cranny is full of history. 500-plus castles can be found in this part of the United Kingdom, in various degrees of disrepair and/or restoration, often seen on the hillsides as one speeds down the busy motorways. I explored five really special ones, coming away with a greater appreciation of Welsh history and its people.
A sense of déjà vu at Conwy Castle
The coastal city of Conwy, about 45 minutes drive from Manchester's airport, proudly displays its old medieval walls, many of which can be walked on. Three gateways remain standing in the city that dates back from the time of Edward I and his post-conquest activities of North Wales in 1282. But even more conspicuous is the UNESCO World Heritage Site Conwy Castle [TOP PHOTO].
When it was built from 1283-1289, it was at great expense (some £15,000 – equivalent to £15 million today) to help serve as one of his "Iron Ring" castles that helped to keep the English safe in Wales while fortifying his new empire there. The exterior and interior walls remain relatively intact, and I found them to be quite an experience walking through the various rooms from the king's chamber, dining hall, kitchen, and prison. I felt as if I were back in medieval times, especially when I went inside the castle chapel, where the soundtrack of Gregorian monks was playing in the midst of displays about Christianity's role in that time. I also was fascinated by the countless arrow slits carved into the walls, expecting a shooter to be taking aim.
Two fortified gateways and eight towers help make up the grandness of this place. Four of them contain high towers where I got stunning views of the city, sea, and Conwy Mountain. And as I walked up the spiraling staircases to get those views with only the help of ropes to keep me from falling, I could feel a sense of "home sweet home" in each part of the structure, despite its massive size overall, where now the only "royals" taking up residence there are pigeons and gulls.
Bodelwyddan Castle: a National Portrait Galley hub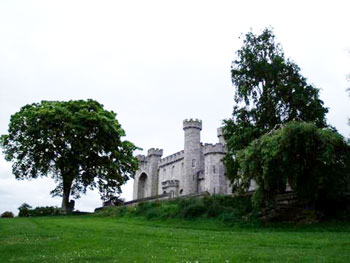 Even though Wales is famous for medieval castles, one such "mock" castle off the A55 motorway (a 30 minute drive from the Welsh border) is notable. It serves as an outpost for London's National Portrait Galley: Bodelwyddan Castle. Bodelwyddan stands on land where property ownership purportedly goes back before the time of the Norman Conquest, and has recorded history dating from 1461, when the Humphreys family got this land as compensation for being booted off the Isle of Angelsey by Edward IV. From 1830-1850, the prominent Sir John Williams led the creating of an old time castle, including adding limestone walls, which actually were heated to protect the fruit orchards during cold weather.
My senses took in the pastoral surroundings of Bodelwyddan on a partly cloudy and blustery day as I walked up the hill, noticing mature parkland where sheep were snacking on grass. Surrounding the castle is an array of well-manicured gardens and footpaths where the sound of singing blackbirds in the beech and oak trees interrupted the whistling of the gusts. Once inside the castle, I was immediately greeted by a large painting of Queen Victoria. This branch of the National Portrait Gallery stresses Victorian Era portraits of prominent British people, hung in rooms that were restored in the 1980s to emulate the reserved opulence of the Victorian lifestyle. The library itself copies that time with more fakery – painted books for the library and wood panelling that's really painted plaster, known as "trompe l'oeil," French for "trick the eye." Yet real Victorian furnishings do abound here, from furniture to a grand 1840s billiard table as well as a Williams silver centrepiece made that's insured for £250,000.
For the kids, there's an interactive games and dress up area on the third floor of the home, which happens to get the most reports of paranormal activity.
Stand where Prince Charles once stood at Caernarfon Castle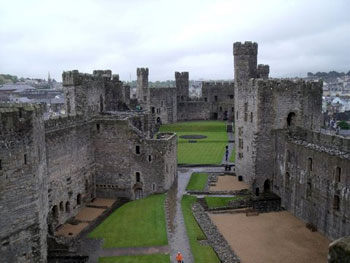 If you want to know just how hard life was for the common man back then, just visit a medieval fortress like Caernarfon Castle on a cold and rainy morning like I did. As I walked through its long passageways and explored the interior rooms whose walls are still intact some 700 years after being built, the chill and drafts went through my layered clothing to my bones. Much of the castle walls, both interior and exterior, remain intact from the time they were constructed between 1283-1330. After Edward I conquered Wales, he imagined a grand castle based on the dream of Roman emperor Magnus Maximus (whose body was found in the area). Maximus envisioned such a place located within a city amidst mountains and opposite an island (matching Caernarfon's description), so James of Saint George was put in charge of building in this "dream city."
The king also fashioned the polygonal and colored band walls (some twenty feet thick) after those of Constantinople to serve as the "capital" of North Wales, even creating a new town, destroying the old Welsh settlement. Locals were conscripted as manpower, and were paid in silver pennies.
Despite all the expense, many of the plans for it never materialized, and it shows today as I noted the various stones sticking out of walls for future development. Normally, the castle had 20-40 people defending it in its early days. What made the castle easier to defend were the ingenious way that three soldiers with bow and arrows could be stationed to shoot through what appeared on the inside of the castle to be three arrow slits, but in effect, those three arrows would come out through just one slit in the outer wall of this UNESCO World Heritage Site.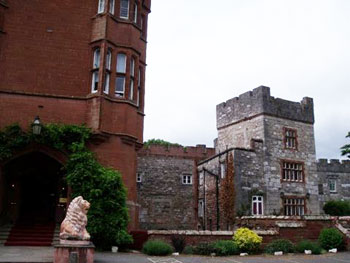 Caernarfon was once a motte and bailey castle (castle on a mound surrounded by a courtyard). This mound still resides within the courtyard as a dais made of Welsh slate, and was the scene of two Princes of Wales getting their official titles, that being Edward VIII in 1911 and then Prince Charles in 1969. The northeast tower has an extensive exhibit of those two investitures, including Charles' BBC telecast. Charles immediately walked through the Queen's Gate to greet his subjects, something which I got to do, as a special balcony still remains for photo opps.
I got even more appreciation of Welsh castle history at Caernarfon Castle via a 20-plus minute feature film called the "Eagle and the Dragon," where actors dressed in medieval period costumes stages some reenactments, and still photos helped history visually come alive. It's located in the Eagle Tower, where the king would reside when he was in Caernarfon, and which was protected above by a cluster of high turrets that can be explored. The King's room itself was grand, and did contain a personal chapel and fireplace to help fend off the chill. The Queen's Tower also has remnants of nicer accommodations, and it's here where many artifacts and exhibits on the history of the Welsh armies are featured.
Splurge on the "Grey Lady" ghost at Ruthin Castle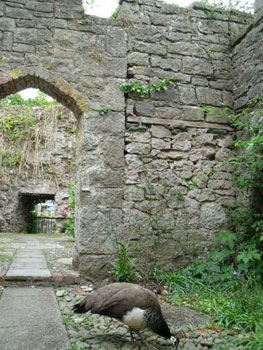 While the Vale of Clwyd is at the bottom of some incredible footpaths with steep angles going up hundreds of feet in the Clwydian Hills that'll challenge any hiker, the town of Ruthin (an hour's drive from Manchester) has a castle with the same namesake that's located just above the base of the valley. It sits on grounds once allegedly housing a fort where King Arthur kept a little "love nest" for one of his mistresses dating before the Norman conquest, but it's confirmed date for a standing edifice dates back to 1277, when Edward I secured it for his kingdom against the rebellious Welsh.
Though much of the castle wall remain intact despite the 11 weeks of shelling it withstood during the English Civil War in 1646 plus subsequent neglect, improvements were made during Queen Victoria's reign. I found improvements outdoors, but also indoors via the décor on the inside that tries to imitate the Victorian Era, especially with the as "trompe l'oeil" wallpaper jobs that can be found in the spacious rooms that contain all the modern conveniences medieval kings would deem as sorcery: big screen TVs, free internet access, and electronic heat control.
I explored what was left of the medieval fortifications by walking around the old walls, and was greeted by some of the 16 peacocks who live there and wail away while the sun is up. I also went to the gravesite of the "grey lady," who was buried after being executed for killing the lover of her husband, one of the commanders of Edward I. I didn't see anything mid-afternoon, so I waited until dusk to try to find this poor soul, but alas, she was no where to be found.
If You Go:
♦ Conwy Castle: www.castlewales.com/conwy.html
♦ Caernarfon Castle www.castlewales.com/caernarf.html
♦ Bodelwyddan Castle: www.bodelwyddan-castle.co.uk/
♦ Ruthin Castle: www.ruthincastle.co.uk
♦ Visit Wales: www.visitwales.com
About the author:
Roy A. Barnes attended a press trip sponsored by Visit Wales, but what he wrote were his own impressions without any scrutiny or vetting by the sponsor. The author resides in Cheyenne, Wyoming, and is a frequent contributor to Travel Thru History.
All photos are credited to Roy A. Barnes, and may not be used without permission:
1. Conwy Castle
2. Bodelwyddan Castle
3. Caernarfon Castle: Inside walls
4. Ruthin Castle: Medieval Victorian Exteriors
5. Ruthin Castle: Medieval walls and Peacock