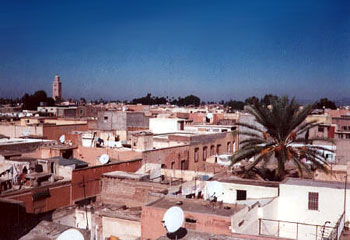 Morocco
by W. Ruth Kozak
The beautiful Royal city of Marrakech, known as the 'red city' because of its pink-tinted buildings, nestles like a rose-quartz gemstone near the rolling foothills of the snow-capped High Atlas Mountains.
Surrounding the walled city, the rock-strewn fields turn into a desert with little vegetation except for patches of irrigated farmland where there are orchards and lots of old olive groves. The nearby villages are walled kasbahs dominated by imposing castles owned by wealthy landowners.
EXPLORING MARRAKECH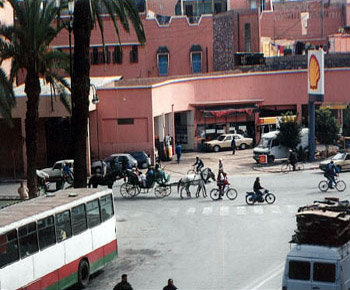 Marrakech is a spectacle of exotica. On a recent eight-day tour, I stayed at the enchanting old Hotel du Foucald, which is well situated for sightseeing in Marrakesch's medina (old town). The hotel is just across from the famous Djamaa el Fna square with its labyrinth of side streets, hammams, caravanserai and bazaars. The souq is a maze of tiny covered walkways where everything is sold from embroidered saddles for camels, to potions for casting spells. On the bustling streets, donkeys are everywhere, some loaded with produce, others with pottery, some pulling carts heaped with mint for tea. The donkeys wear shoes made from car tires to keep them from sipping on the cobblestones. Weavers and coppersmiths work their trades. Herb doctors assure us their products are better than Viagra. You can buy almost any unusual medicine: goat hooves for hair treatment, ground up ferret for depression , and dried fox heads to use for magic potions.
At a spice shop I was given a demonstration of herbal medicines and blends of spices including the world's most expensive spice, saffron. The merchant at the carpet store explained the distinctive patterns of his wares which are woven in wool and silk. I bought a small rug in the Berber colours of saffron and lapis blue. I call it my 'magic carpet' because each time I step on it I am immediately transported back to the souq in Marrakesh.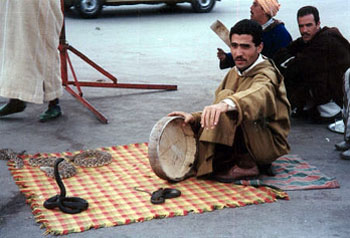 The busy Djmaa el Fna is a magic world of snake charmers, musicians, acrobats, water vendors wearing distinctive red suits and wide-brimmed hats and jangling bells, story tellers, ebony-skinned dancers in brightly hued costumes, boys with pet monkeys, and other assorted side-show attractions will entertain you — for a price. Don't try to take photos of these colourful entrepreneurs without expecting to pay, and make sure you only pay no more than five dirham. Once you know your way around and have a feel for the place, it's fun, and during the day not dangerous to wander on your own.
Marrakech is one of Morocco's imperial cities, a Berber/Arab fortress settlement nine centuries old. Within its 11th century medina is the Koutoubia mosque with its elegant 65-meter high minaret. The golden balls on top are said to be a gift of a Sultan's wife who melted down her jewellery as an act of penance because she ate three grapes during the Ramadan fast. There are several elaborate palaces such as the El Badi where storks nest on the ramparts, and the Palais el Bahia with its lovely gardens. I visited the Mausoleum of the Saadiens and the 16th century religious school for students who studied at the nearby Mosque of Ben Yussef. The mosaics and cedar carvings in the richly decorated spacious courtyard are a contrast to the sparse, cell-like rooms occupied by the students.
After a morning of touring the historic sites, I took a calèche (horse-drawn carriage) to the Jardin Majorelle in the European quarter. This beautiful garden estate was created in the 1920s by the French Orientalist painter Jacques Majorelle and is now owned by fashion designer Yves St. Laurent. It's a tropical paradise of tall cacti and palms set against pink towered buildings and grill-worked gateways. Bougainvillea, hibiscus and flowering potted plants line the cobbled pathways. The colours of the buildings and clay pots are dazzling brilliant blue, turquoise, pink, yellow, and orange, all complimenting the colours of the flowers. Birds twitter in the trees and trellises hang with flowering vines. Many different tropical plants grow in abundance. The artist's studio has been converted into a small Museum of Islamic art and displays St. Laurent's fine collection of North African carpets and furniture as well as Majorelle's paintings.
LASTING IMPRESSIONS
An eight-day tour is hardly enough time to see everything in Marrakech. On my last day, I walked down the Avenue Mohammed V to the Arsenal Artiste craft market. The King was in town, so the ornate lamp-standards of the avenue displayed the royal banners of green, white and red. Unlike the souq, the craft market prices are set so you can make purchases without haggling while watching the artisans at work. It's pleasant to browse among the little shops where you can buy ceramics, woodwork, metal-work, clothing and even musical instruments.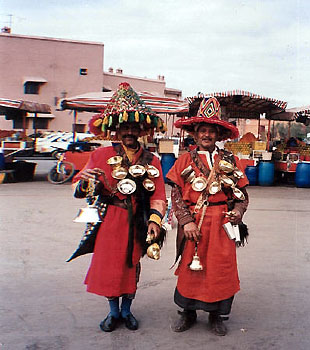 Later I got a sense of what it would be like to live in a Moroccan home when I visited the Maison Tiskiwin, a 19th century house once the home of a Dutch anthropologist. It now houses a stunning collection of jewellery, clothes, fabrics and carpets. Houses in Marrakech are windowless, with rooms opening to a sun-lit inner courtyard; the walls hung with woven tapestries and floors paved with lapis and turquoise tiles.
That night I dined in my hotel on a delicious buffet of lamb tajine, salads and honey-drenched desserts. Then it was time to pay one last visit to the Djemaa el Fna. The velvet sky was ablaze with stars. The smoke of barbecues filled the air with the tantalizing aroma of the delicious tidbits sold by the street vendors. I sat upstairs in a restaurant, sipping hot mint tea, with a ringside view of the activities below. Few places are as colourful and exciting as this. As I watched darkness envelop the city, I marveled at the things I had experienced: the vibrant, kaleidoscope of colours; the fragrance of spices and mint that permeate the air; the lovely rose hue that enshrouds Marrakech city; the interesting, friendly and gracious people; the souqs and markets, especially the Djmaa el Fna with all its strange sights. For a traveler like me, who seeks the exotic, Morocco did not disappoint me.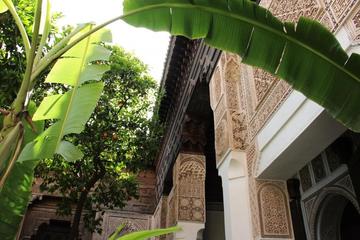 Hidden Secrets of Marrakech- Private tour
If You Go:
Currency: Currency in Morocco is the dirham. $1.00 Cdn = 6.71 dirham or $1. US = 8.95 dirham at time of writing. You are not allowed to take dirham out of the country so when cashing traveller's cheques make sure you cash only the amounts you will need to spend. Prices are cheap in Morocco and you're sure to get lots of bargains for your money.
Passports & Immunization: Passports must be valid from six months of issue but no visa is required. You must show a return ticket. It would be wise to check the travel immunization clinic before leaving and take along medication for stomach upset.
Travel warning: Be aware of pick-pockets and backpack slashers in crowded markets. Wear a money belt, and never carry a purse on a strap or a backpack which can be sliced open. In the souq, be firm but polite. Haggling is part of the Moroccan experience. Just say "non, merci." (Most Moroccans speak French as well as their Berber dialects). If you enter the souqs with either an official guide or hustler the price of everything you buy will be increased to include a commission for them, often as much as 40 per cent. Be prepared for the attentions of faux-guides. Modest clothing is advised for both female and male travelers to avoid hassles. Unescorted women might expect remarks, whistles, tongue-clicking and other unwanted attention. Violent incidents or attacks are rare. Women visitors might consider wearing a head scarf, especially if traveling outside large cities.
Taking photos: Vendors and performers in the souqs expect to be paid. Many Moroccans don't like having their photos taken so be discreet when doing so. Respect their customs.
Tour groups: There are various tour companies offering group tours and treks. I went with Ramblers Holidays from London Eng. www.ramblersholiday.co.uk. Prices vary depending on season, and include airfare from London Gatwick, hotel, two or three meals, guide and transportation to trekking areas. From $750 up with an additional single room supplement. Tours range from 8 – 11 days. (Fares from Canada not included). See also: City Breaks Holidays at www.leisuredirection.co.ukand www.saharatrek.com
Guides: Licensed guides can be hired for about $30 Cdn a day for sight seeing in the city or trekking in the country. Side trips with group tours or private licensed guides can be arranged from Marrakech to the Berber villages in the foothills of the High Atlas Mountains. For $25 a day you can hire your own guides to take you on these well-trodden routes.
Where to stay: For hotel information : www.morocco.com
or contact: Federation Nationale de l'Industrie Hotelieri
Address: Angle Ave Nado et Rue 3, Quartier Polo, Casblanca 20550
Email: fnih@iam.net.ma
There are well-organized campsites, youth hostels, self-catering suites and hotels of all categories available in Morocco. See travel.yahoo.com for more information on hotels.
Where to eat: For people-watching, sit in a cafe terrace and enjoy a cafe au lait and a fresh pastry. Moroccan food is delicious. Try the food stalls and juice stands. Provided it serves a crowd you can be sure the food is fresh. In Marrakech head for Marche Central, buy a picnic and enjoy lunch with a view. The Cafe de l'Hotel de Paris in the Djmaa el Fna has excellent views at sunset. There are many good hotels where you can dine. Morocco is a 'dry' country. Wine and liquor may be bought at the airport duty-free otherwise it is difficult to find a wine shop. Most five-star tourist hotels will serve wine or beer with meals. From the five-star Hotel Mamounia to the food stalls in the Djmaa el Fna, you will enjoy the spicy flavour of Moroccan food accompanied by a steaming cup of mint tea.
Getting around Marrakech: Riding in a hired caliches is a perfect way to see around Marrakech. You might also want to hire a certified local guide through the tourist office, usually for around $15 US for a half-day or $25 for a full day escorted tour. You can easily walk from the Djmaa el Fna to most of the museums and places of interest. A complete tour, starting from the Gate of the Gnaoua near the Mosquee de el-Mansour will cover approximately three kilometers and take five hours.
Museum sites: If you are traveling with a group the entrance fees are usually included in your tour price. Most sites are open from 8.30 am until noon, and from 2.30 pm – 6 pm. Prices of entry vary. There are a few sites such as the Koutoubia Mosque that allow entry to Muslims only. Avoid lunch time when most sites are closed.
Books: Essential Morocco
is a small pocket guide published by AA World Travel Guides which I found useful in Marrakech. Both Rough Guide
and Lonely Planet
also have guide books on travel in Morocco.
Morocco on the Internet: For more information on Morocco see www.morocco.com
About the author:
Traveling to Marrakech was one of W. Ruth Kozak's most exotic adventures. Her stay there included trekking in the foothills of the High Atlas Mountains and visiting several Berber villages. She'd love to do that trip again and spend a little longer exploring this magical city.
All photos are by W. Ruth Kozak.