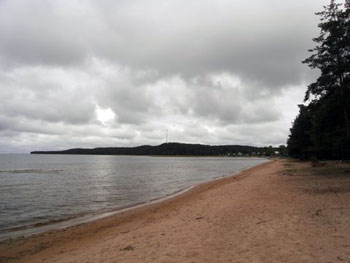 Russia (formerly Finland)
by Maria Kozyreva
It was in the middle of summer when we decided to spend a few days in Karelian lakes. None of us had ever been there but we were sure to find a picturesque place to stay. Our Garmin navigator determined plenty of lakes to the West of the White Sea but we were attracted by a small lake not far from Essoila village.
The road across Karelia was fascinating. High fir trees growing on rocky soil, huge stones covered with moss and berries made Karelian landscape unique and inimitable. As approaching to the place of our destination, we noticed a wonderful lake which remote shores were not visible and made it look like a small sea. Not far from it we found the lake we had chosen at home. It was hidden behind mossy trees that surrounded all its shores. We got out of cars and approached water. Seagulls were flying over our heads. It was a windy but sunny day.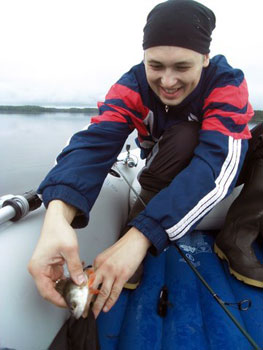 I could stay on its shores for ages, admiring its mirror-surface and abundant vegetation but we had plenty things to do. It was already 4 p.m. when we arrived. Hungry sick and tired after a long trip we had to pitch tents while others sought firewood and cooked dinner. It was rather complicated to find dry firewood as soil was damp and mossy. Trees covered with lichen were demi-rotten. Fortunately my husband Vadim found a huge fallen birch that was dry enough to make fire.
We had at least three hours before it got dark. To save time we divided into two groups. Kristina and Alexander were to make fire, while my husband and I inflated a boat and went fishing. The lake was still and calm. Firstly I thought that there were no fish but after approaching to floating grassy islands it became clear that our lake was swarming with fish. What a pleasure to catch your first perch! Slippery and nimble it tried to tear away and jump into clean waters. I took a silver fish glittering under bright sun by its rust-colored tail making it thrash even more fiercely in my hands.
We hardly spent one hour fishing in the middle of the lake when clear blue sky turned into ominous grey mantle. It became darker and darker. Gusty wind drifted pelting rain, making us return to the shore and construct a tent above our fireplace to prevent it from extinguishing because of wind and rain. Our first meal made of several perches and potatoes was cooked in cast-iron pan, placed in the middle of burning fire woods. After a long road and sleepless night this modest but nourishing dish seemed to be the most exquisite dish we had ever tasted.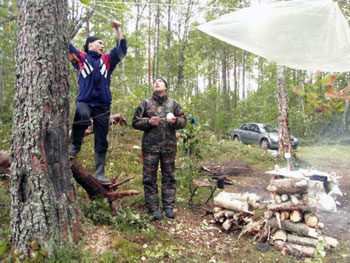 Despite our hopes and expectations, rain didn't stop and wind became even more furious, making trees swing from side to side.
"Hello! Is anybody here?" An unfamiliar voice resounded from far away and in a few seconds we saw a middle-aged man wearing khaki-coloured suit.
"My name is Andrei. I am a forest warden. How are you going?"
We were going well enough and would go even better if only the weather were not so hostile.
"Haven't you heard about storm in the outskirts of Saint-Petersburg? Probably you will have to survive its consequences. Beware that there are lots of rotten trees that could fall down at any minute".
We exchanged frightened glances, making him burst out laughing:
"Don't be so faint-hearted. Everything will be ok," he said as he waved us goodbye and disappeared in dense forest.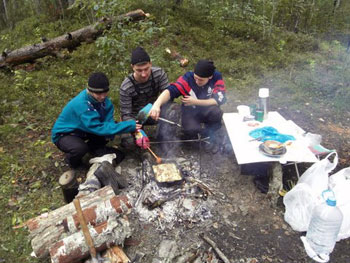 For a moment we kept silence. Wind gained strength. It started to snow, although it was July. I didn't expect it would be so cold and windy. Shivering with cold I offered others to fish on the lake bank hidden in thick vegetation. As it turned out the idea was great. Our friends who preferred to stay near fire were chilled to the bone as we returned with our modest catch. It is that we set up our tents and made fire in the forest edge winded from every side. Hard wind and rain turned our fire into smoldering coals. Three perches and two roaches we managed to catch made a fragrant and tasty hot fish soup that warmed us up and filled with energy. Our joy didn't last long. The hot tea Vadim boiled on a bonfire became cold in a few minutes. There was no hope that the weather would improve. Severe wind almost blew out our fire. It started to hail. Trees were swinging in the strong wind threatening to fall down. It became clear that we would have to spend the whole night in fragile tents under huge trees. The idea to spend night under the Sword of Damocles frightened Kristina so much that she pledged us to drive away as soon as possible. It was already 2 a.m. It would take at least two hours to pack two tents and a boat in the darkness of Karelian night lightened by two tourist lanterns. There was no choice. The only thing we could do is to go to bed.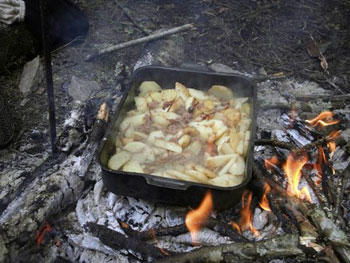 When I zipped my tent from the inside, I felt myself like a small insect caught by hail under a fragile leaf. I saw nothing but darkness in my small tent, although noises and howls made it clear that huge trees were swung and thrashed severely in the thundering wind as if they were ears of wheat. In spite of my anxiety I slept like a baby after active day in nature. As we got up the weather didn't changed for the best, on the contrary it became even colder. It was time we left. One may think that it's a pleasure to leave stormy, rainy and hostile place for cozy armchair in your sweet home. It depends on the person. Karelia is not sunny and friendly most of the days. It can be rather rigorous and austere. Nevertheless it recharges you with vital energy, makes one strive for life, be grateful for small favors made by nature and notice sun even during rainy days.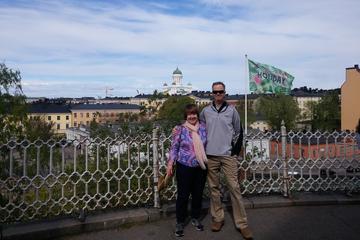 Happy Helsinki Walking Tour
If You Go:
If you are to visit Karelia for the first time, it would be easier to travel through Petrozavodsk, the capital of the Republic of Karelia in Russia. There you would find plenty of tourist offices that would offer a variety of tours.
By Train
Moscow to Petrozavodsk
St. Petersburg to Petrozavodsk
By Airplane
Moscow to Petrozavodsk
St. Petersburg to Petrozavodsk
Helsinki to Petrozavodsk
Petrozavodsk Web Site
www.petrozavodsk-mo.ru/eng/about/map.htm
About the author:
Maria Kozyreva is a freelance writer and interpreter working and living in Russia. She is fond of learning foreign languages as she believes that they open the door to the world. She also enjoys traveling and painting. Contact: fleurlaska@hotmail.com
All photos are by Maria Kozreva.