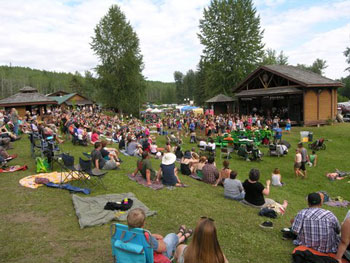 Hazelton, British Columbia
by Glen Cowley
The hills are alive with music in North Central British Columbia. Wending through forests, echoing off mountains and flowing with river and stream; music and song find perfect harmony in a setting inspiring even in its silence.
The Kispiox Valley Music Festival was celebrating its 18th annual birthday but for us it was experience number one. As frequenters of larger weekend music festivals in British Columbia's more southerly climes we were awakened to the pleasures of a truly laid back experience free from the press of crowds but no less alive in the hum of music and the thrum of audience participation.
Every summer British Columbia comes alive with music festivals. Quite literally you could spend every weekend so entertained. My wife and I regularly favour well known and popular ones such as the Roots and Blues Festival in Salmon Arm and Music Fest at Courtenay on Vancouver Island. Multiple venues, big names, the press of thousands of happy people vying for seating and lineups for food and drink, great music and sense of being part of a vibrant throng will keep us returning year after year.
But there are the smaller festivals which offer something very unique. Kispiox opened our eyes to a new appreciation of the festival experience.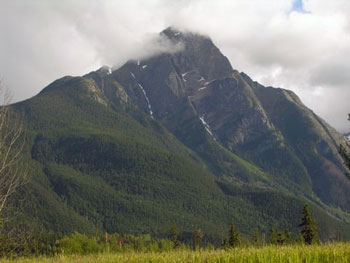 Turning off the Yellowhead Highway (Highway 16) at Hazelton, under the majestic gaze of the Roche de Boule Mountain Range, we journeyed 29 kilometres over breathtaking single lane bridges spanning jaw-dropping gorges and chattering rivers, wending tree-lined ways (largely paved) to emerge at the Kispiox Festival grounds hard by the Kispiox River. On the way we disturbed a solitary black bear strolling leisurely along the road.
Colour exploded amid nature's green and the pulse of music echoed through the trees. Relaxed and friendly volunteers took our admission, which at $60 for the three days (free if you are over 65 or under 12) is a good deal, and directed us to where it was all happening. Varying modes of accommodation filled the camping grounds, divided between "Quiet", "Very Quiet", "Musical" and "Performers and Co-ordinators". Separate venues offered food services and the unique shopping opportunities only festivals afford. The family focus was amply revealed at the children's area complete with toys, activities and its own entertainment stage.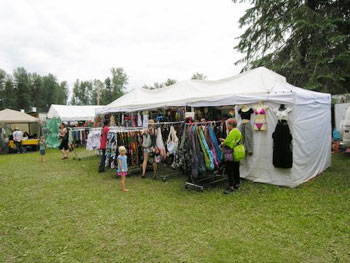 We arrived at the main River Stage in time to experience the large, colourfully attired, and local Twisted String Band, pumping out lively pieces which had audience members up and dancing while others watched from benches, personal seating or the natural amphitheatre overlooking the stage. The crowd, itself awash in colour, was composed of folk of all ages, hair lengths and attire. Nearby the Hall Stage, housed appropriately in a building with a hall, afforded entertainment free from the warming hand of the Sun.
Set off on its own was the workshop tent where aficionados could meet and learn from performers on a wide range of skills.
Unlike many festivals there was no beer garden though the atmosphere lacked nothing by its absence; indeed the presence of imbibing was apparent but respectfully restricted to non stage areas and revealed no evidence of abuse.
The range of performers covered the bases from children's' music, drumming, belly dancing, vaudeville style acts and an eclectic assortment of music provided by both "local" talent and headliners. Such local talent engaged performers from as far away as Prince Rupert and Smithers and was no less impressive in its offerings than the fare provided by headliners.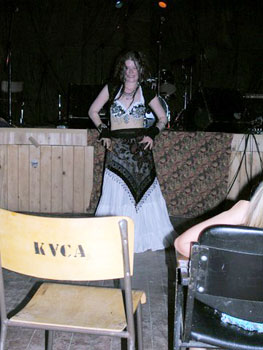 The 2018 headliners included The Tequila Mockingbird Orchestra, Jacki Treehorn, Fish and Bird from Victoria, multi-faceted CR Avery, the "post-modern Vaudeville duo the Cromoli Brothers, Hannah Epperson, Joanna Chapman-Smith, Jenny Ritter, the Harpoonist and the Axe Murderer, childrens' performer Angela Brown of the Ta Daa Lady Show, Liron Man playing the hang drum and Bocephus King.
A pervasive sense of community permeated the atmosphere – young, old, children, families, First Nations were all well represented and the banter and interaction suggested many knew each other. It felt rather like being in the midst of a large family gathering.
Originally beginning in 1995 with 50 performers and 200 volunteers the festival has grown and now draws over 2000 participants to its fold.
Opening on Friday with a formal welcome by the resident Gitxsan First Nations peoples it ran all day Saturday and terminated with the closing ceremony at 7 pm Sunday. Great music, great atmosphere and great setting equaled a great time.
The Kispiox River chatters by on its forever journey to the sea adding its voice to the heartbeat of the festival, a constant reminder of the pristine beauty and balance of this world. The place and the event are worth time, energy and cost to see and experience. Beauty in nature and humanity does not abide being taken for granted. Hard to believe there are those entertaining pressing a high risk oil pipeline through this land of pristine beauty, purity, vibrant economy and diverse community.
If You Go:
Getting there
By car you are 1:30 hours west from Smithers or 2 hours east from Terrace which are both well served by rail, bus, road and air. Smithers has four flights daily from Vancouver Airport
Services:
There is no readily accessible indoor plumbing on site and it is recommended you bring water, though there is water available on site. There is special washroom access for persons with handicaps to the two existing indoor washrooms. Food services and an outdoor market are available.
Accomodation:
Camping is available on site as well at many off site locations. There are B & B's throughout the Kispiox Valley as well as in Hazelton.
About the author:
Since 1994 Glen Cowley has parlayed his interest in sports, travel and history into both books and articles. The author of two books on hockey and over fifty published article ( including sports, biographies and travel) he continues to explore perspectives in time and place wherever his travels take him. From the varied landscapes of British Columbia to Eastern Canada and the USA, the British Isles, Germany, Switzerland, the Netherlands, Greece and France he has found ample fodder for features. See Glen Cowley's website at: www.windandice.shawwebspace.ca
All photos by Glen Cowley:
The main stage – River Stage
Spectacular Roche de Boule
Festival Market
Belly Dancer