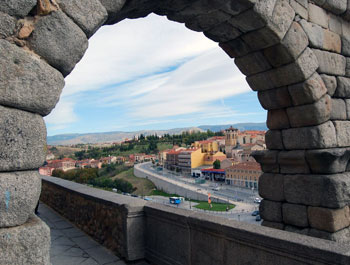 Segovia, Spain
by Keith Kellett
Segovia, Spain is a UNESCO World Heritage site, noted mainly for its Roman aqueduct. Although my schedule only permitted me just under a couple of hours there, that was longer than a lot of the 'follow the flag' tour groups seemed to take who get a ten-minute lecture in each place, five minutes to take photos, and then back on the bus.
The famous Roman aqueduct was first on my list of sight-seeing stops. When the Romans arrived in Spain, Segovia was already an important point on the trade routes, lying at the foot of a mountain range called the Sierra de Guadamara, on the banks of the Rio Clamores. The Romans were interested in other purposes than trading, though. With an eye to defence, they needed to be higher up, to better survey the land. So, they built their camp where the Alcazar castle stands today, and the city expanded around it.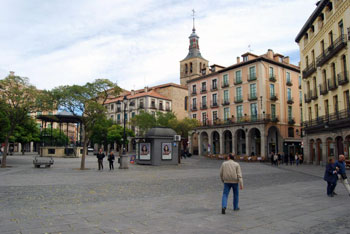 But, how to get water supplies up there? The water from the Rio Clamores was insufficient for their needs, anyway. So, in the middle of the 1st Century AD, during the reign of the Emperor Domitian, an ambitious project was begun. A canal was dug, to bring water from the Rio Frio, 18 kilometres (12 miles) away. The valley of the Rio Clamores would be spanned by a massive aqueduct 800 metres (about 2500 feet) long and, at its highest point, reaching nearly 30 metres (100 feet) high.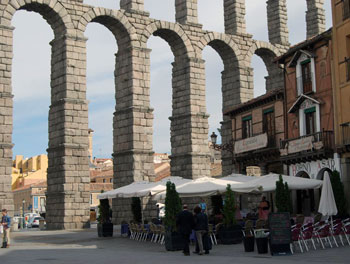 The aqueduct was built from 25,000 stone blocks and, notwithstanding its size, no mortar at all was used in its construction. It took over fifty years to built, was completed in the early 2nd Century, by which time the Emperor Trajan had 'taken the purple'. However, a much later folk-tale told that it had been built overnight, by the Devil himself … hence its alternative name of Puente de Diablo, or 'Devil's Bridge'. It's said that the Evil One was after the soul of a local woman, to achieve which, he had to complete the bridge in a single night … in which task, he failed, because he was unable to find the last block before the sun rose.
After the Romans left, Spain was occupied for several centuries by Muslims, popularly called the Moors. They partly destroyed part of the aqueduct, but as the Christians gained gradually control over the Iberian peninsula, it was restored in 1484 by King Ferdinand and Queen Isabella.
The aqueduct remained in use until the late 19th Century … according to some sources; others say it's still in use today. Whichever, it's such a gigantic size that it can be seen all over the city; indeed, it was almost the first thing we saw on the way in. And, it's still in surprisingly good condition … and certainly not a "Roman ruin."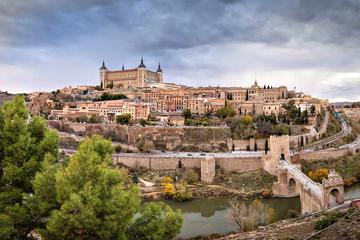 Private full day tour of Toledo and Segovia from Madrid
If You Go:
Aqueduct of Segovia (Wikipedia)
Old Town of Segovia and its Aqueduct (UNESCO)
How to Get There:
♦ The airport nearest to Segovia is Madrid/Barajas (MAD). Segovia is about 55 kilometers north-west of Madrid by road; approximately one hour's drive.
♦ By Rail: Frequent trains run from Madrid/Atocha. Times vary from about 30 minutes (AVE High Speed Train) to 90 minutes (regular stopping train) www.renfe.es
♦ By Bus: Buses leave regularly from the coach station near the Principe Pio Metro station. Journey time about 75 minutes, fare about €8. www.lasepulvedana.es
♦ We stayed at 'El Rancho de Aldeguela' in Torrecaballeros, about seven miles away; from there, from which Segovia was easily accessible by taxi.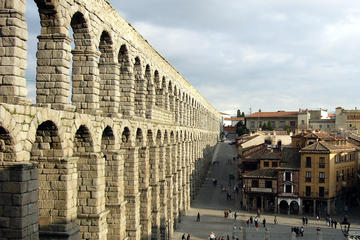 Day Trip to the Ancient City of Segovia and gourmet experience
About the author:
Having written for fun while serving in the Royal Air Force, Keith Kellett developed his hobby into a business when he retired. He found, to his surprise, that his writing work was good enough to finance his other hobbies; traveling, photography and computers. He lives near Salisbury, in the south of England.
Photo credits:
All photos are by Keith Kellett