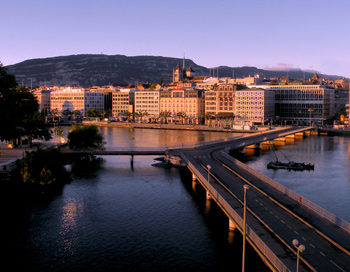 After The Darkness, Light in Switzerland
by Tom Koppel 
Imagine my surprise at coming upon — in a French-speaking European city — a huge statue honouring one of North America's notable colonial-era leaders. None other than Roger Williams, the founding father of Rhode Island.
But this is Geneva, Switzerland, a uniquely international city. It is the birthplace and home of the Red Cross. The League of Nations had its headquarters here after the First World War, and countless UN agencies are still based in Geneva today. One plaza features paving stones that are illuminated at night with words of felicitation in seven languages.
Ursula, our personal guide, meets my wife and me at our classic mid-nineteenth century hotel, which has a rich history all its own. She leads us across the Rhone River and along the shore of lovely Lake Geneva, with its flotilla of swans and iconic fountain, a water jet that shoots a powerful stream 460 feet into the air. We enter the quaint cobbled alleys and squares of the pedestrian-only Old Town. Geneva, she explains, had been a small but strategically situated municipality since Roman times, and has hosted a regional trade fair since 1000 A.D.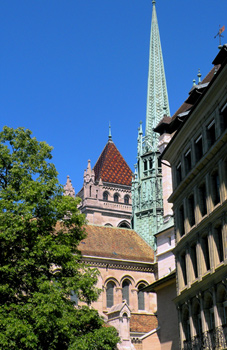 It became a key Protestant city-state during the Reformation in the mid-1500s, when French theologian John Calvin was the dominant figure. Geneva offered safe haven to Protestants persecuted in Catholic countries. French Huguenots, including prosperous professionals and craftsmen, poured in. Ursula points out medieval buildings with arched Gothic windows on the lower floors, but a simpler and contrasting style above. To make room for all the newcomers, Ursula tells us, extra stories were hastily added to many houses, hence the quirky architecture.
Geneva grew and flourished, becoming a centre of publishing, clock-making and gold-smithing. Refugee English Puritans translated and printed their distinctive Geneva Bible. It came to take precedence for them over the King James Version, and was carried to the New World on the Mayflower.
We stroll past the city hall, the opera house, museums, theatres and the Saint Pierre cathedral, with its impressive green spire. Over 850 years old, the cathedral has been Protestant since 1535, when the Bishop, loyal to Rome, fled and the Catholic altars, statues and paintings were destroyed. John Calvin delivered thousands of sermons there. Outside one restaurant, patrons quaff a popular local beer, named Calvinus. At the nearby tavern of the Women's Temperance Society, only non-alcoholic drinks are served.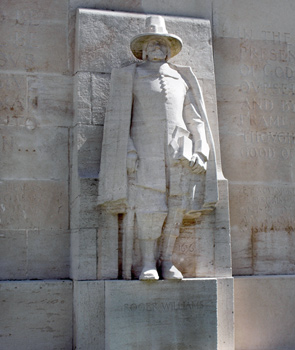 We come to a park on the grounds of the university fringed by a long, high rampart of stone. Formerly a section of the medieval city wall, this is now known as the Reformation Wall. Inaugurated in 1909 to commemorate the 400th anniversary of Calvin's birth, it is the backdrop to ten giant statues of key Europeans from Reformation times, including Calvin himself. There is also the Scottish Presbyterian, John Knox, who sought refuge in Geneva when Mary Tudor ("Bloody Mary") ascended the English throne and restored Roman Catholicism in Britain. Some of the figures, including Oliver Cromwell and Roger Williams, never set foot in Geneva itself. Born and raised in England, Williams studied theology, became a Puritan, and rejected the Church of England. He sailed to Boston a decade after the first Pilgrims arrived in Salem and shortly after the Massachussetts Bay colony was founded.
His convictions soon ran afoul of the Massachussetts authorities. Williams favoured the separation of church and state and opposed any establishment of religion. He argued that if political leaders dictated how Christianity was to be practised, it would inevitably corrupt the religious sphere. This was a very radical concept. Williams was also one of America's earliest abolitionists, opposing the slave trade in any of the colonies. Banished from Massachussetts, Williams sought asylum among the neighbouring Narragansett Indians. He established Providence Plantation (situated in today's city of Providence, Rhode Island), founded the first Baptist church in America, and defended Indian rights.
Williams' enduring legacy was assured over a century later, when freedom of religion and the separation of church and state were enshrined in the First Amendment of the U.S. Bill of Rights.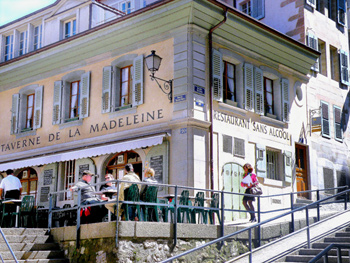 Ursula tells us how his ideas eventually had impact in the Old World as well, especially influencing the constitution of Geneva. During the era of Calvin, the city was entirely Protestant. No Catholic churches were allowed. But by 1847, times had changed. Geneva's leading statesman, James Fazy, was drafting a new constitution. Years earlier, in Paris, Fazy had been friendly with the French General Lafayette, who had fought the British alongside George Washington and admired the American political system. Fazy incorporated many principles derived from the U.S. Constitution. Church and state were separated, and religious freedom guaranteed. Catholicism was again tolerated in Geneva. Protestantism lost its exclusive status.
Today, Geneva is known as Switzerland's city of light. Engraved on the wall near the statue of Williams is the motto of the Reformation, Post Tenebras Lux: "After the darkness, light." Given the links between Geneva and North America, I begin to see how the bright spirit of Roger Williams continues to shine across the centuries. And why he is revered in a city dedicated to international peace and goodwill.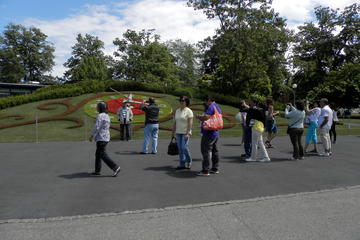 Walking Tour of Old Geneva and United Nations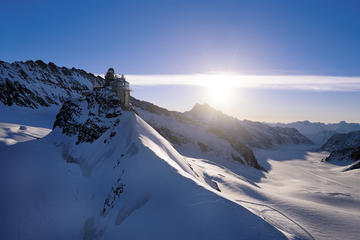 5-Day Best of Switzerland from Geneva
If You Go:
♦ We stayed at Geneva's oldest hotel, the exquisite lakeside Four Seasons Hotel des Bergues, built in 1834. Along with refined elegance and impeccable service, it has a Michelin Star main dining room and an incomparable rooftop restaurant featuring Japanese-Peruvian fusion cuisine.
♦ For private English-language tours with a deeply knowledgeable and personable guide, contact Ursula Diem-Benninghoff at u.d-b@bluewin.ch (Tel/fax: 022 771 17 27, Mobile: 079 471 75 18)
♦ For further information on accommodation options, city attractions and tours, see Geneva Tourism
About the author:
Tom Koppel is a veteran Canadian author, journalist and travel writer. His latest popular book on history, science and travel is Mystery Islands: Discovering the Ancient Pacific. Koppel provides a personal tour of that vast ocean and presents the latest findings in archaeology, genetics and carbon dating. For signed copies of Mystery Islands, just contact Tom: koppel@saltspring.com
All photos are by Annie Palovcik:
Geneva Old Town at dusk
Saint Pierre Cathedral
Roger Williams statue at Reformation Wall
Tavern run by the Women's Temperance Society