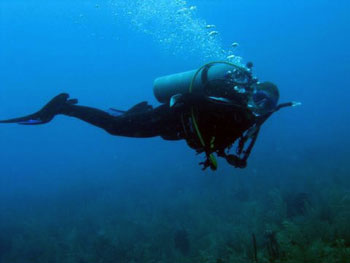 Utila, Honduras
by Alice Driver
At 23, Tina Doran is doing what many young travel addicts have contemplated at one time or another – pursing a career in diving. After college she moved to Spain to complete her Divemaster certification in cold waters of Marbella. From there she flew to Utila, Honduras, a location renowned for the quality and price of dive instructor courses.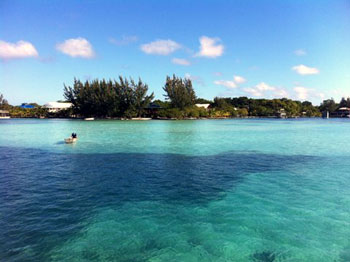 Utila sits atop the second largest fringe reef in the world, and is one of the cheapest places to become a certified diver. Divers from all over the world flock to the island in hopes of spotting an elusive whale shark. Doran, who works at a dive shop on Utila, recently certified her 100th open water diver. In the future she hopes to work for Sea|mester, a semester-long program that teaches students sailing, diving, and marine biology. We discussed the practicalities of becoming a dive instructor to find out how a dream job can become a reality.
AD: How did you become interested in diving?
TD: While I was studying abroad during my senior year of college, I decided to apply for a program called Sea|mester. Students live on a traditionally rigged sailing schooner for 80-90 days, during which they learn sailing, diving, marine biology, and oceanography.
I wasn't really interested in diving, though I was excited about going on an adventure on a sailboat. Once I realized that certification was compulsory, it was too late to back out, and I found myself part of a four-student open water course. In the beginning, I was absolutely terrified. If my instructor hadn't stuck with me, I definitely would have quit. It wasn't until my advanced course that the diving bug bit me.
There were two things that got me hooked on diving – the things I could see, and how diving made me feel. My buddy had a significant equipment failure on our fifth dive, our first dive without an instructor in the water with us. I was the one who provided her with my alternate air source, and we made an easy and safe ascent to the surface. That accident gave both of us a huge confidence boost – the idea that we were well trained and prepared to handle any emergency or accident underwater. Diving made me feel good about myself in that way – it forced me to admit that I was comfortable, competent, and prepared.
AD: What steps should someone take to become a dive instructor?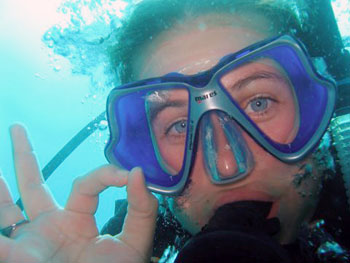 TD: I'm a PADI instructor, and have been a part of the PADI system since my own open water course. Therefore, the information that I provide is pretty specific to PADI which has 80 % of the world diving market share.
Around the time that I was completing my rescue training on the Sea Mester vessel, and thinking about the "next step" in dive training. My goal was to get on board a Sea Mester vessel as a staff member. As soon as I decided to do my Divemaster, I was committed to becoming an instructor. I wanted to do for someone else what my own instructor had done for me.
I researched Divemaster and Instructor programs. I wanted to go to a Spanish-speaking country so I could improve my language skills. Speaking more than one language definitely helps in the dive industry. I chose Spain because the diving conditions were different from where I had been trained. I got certified at a five star CDC in Marbella on the Costa del Sol.
It's not easy to determine the character of a center before getting there, but it is something which has a huge impact on a Divemaster (DMT) / Instructor's training experience. There are a few important things to consider:
1. Choose a longer DMT internship over a shorter one. Though the Divemaster course can be completed in 14 days, this isn't the best option for someone who wants to work in the industry. Dive operations look for Divemasters and instructors with experience in retail, equipment maintenance, boat handling, customer service, and dive guiding. Fourteen days isn't enough time to gain experience in any of those fields. The absolute minimum duration of a Divemaster internship should be one month. My own Divemaster internship lasted six, because I traded work for payment. Rescue Divers who seek to become instructors should remember that Divemaster certification isn't just a stopover on the path to instructor – it's a professional certification in its own right, and divers should be committed to becoming the best Divemasters they can be.
2. Look for a shop with a good reputation. If diving with PADI, a 5 star IDC /CDC is the way to go. These centers also offer instructor-level training, thereby giving you the option to continue your professional level training at that shop if you enjoy the atmosphere and the work. IDC and CDC centers also typically employ higher-ranking and more experienced instructors, which raises the bar for training standards.
3. Carefully comb through details on the Internet. Scuba Board and other similar websites are excellent places to check up on the reputations of various dive centers throughout the world. You can get a good idea about what a shop's like by browsing the comments of former clients, interns, and divers. Becoming a professional diver requires an investment of a lot of time and money, so there's no reason to stick around if you're unhappy there.
4. Do some test dives. Pick a location where you want to dive, then try to find a center that caters to your needs. That way, once you've packed up and headed to the location where you intend to complete your training, you can check out the vibe and see whether or not you'd prefer to do your training at another shop in the vicinity. Of course, it's possible to do dive training back home. If you feel comfortable with your home dive shop, then by all means – stay there! However, you should do your pro-level training where you intend to work because most IDC centers only hire instructors that they have trained. While no center will ever guarantee employment to its instructor candidates, it's a good idea to complete the IDC / IE in the region where you're seeking employment.
5. As for Instructor training, consider the length of the program, the diving packages offered, the location and continuing education / training experience opportunities. Instructor candidates who completed the 2011 PADI Divemaster program, for example, will need additional theory training before they will be prepared to enter their Instructor Development Course and take their Instructor Examinations. An IDC center that offers a prep course would be ideal. Some centers don't offer unlimited fun diving to their Divemaster or Instructor candidates; if your plan is to stay for a while and do a lot of diving, paying per dive will become costly. Some IDC centers, such as the Utila Dive Centre where I did my training, offer specialty instructor courses, as well as a Master Scuba Dive Trainer (MSDT) prep program. This program had candidates getting in the water and team teaching with experienced instructors. The MSDT prep program was what sold me on Utila Dive Center in particular, since it allowed me a trial period as an instructor during which I had a "safety net" – the presence of a staff instructor who could correct any novice errors I made while teaching my first real open water and advanced open water courses.
AD: I think a lot of people dream of diving as a career. What are some important issues to consider in terms of the pros and cons of the job?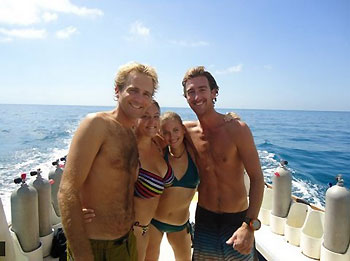 TD: I get paid to scuba dive. And when I'm not getting paid, I still get to dive for free. I get to travel anywhere in the world that caters to divers, and have a good chance of being employed once I get there. This opens up exotic locations in Indonesia, the Indian Ocean, the Red Sea, the Caribbean, and the Pacific.
Shops that employ instructors year round develop an amazing family dynamic. Dive professionals are accustomed to trusting their lives and livelihoods to one another, and this breeds a kind of intense familiarity, loyalty, and respect among co-workers. That said, constant exposure to coworkers, sometimes in excess of 12 hours a day, can also breed feuds and petty rivalries.
I get to do for other divers what my own instructor did for me. There's something exhilarating about teaching people how to scuba dive – particularly those who are afraid at first. Scuba is all about control, about conquering fears and unhelpful instincts, and empowering the individual diver to deal with challenging conditions and unforeseen problems. Diving connects new divers with their minds and bodies in a way that most never have experienced before – not to mention the experience of finally seeing the underwater world in all of its splendor for the very first time! It's impossible to describe how proud I am every time a student conquers a particularly difficult underwater skill, or comes up from a dive laughing and telling me what an amazing time they've had. I also find being underwater to be extremely peaceful – it's a time away from the noise of motorbikes, ringing phones, e-mails, depressing world news, demands, and questions.
AD: What kind of sacrifices have you had to make? How do you survive financially?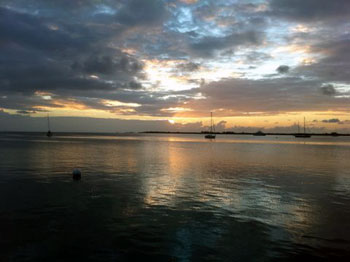 TD: Diving is not for everyone. Unless you're working at a year-round diving destination, the business is likely to be seasonal at best. Working at a year-round diving destination also tends to bring people far from their homes and families.
I work very hard, and don't make very much money. Where I work, paychecks run entirely on commission. This is fairly common for average dive shops at highly trafficked destinations such as Utila and Ko Tao, Thailand. It lends a level of financial instability to my life. I might work three consecutive 12-hour days in a row, and see either $50 or $200+ for my efforts. It's completely dependent on how many students I have. Some months I'm rolling in a couple thousand dollars – others I barely break even.
I often work three consecutive 12-hour days. There is no such thing as overtime – I keep working until my students meet the performance requirements outlined by PADI standards. The work isn't always there, either – I've gone days at a time without students.
AD: What are the top dive sites you would like to visit?
TD: I'd say the Cenotes in Mexico and the Red Sea in Egypt. Once I can stomach dry suit diving again, I'd like to head up to Scapa Flow in Scotland, as I've developed an obsession with shipwrecks. When I have some money, I'll think about excursions to the Galapagos Islands in Ecuador and the Cocos Island in Costa Rica.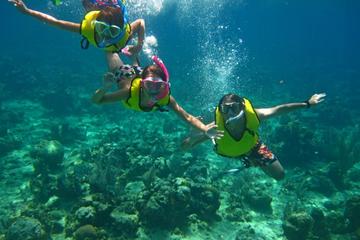 Snorkel trip in Utila
If You Go:
For more information on how to spend a semester at sea sailing between islands and studying marine biology, visit the Sea|mester webpage at www.seamester.com
To find out more about the reputation of a particular dive shop visit Scuba Board at www.scubaboard.com/forums
Dive Shops on Utila
Prices: Open Water or Advanced Water Courses cost between $239-$300 depending on the dive shop. Rescue diving costs between $239-$300, and divemaster courses cost between $775-$850.
1. Utila Dive Center – In 2010 UDC was voted the best PADI dive center worldwide. www.utiladivecenter.com
2. Cross Creek Dive Center – Free accommodation (shared rooms, cold water showers) and wi-fi are included in the price of the dive class. Also, all dive masters certified at Cross Creek can dive free at Cross Creek for life (this makes diving every day very affordable if you are planning to stay on the island for several months). www.crosscreekutila.com
3. Alton's Dive Center – They are the only shop on the island offering both NAUI and PADI dive certification. www.diveinutila.com
4. Parrots Aqua Adventures – Parrots is one of the few locally owned dive shops. diveparrotsutila.com
5. Bay Island College of Diving – They have a staff of biologists and a naturalist division from the Whale Shark and Oceanic Research Center. Divers can also volunteer at the Research Center. For more information visit www.wsorc.org. In 2005 BICD was awarded a Project Aware Environmental Achievement Award. www.dive-utila.com
6. Underwater Vision – This family owned operation has been training divers for 30 years. Free accommodation is provided to those taking dive courses. www.divingutila.com
7. Captain Morgan's Dive Centre – This is the only dive center that offers accommodation on the Utila Cays, some of the tiny islets surrounding Utila. This means that divers are closer to the best dive spots on the North side of the island. www.divingutila.com
8. Coral View Dive Center – Started in 2005, this is the newest dive center on the island. They run conservation projects in which divers can participate, and their resort offers eighteen rooms and a penthouse.
9. Deep Blue Divers – Dive class size is limited to four students to insure personal attention. This is one of the only dive shops that has private rooms and hot water showers. deepbluediversutila.com
10. Ecomarine Gunter's Dive Shop – This shop has been in operation for 30 years. In recognition of the party lifestyle of many travelers, they offer "the lazy boat" which takes morning divers out at 10:30am rather than 7:30am as is customary at other shops. www.ecomarineutila.com/
11. Paradise Divers – This friendly, multi-lingual shop offers a full range of dive courses. www.todomundo.com
12. Laguna Beach Resort – This resort, which is on the other side of the lagoon from the main town of Utila, is secluded and guests stay in beautiful bungalows. www.lagunabeachresort.info
13. Deep Blue Resort – This 5 star PADI resort offers an all-inclusive diving vacation. www.deepblueutila.com
About the author:
Alice Driver's travel writing has appeared in the guidebooks To Vietnam With Love (Things Asian Press, 2008) and To Thailand With Love (Things Asian Press, 2011) and online at Transitions Abroad, Abroad View, Cultural Survival, and Go Nomad. Follow her nomadic adventures at www.alicesgastronomicadventures.blogspot.com
All photographs are by Tina Doran and Caroline Goransson.