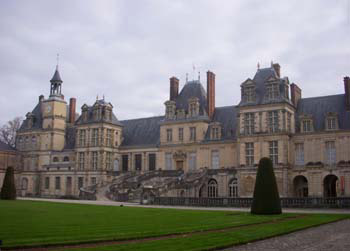 by Christine Sarikas 
I had come to Fontainebleau doubtful of the merits of visiting French palaces. On my first visit to France I had toured Versailles, and any notions I had had of sweeping across luxurious rooms were dashed when my feet hit the expansive gravel entrance and I was bumped aside by a tour leader holding an umbrella high above her head.
Once inside Versailles, things improved slightly: the grandness and the opulence were there, but I did not sweep along the rooms as much as I was herded, pushed along in a sea of other tourists, all holding their cameras in front of their faces. During my visit, the Hall of Mirrors was under such heavy construction that I walked straight through that heralded place without realizing where I was. A friend dragged me back in, and I held my camera up and took an obligatory picture. I still have that photo of my foggy reflection, blurred from the dust coating the hall's solitary uncovered mirror, my lips pursed, drop sheets festooned behind me.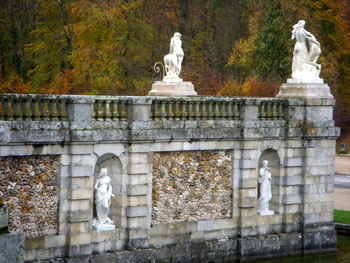 Years later, on the eve of my next trip to France, a friend I was meeting sent me an e-mail that contained three words: Château de Fontainebleau? Some quick research told me Fontainebleau was a palace used by French royalty, about 45 minutes from Paris. I was skeptical, feeling that visiting would mean long lines and vast car parks, but my friend insisted, so to Fontainebleau we went.
My first impressions were favorable. Fontainebleau is one of the largest palaces in France, and its attractive buildings are bordered by expansive gardens and, farther on, the Forest of Fontainebleau. One enters through the Yard of the White Horse and is immediately struck by the château's large horseshoe staircase. No gravel and not a tour group in sight.
Kings and Emperors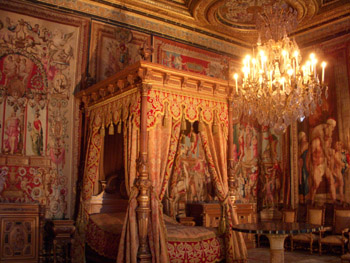 A château first stood on the site during the 12th century and served as a hunting lodge for the kings of France. In 1169, Thomas Becket, the exiled Archbishop of Canterbury, consecrated the site's chapel to the Virgin Mary and Saint Saturnin. Numerous French kings visited and expanded the château, and in December of 1539, Fontainebleau, by then far larger and more luxurious than a simple hunting lodge, played host to Charles V, the Holy Roman Emperor. His son, Henry II of France, was a frequent visitor, and Henry's wife Catherine de Medici gave birth to six of their children within the château. Hunting parties continued to be held at Fontainebleau, marriages were arranged and conducted, a peace treaty between France and England was signed on 16 September 1629, and over a century later Louis XVI signed a trade agreement with England, effectively signaling the end of the American Revolutionary War. Monarchs, royals, and heads of state all visited the château, but Fontainebleau's most famous resident did not arrive until 1803.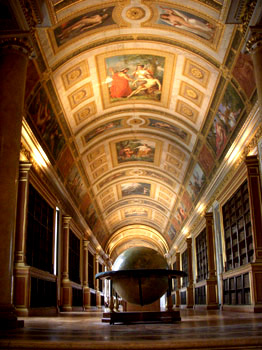 Napoleon first visited the Château de Fontainebleau to inspect the newly finished military academy, École Spéciale Militaire. By the beginning of the 19th century, the château had fallen into disrepair; the vast majority of its furnishings had been sold during the French Revolution, and Fontainebleau was left empty and neglected. Napoleon chose to leave Versailles–with its Bourbon links–vacant and instead turned his attention to transforming Fontainebleau once again into a home and symbol of power.
More than any of the French kings who lived there before him, Napoleon completely refurbished Fontainebleau and restored it to its former grandeur. He is responsible for multiple structural changes, including widening the château's cobblestone entrances in order to allow his carriage to pass through. Pope Pius VII stopped at Fontainebleau in 1804 when he came to crown Napoleon Emperor of the French at Notre Dame Cathedral. He returned to Fontainebleau as Napoleon's prisoner in 1812 and remained in the château until 1814. Napoleon visited Fontainebleau regularly, hosting visitors and signing treaties within its walls. It was at Fontainebleau where, on 20 April 1814, Napoleon gave his famous farewell to his Old Guard and signed the Treaty of Fontainebleau, resigning from power in what is now known as the Abdication Room before being exiled to the island of Elba.
After his escape from Elba, Napoleon would return to Fontainebleau just once more, for a span of a few hours during the Hundred Days. Fontainebleau would become one of the favorite courts of his nephew, Napoleon III, who carried out the château's final major structural changes with his wife Eugénie.
Architecture, Art, and Arbors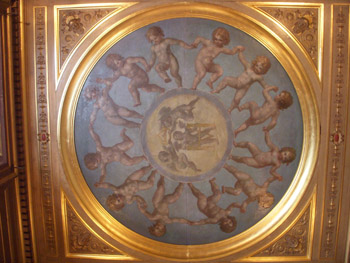 Less widely known and visited than Versailles, Fontainebleau still offers the same degree of beauty and splendor. Its long history and renovations by generations of rulers has meant that Fontainebleau's sprawling palace showcases examples of French architecture from the 12th to 19th centuries. Its most defining feature is its grand horseshoe staircase, commissioned by Louis XIII (who was born in the palace) and built by Jean Androuet du Cerceau. The majority of the château's current buildings were constructed in the 14th century under Francis I, whose architect Gilles de Breton created much of the Cour Ovale, the château's oldest and most central courtyard.
Inside the château, numerous rooms hold historic and artistic significance. The longest room in the château, the Gallery of Diana, was turned into a library by Napoleon III and now holds approximately 16,000 volumes, many from the library of Napoleon I. Two sumptuous boudoirs of Marie Antoinette reveal the opulence of Fontainebleau; in keeping with the fascination of exoticism at the time, they contain numerous Turkish items and motifs. Several private rooms of Napoleon I are on view as well, including his official bedroom, while the Room of the Empress has been restored to how it would have looked when Josephine was a resident. A large collection of furniture, art pieces, costumes, and documents from the imperial family are displayed within the château's Napoleon I museum. The Napoleon III Theatre, one of the finest examples of Second Empire theatres, has been recently restored and now hosts occasional shows.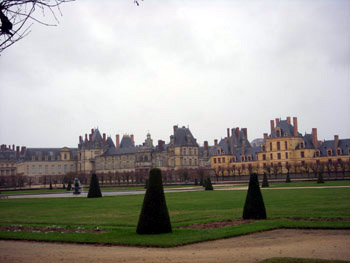 Fontainebleau, with its combination of Italian and French artistic styles, is considered by many to be the birthplace of the Renaissance within France. Much of the palace reflects the Italian Mannerist style, popular during the later years of the Renaissance and now widely known as the "Fontainebleau style." The palace's Gallery of Francis I, which is dominated by Florentine artist Rosso Fiorentino's series of frescoes, was the first large decorated gallery to be created in France. Other Renaissance painters who contributed to the art at Fontainebleau include Francesco Primaticcio and Benvenuto Cellini; the latter's Nymph of Fontainebleau is now housed at the Louvre.
Beyond the palace's rooms are Fontainebleau's grounds, which contain four courtyards, three main gardens and span over 130 hectares. Of the gardens, the Grand Parterre is the largest formal garden in Europe and was Louis XIV's most significant addition to Fontainebleau. The Cour d'Honneur, now often known as the Cour des Adieux, is the courtyard in which Napoleon gave his farewell speech to his soldiers. In addition, the grounds include a canal, manicured French and English-style gardens, an orange grove, and numerous fountains and statues.
Today, Fontainebleau is home to the Écoles d'Art Américaines, an American school that teaches architecture, art, and music. The remains of the vast royal hunting grounds, now known as the Forest of Fontainebleau, continue to surround the château and are home to numerous rare plant and animal species. The forest is also famed for its rock climbing opportunities. Alpine climbers have used the surrounding boulders to train for mountain climbing since the 19th century, and today the area is one of the largest and most famous bouldering sites in the world.
With its long line of royal residents, its importance to Napoleon, and its numerous works of art, Fontainebleau offers one of France's best opportunities to see a palace heavy on history and beauty, but light on crowds and commercialism.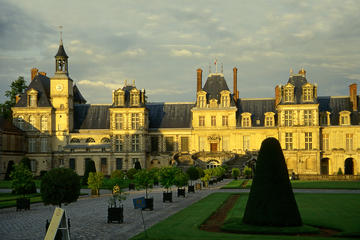 Fontainebleau Vaux le Vicomte Full Day Private Guided Tour from Paris
If You Go:
The Palace of Fontainebleau is located approximately 55 kilometers southeast of Paris. To travel by rail from the main line of Gare de Lyon, take a train for Montargis Sens, Montereau or Laroche-Migennes, alighting at the Fontainebleau-Avon stop. From there, the "Ligne A" bus runs regularly to the palace; alight at the "Château" stop.
The château itself is open every day except for Tuesdays, 1 January, 1 May, and 25 December. The palace's official website provides a wealth of information for planning visits.
About the author:
Christine is an explorer, scientist, and writer. She has lived in the United States, Europe, and Central America and is currently pursuing a graduate degree. When not studying, she enjoys traveling, particularly to off-the-map locales.
All photos by Christine Sarikas.