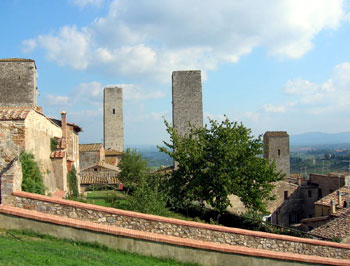 by Chris Herbert
The scent of citrus was in the air. It was mid October and while the Tuscan sun was low in the western sky it still felt warm on my face. I was sure that if I closed my eyes I would be a witness to the sounds and the sights of medieval farmers returning from the rolling hills to the safety of this walled city. Since the 13th century the walls of San Gimignano have served as the safe haven from marauding hordes and this piazza has been the meeting place for the citizens of this ancient Tuscan town.
We settled in on the low steps of the community cistern in Piazza Della Cisterna one of the highest squares in San Gimignano to enjoy the creations of master gelato maker Sergio Dondoli. The creamy treats, our reward for the long walk up Via San Giovanni. My interest was divided between the animated conversations all around me, friends and neighbours greeting each other in Italian and listening to my travel mates, one was expounding the art and history of the museums, galleries and churches of Tuscany, the other recounting the time spent wandering the narrow cobble stone streets, sampling the local gastronomic delights and wines. All I could add was 'sono d'accordo' on both counts.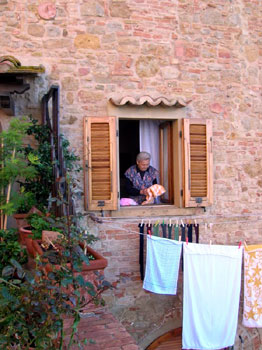 The first written records of this Estrucan village are from 929 AD. Named for the former Bishop of Modena in the 10th century San Gimignano is a Unesco World Heritage site and is also known as the city of beautiful towers. During The Middle Ages while at the peak of it's influence this town boasted fifty-six towers, some standing more then fifty meters tall and visible from anywhere in the Elsa Valley. These towers were not only status symbols to local families as well they served as a medieval early warning system should would be invaders approach. Because of war, the Black Plague in the 14th century, urban renewal and other catastrophes only fourteen of the towers remain and only one, The Grossa tower was open for our viewing.
Although I would never claim to be an expert on such things but it seems to me that San Gimignano could also be called the city of collections. That would include works of art by Renaissance painters Filippino Lippi and Pinturicchio as well as others in The Duomo or Communal Palace, the town art gallery.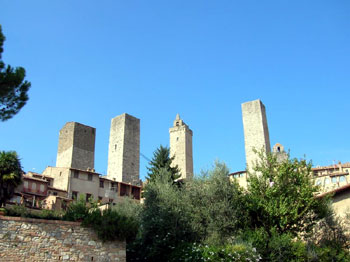 Being surrounded by so much history can be a little over whelming so we took a time out to clear our heads and check out the terra cotta and glazed pottery. Crafts and pottery that have been produced by local artisans are abundant in the open-air market and shops along Via Giovanni. I couldn't resist bringing a handcrafted ornament home for my grand daughter.
Our discussion of all that we had enjoyed about San Gimignano was interrupted by the aroma of the Tuscan cuisine as it wafted across the piazza from a local ristorante. Our focus promptly changed from Estrucan artifacts to our earlier visit to Fattorio Lischeto and one of the best meals we have ever enjoyed.
The Giovanni Cannas family farm is on the Monte Volterrano road between San Gimignano and Volterra. The Agriturismo program allows families like the Cannas' to continue the centuries old farming tradition on their one hundred and fifty hectares by combining their life long work with a tourist destination. We got to experience a small taste of Tuscan farm life.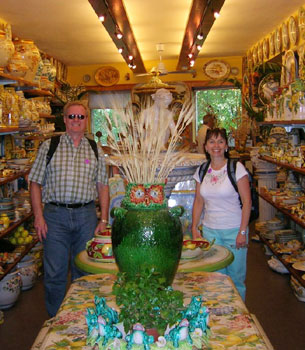 Fattorio Lischeto boasts a restored rustic farmhouse where we enjoyed the best of Tuscan cuisine and the company of fellow travelers from around the globe. The panoramic views of the surrounding farmland, Cypress groves, rolling hills and valleys could only surpassed the crispy crostini and pancheta, organic pecorino cheese, panchino tomatoes freshly picked from the garden and a drizzle of virgin olive oil. I still smile when I think of the organic Chianti.
It was early morning when we walked along Via dei Marchesi into Piazza Martiri della Liberti in Volterra a hillside town of 11,000 people. Standing in the centre of the piazza in the shadow of the towns 15th century bell tower we attempted to familiarize ourselves with our surroundings. As the locals went about their daily chores or prepared their shops for the day we were approached by a man bible in hand returning from Mass at the Cathedral of Santa Maria Assunta. "Possiamo aiutarti?" Now I was wishing that I had spent more time practicing my Italian. I was relieved when he added. "My English is not good." Much better then my Italian I thought. "How I can help." He asked. As it turned out our new friend Fuvio was very helpful. He got us on our way again with points of interest now clearly marked on our map of Volterra. We began our stroll through the quiet streets and alleys poking our heads into bottegas and artist's workshops.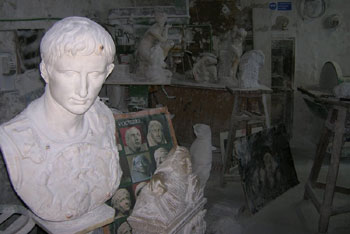 While San Gimignano is a busy tourist destination Volterra is what I had envisioned when I thought about an ancient Estrucan town. The City of Alabaster as it is known became important in the 18th century in part because of the quality and transparency of the alabaster in the region. To this day craftsman work in the dust filled workshops where you can watch them work and spend whatever amount you desire large or small for your memories. In celebration of their history of carving Volterra's Museum of Alabaster boasts over three hundred original pieces, displayed in a 17th century convent.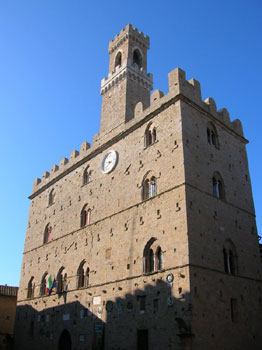 Early Roman influence is apparent in Volterra with the recent (in Tuscan time) discovery of the ruins of the Theatre of Vallebona from the 1st century and spa buildings from the Augustun age (5th century). Many of the archaeological finds from digs in and around Volterra and the Elsa Valley are displayed in the Guarnacci Museum, one of the first public museums in Europe that was founded in 1761 while the Romanesque style church of St. Agostino is the home to remnants of famous frescoes.
Volterra is a very laid back and relaxed journey into Estrucan times with many narrow streets and alleys to explore. Somewhere I would like to visit again.
Back in the piazza in San Gimignano I dabbed the last of the Rosmarino gelato from my chin. The October sun set behind a tower and an early fall chill filled the air. As we slipped into our jackets and started back down Via San Giovanni we still couldn't agree on our favorite part of our trip to Tuscany. One thing we could agree on was that this part of Italy has much to offer and that this was a Tuscan adventure that was too short.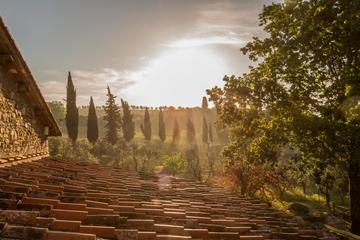 Wonderful Tuscany Wine Tour in Chianti Wine Region Siena and San Gimignano
If You Go:
Tuscany can be as easy as a day trip away from Rome or Florence by train or bus. Even if your first visit is a day trip I am sure you will want to stay longer or return to Tuscany. Accommodations in Tuscany tend to be in rental apartments or villas. There are a few small hotels: www.tuscanyaccommodation.com or www.agriturismo.net
For train and bus routes and schedules in and around Tuscany www.welcometuscay.it If you are feeling a little more adventurous why not travel by car or Vespa scooter. There are several sites to choose from including www.bellinibruno.com
Most Italians, Tuscans included seem to be able to find any excuse for a festival. Whether you are interested in a flag festival or a celebration of your favorite fruit or vegetable a good place to start is www.discovertuscany.com
About the author:
Chris Herbert has been a closet writer for a long time. In recent years he has combined his writing passion with his travel adventures. You can read his articles in Postcards in the Vancouver Sun and an upcoming story in Seniors Living. Next on the travel agenda… Northern Spain.
All photographs by Chris Herbert.