Penobscot Bay, Maine
by Melanie S. Pinkert
Modern sailboats conjure up romantic images of colonial explorers, pirates, and crusty fishermen. Imagine sailing the Maine coast on a schooner launched in 1871.
The Stephen Taber, a historic landmark, has been sailing continuously for 138 years. Originally a cargo boat, it now takes up to 22 passengers on sailing adventures through Penobscot Bay.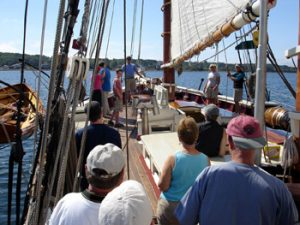 Our sail began with a shipboard meeting the afternoon before casting off. Passengers gathered on the wooden deck. Some sat on the cabin roofs. Others leaned on the rows of gleaming whisky barrels that held the boat's water supply. Captain Noah had the requisite sailor's beard and penchant for story telling. He gave us the rundown on how not to injure ourselves on all the ropes, pegs, lines, anchors, and steaming hot pipes on board.
"The plan is," said Captain Noah "there is no plan."
Giddy at the prospect of spending the next few days going wherever the winds took us, we went below deck to check out our cabin. We squeezed our way through the narrow door and sucked in our stomachs to get it closed behind us. Inside, it seemed like the trunk of a Cadillac, but wood paneled and with a hand pumping sink. Also hand pumped were the heads (toilets), located above deck. No television. No telephone. No running water. Except for the plugs, radio, and GPS near Captain Noah's station, we were back in the nineteenth century. Even the food was made the old fashioned way. The Taber has an old wooden stove and a chef who managed to make three gourmet meals a day: lobster, pork loin, or beef tenderloin stuffed with peppers and pepperoni.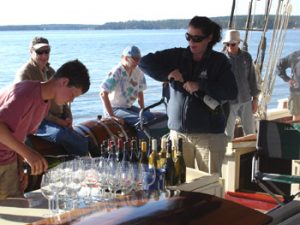 Because we went on one of the wine tasting cruises, each evening began with an incredible array of wines laid out by Will, the boat's 14-year-old sailor-in-training and lovable, Dickensian urchin. The tastings were organized by Captain Noah's wife Jane, a thirteen year veteran of the wine industry. Incredibly knowledgeable and delightfully unpretentious, she guided us on a wine tour from California Cuvasion Chardonnay to Italian Bussola Amarone.
On occasion, the boat anchored and we explored historic port towns like Stonington, incorporated in 1897. There we watched fishermen unload their lobster catch and wandered art galleries housed in idyllic seaside cottages. When not eating, drinking or wandering through villages, passengers gazed out at the calm waters and beautiful green trees along the Maine coast. Vacations homes and lighthouses graced the shores. Lobster buoys dotted the waters.
Sometimes we assisted the crew, yelling nautical things at each other while hoisting sails and raising anchors. Mostly we all just relaxed and enjoyed a few days living without a plan.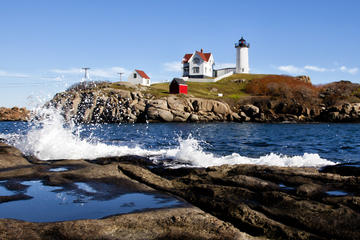 Boston to Coastal Maine Private Day Trip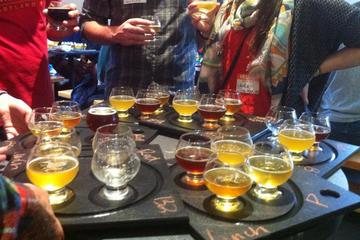 Portland Maine Brewery and Winery Tour
If You Go:
The Taber leaves from Rockland, Maine. The nearest airport is Portland, Maine. The Concord Coach (www.concordcoachlines.com) has a bus that will take you between Portland and Rockland. The Taber belongs to the Maine Windjammer Association (www.sailmainecoast.com)
About the author:
Melanie S. Pinkert is a writer/photographer specializing in the history, culture, art, food and politics of the Americas. Currently living in Washington, DC, she has lived in Florida, California, and Guatemala. She publishes online travel guides at www.bohova.com and blogs at www.bohova-mel.blogspot.com.
Photo Credits:
All photographs were taken by Melanie S. Pinkert and P.J. Walter, courtesy of The Windjammer Association. (www.sailmainecoast.com)