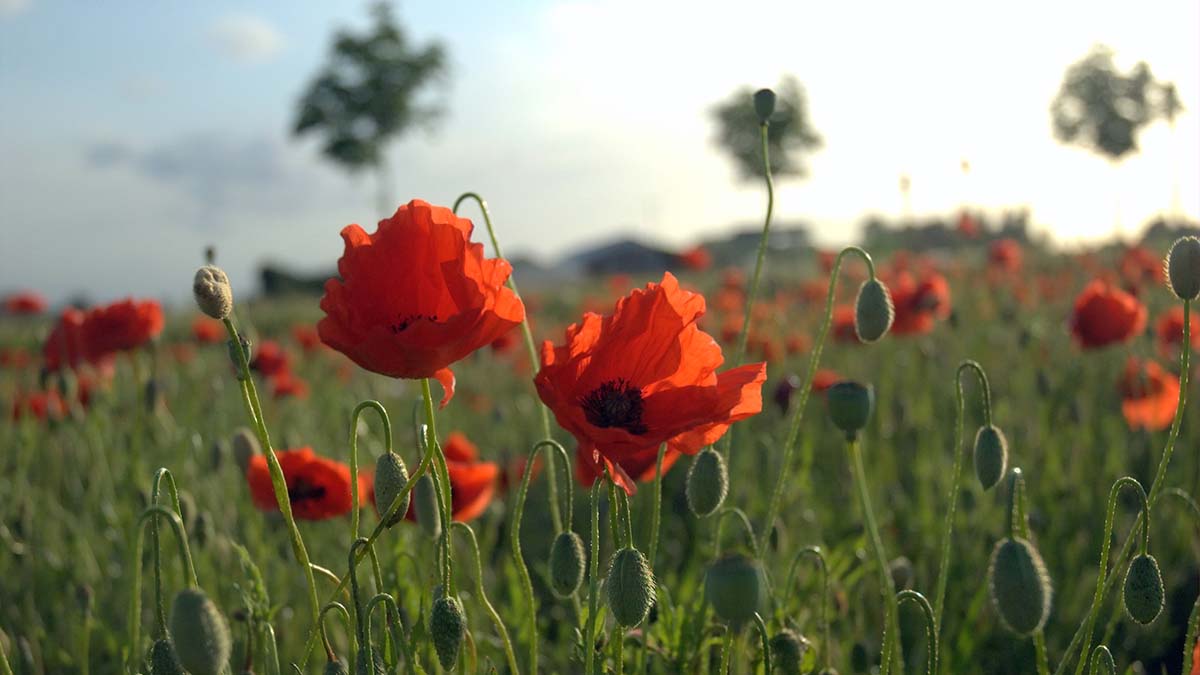 Ypres, Belgium
by W. Ruth Kozak
IN FLANDERS FIELDS

by Lieutenant Colonel John McCrae, MD (1872-1918), Canadian Army

In Flanders Fields the poppies blow
Between the crosses row on row,
That mark our place; and in the sky
The larks, still bravely singing, fly
Scarce heard amid the guns below.

We are the Dead. Short days ago
We lived, felt dawn, saw sunset glow,
Loved and were loved, and now we lie
In Flanders Fields.

Take up our quarrel with the foe:
To you from failing hands we throw
The torch; be yours to hold it high.
If y break faith with us who die
We shall not sleep, though poppies grow
In Flanders Fields.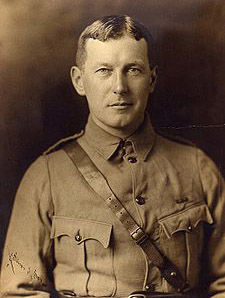 The author of this poignant, well-known poem was Lt. Col. John Alexander McCrae, a soldier from Guelph Ontario who served as a surgeon in the No. 1 field hospital in Ypres during World War I.
After his friend and former student, Lt. Alexis Helmar, from Ottawa, was killed during the Second Battle of Ypres in 1915, McCrae wrote this inspirational poem "In Flanders Fields." In the absence of a chaplain, McCrae had buried his friend. In the nearby cemetery he could see the wild poppies that sprang up in the ditches. The poem was an exact description of the scene. He also wrote of that day "I wish I could embody on paper some of the varied sensations of that 17 days. Seventeen days of Hades!"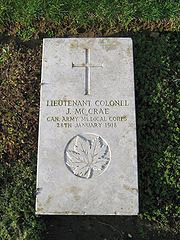 On January 28, 1918, while commanding the No. 3 Canadian General Hospital at Boulogne, McCrae died of pneumonia. He was 46 years old. He was buried with full honors in the Commonwealth War graves section of Wimereux Cemetery near Boulogne.
As a child, growing up during World War II, almost everyone of the children in my school in Stratford Ontario had fathers, grandfathers, brothers or uncles serving overseas. My father was Chaplain in the No. 10 Field Hospital in Holland. Fortunately, he returned to us safely after the war ended. But I recall, almost on a daily basis, someone in our school or neighbourhood would get the sad news that someone they loved had died or was wounded.
This song was sung in our classroom every Remembrance Day. And still today, on Remembrance Day, November 11th, this beautiful poem resonates to remind us all of the tragedy of war.
Tours of Ypres:
Private Somme Battlefields, Fromelles and Flanders Fields Tour with Last Post Ceremony in Ypres from Brussels
Canadian Somme and Flanders battlefield tour 2 days starting from Ypres or Bruges
Australian WW1 battlefield tour in Flanders and the Somme from Bruges or Ypres 2 days
Further Reading:
A beautiful memorial site for the In Flanders Fields Museum. The museum conserves the link with wars past.
City of Guelph, Ontario website – Remember Flanders and Lieutenant-Colonel John McCrae
Battlefields website – The Ypres Salient Battlefields
About the author:
W. Ruth Kozak has clear memories of growing up during World War II, and since then, the experience of the Korean and Vietnam Wars as well as the current battles in Iraq and Afghanistan. "Lest We Forget." She is the former editor and publisher of Travel Thru History. You can read more of Ruth's travel adventures on her blog: www.travelthroughhistory.blogspot.com
Photo credits:
Field of poppies in Flanders by Tijl Vercaemer from Gent, Flanders #Belgium) / CC BY
John McCrae in uniform circa 1914 by William Notman and Son / Public domain
Grave of John McCrae by Roger Davies / CC BY-SA