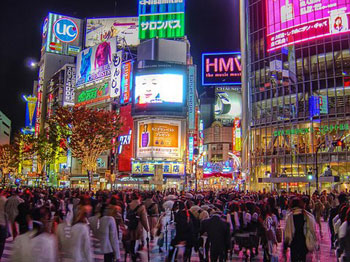 Tokyo, Japan
by Tim Roberts
In Tokyo's fast paced Shibuya district, Tim Roberts encounters a night culture permanently on the move, where the best local experiences won't be found sitting down.
'Sitting or standing?' Masa asked. Not expecting to make such a decision, I stumbled on standing. 'Japanese, English, something else?' This one was easy: when it comes to choosing restaurants, always go local.
I was in Shibuya, a Tokyo district familiar to any moviegoer. It's all the points of the compass compacted into the city's busiest road crossing. Pedestrians line up like the start of a marathon and take over the road, leaving Bill Murray hangdog in the middle. His foreignness is clear in his stillness for, in a place that's constantly moving, the most Japanese of experiences are to be found by standing up.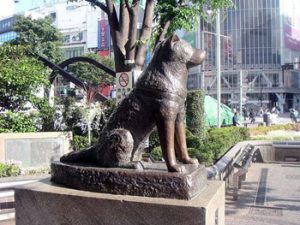 Masa had arranged to meet me by Hachiko, who turned out to be a dog – a bronze statue of this Tokyo ward's most venerated citizen. From having sat in the same spot for 75 years Hachiko has become the city's best known meeting point. His owner was a professor at the local university. Every morning, the two would walk to Shibuya Station, leaving Prof Ueda to catch the train while the dog returned home. In the evening, Hachiko would make the journey alone to meet his master until, in May 1925, the professor passed away at work. Hachiko arrived at the station to greet him, but Prof Ueda didn't appear. He returned every night for the next ten years, patiently waiting for his best friend until they were finally reunited in death. Dog and master were buried together at Aoyama Cemetery.
With my faith in Masa, the lights finally turned green and we left Shibuya's neon centre. He guided me through the types of alleys the tourist maps omit to a little shack, almost hidden beneath a tumble of disused cartons. Inside, thick wooden blocks, once used to haul tuna fish at the local market, had been employed as tabletops. Without chairs to choose from, we took a stand in the corner, cracked a couple of beers and enjoyed the preprandial fish roe, the little eggs an untampered smear in the centre of a saucer.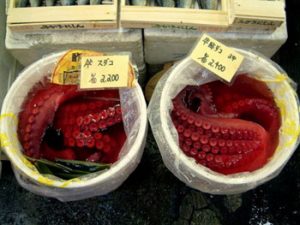 The wall decorations were sheets of Japanese script. This turned out to be the menu. I gave way on the ordering and was rewarded by giant crab's legs, chunks of purple octopus, fillets of tuna sashimi and seared scallops on the half shell. This was Hokkaido dining, the sum of the sea's bounty minus any standard aesthetic deviations. No garnish, no fanfare. The soft crab shell kindly cracked beneath my fingers. The octopus felt its way down my gullet, while the scallops simply melted. The sashimi was better – fresher and juicier – than you'd ever find at home.
Two days after standing eating seafood with Masa, friend of a friend Ken also suggested we meet besides Hachiko. He proposed some place where we could 'appreciate the scenery'. Now you know the 'scenery' of Shibuya, so what is there to look at? There's no time to 'appreciate the scenery' when the only thing not moving is a dog cast in bronze. But Ken meant something else; peer at girls, Ken meant. Giggles of girls don Little Bo Peep and bravados of boys wear Arthur Fonzarelli. By keeping moving, they're seen but not savoured. Like scallops or sashimi, the encounter is intense and just as suddenly absent.
Ken chose a Bond set Italian (cave, lake, wine island) where the food aims to be unremarkable and service has been cheerlessly computerised. After eating, he echoed Masa's question. 'Sitting or standing?' More confident with experience, we patronised a tachinomiya, literally 'standing bar', a trend converted from the Japanese salaryman's desire for a swift one before heading home. Its clientele of young suits, blue collar workers and luckless ladies were popping edamame beans and downing shot glasses of Asahi with the same in out rhythm of Italian espresso bars. Low slung drapes and paper screens separated indoors from out, creating a convivial conspiracy of drinkers, a secret treehouse club.
At the unambitiously named Piss Alley in nearby Shinjuku, the yakitori (grilled chicken) joints offer seats to their bar side patrons but, with stools so high and custom so dense, you might think everyone was standing. The laughter of old men through their uniforms of cigarettes and beer, and the beckoning of matrons, bubbling as raucously as their stews, makes it feel closer here to the street festivities of Vietnam here or memories of Edo era Tokyo. The simple and cheap set up instantly relaxes visitors.
A pabu was Masa's choice for after dinner drinks. Perhaps the warning was in the name and the sitting only rule. The Hub chain is owned by a Japanese Anglophile and serves Bass and fish 'n' chips but this fusion owed more to Kirin than Carling. The fish is chopstickible tempura, not the geisha's clog of beer battered we're familiar with, although even tempura is a multi racial offspring. The ubiquitous and supposedly national dish owes its name to Portuguese sailors arriving in Kyushu in the 17th century. Then as now, reverential Catholics practise temperance by denying themselves fried fish on Fridays.
At the pabu the system is regimentally complex. Any attempts to order before leaving the staging area invite disapproving thoughts and suppressed smirks. The Japanese correction is a face saving device that benefits both parties. At a breaded pork restaurant (kuski katou), I knew now to watch my fellow diners carefully to learn correct form. Wipe your hands with a damp towel before eating. Roll and place carefully to one side. Choose skewers of food from the wooden tray presented. Coat each thoroughly in the communal sauce to avoid the dreaded double dip. What I didn't spot was the need to dispose of the empty sticks in the little vase in front of me. The waitress's reprimand is an apology. 'I'm so sorry for our Japanese ways.' It allows me the same opportunity. 'No, I'm just a stupid gaijin.' We can both enjoy our modesty.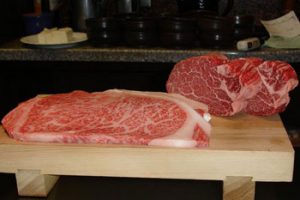 A few hours on the bullet train and we're in Kobe, an undemanding port city famed for its eponymous beef. Kobe cow retails at between £120 and £200 a kilo. As with tuna, the Japanese charge more for the fattier cut, so fillet fans leave a restaurant richer than sirloin supporters.
To sample all sorts, I treated myself to a gift set. The vacuum packed beef was wrapped in tissue, itself enclosed within a smart little box. The box was coated in gold foil paper and a set of instructions were tucked inside. So after the ritualistic unpacking, how did it taste? Nearly as good as the best beef I've ever tasted. The best beef I've ever tasted was a very old piece of rump, cooked rare at a respected London restaurant. Kobe beef honoured me with a coy flirtation of flavour, seduced with its teppan yaki and soy coat, fitting tenderly the people and place. It was not the bruising, ten gallon T bone, nor the buttery and theatrical Chateaubriand. Any earthiness was indivisible. It was designed to be sampled, not for sustenance.
But what did you expect? When Imperial Japan lifted their protectionist beef ban in 1868, they still called cows 'mountain whales'. Meanwhile, the West was calling them Daisy and Buttercup. We live among them, milk them, see them every day. Here it's a delicacy, a sashimi, a foreign invasion neutralised through traditional treatment.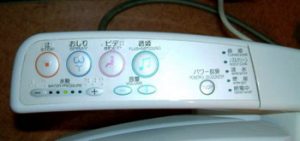 And this is how the Japanese culture protects itself from pizzas, pubs and even pissers. Everyone's heard about the Japanese toilet, with their cosy warmed seats and disconcertingly enjoyable sprays. They call these futuristic fancies 'Western toilets'. Any public loo features far fewer of these than the traditional 'Japanese' squatters, yet locals will pass open doors to queue for the sit down model. This love hate relationship with the West may make some anxious that Japanese culture is being flushed away, but the most authentic experiences still won't be found sitting down.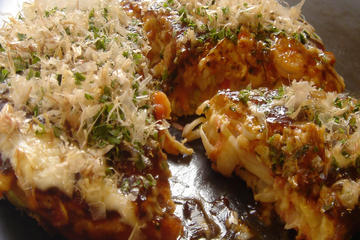 Walking Food Tour of Shibuya at Night
If You Go:
Shibuya station is well served by many subway, Japan Rail and private lines. The Hachiko statue has its own exit and is near the famous 'scramble' crossing.
The Kizankan hotel is around $180 a night (113-0033). A much more modest option is Hotel Xebec at $20 25 (110 0003). Both are in Shibuya. The local branch of the Hub pub is found at B1F, 25-9 Udagawacho, Shibuya-ku (3770 4135).
Piss Alley (Shomben Yokocho) is located between the train tracks by the side of the Odakyu department store near Shinjuku station. Follow signs to the west exit.
Direct flights from the US to Tokyo's Narita airport are plentiful. Some of the best deals are with American Airlines, United and Japan Airlines. The Narita Express train stops at Shibuya station.
About the author:
Tim Roberts is a perpetual traveler, passionate about food and what it says about the people who make and enjoy it. Born near London, England, he has pledged to spend as little time in his home country as possible, and would willingly go anywhere in the world at a moment's notice.
All photos are by Tim Roberts.