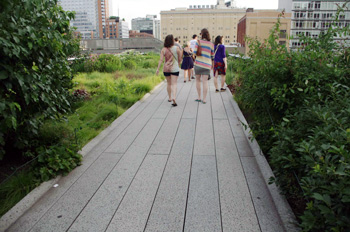 New York City
by Anna Marie D'Angelo
If you haven't been to New York City in a few years, chances are you haven't taken a delightful walk along the Chelsea High Line in Manhattan's lower west side.
Opened in 2009, the linear elevated park, officially called The High Line, was built on the remains of a derelict freight train route near the Hudson River. For almost two decades, only weeds used the abandoned rail bed as trucks had long replaced trains hauling freight to the factories and warehouses. The last train unceremoniously moved three carloads of frozen turkeys in 1980, according to the non-profit conservancy that runs the park.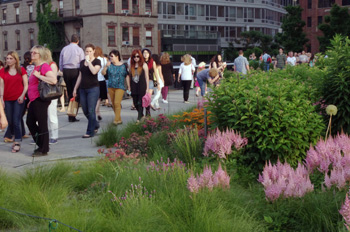 The High Line was set to be demolished around 1999 when a couple of New Yorkers started a movement to not only save the structure, but make it an extraordinary space for park goers to enjoy. The High Line is perfect for an early evening stroll when the Big Apple starts to cool down on a hot summer's day. It's free and although uncomfortably crowded in spots, you can't beat enjoying the ever-changing streetscapes and unexpected scenery at your feet.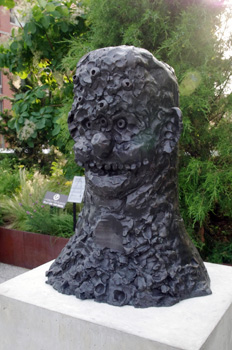 My travelling companions and I started the High Line near its northern terminus on West 30th Street between 10th and 11th avenues. Signage was not great and we got on the High Line by climbing a metal staircase only to find that there was an elevator nearby.
The High Line is nine metres (30 feet) above ground with straightaways and gentle curves for about 20 blocks to Gansevoort Street, the heart of the Meatpacking District. The district is now trendy and commercial after years of being infamous and rundown or as the locals put it, the Meatpacking District went from raw to well done.
During our two-hour stroll, it was easy to be preoccupied with the different plants, sculptures and water features, and forget that you were on an elevated green space until you looked up and there was an amazing bird's-eye view of this gritty part of Manhattan . Then you found yourself gawking at the old dirty buildings and the traffic, and listening to impatient honking with the odd motorist screaming at somebody from their car.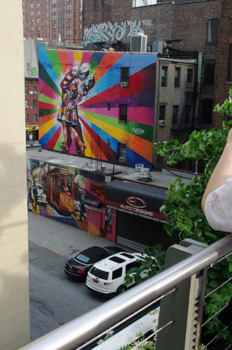 The walking path itself narrows to several people wide and expands to triple that in places with seating when it is most unexpected and appreciated. This includes a place called the 10th Avenue Square, complete with bleachers and huge picture windows for a broad view of the street life.
Where you place your feet on the High Line is also never dull. The long concrete planks are designed and laid out so rainwater runs off and waters the plants. No matter where you step, you will be reminded of railway tracks by the way the planks are always positioned.
When I went through the High Line in early summer, the plant life was thriving and, in many places, reminiscent of the greenery in Vancouver. Plants such as echinaceas, pink astilbes, ornamental grasses, shrubs and small trees adorn the route. It was a delight to see so many bees buzzing about the blooms, oblivious to the inhospitable concrete juggle nearby.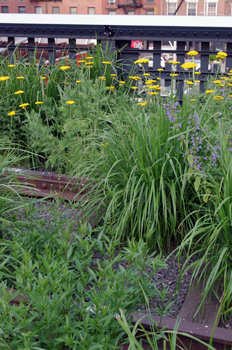 Sections of rusted track can be spotted throughout the High Line, but they are not always easy to find. This caused our group of park goers to each try to be the first to find a piece of old rail line at every change in garden space.  The searches bordered on the obsessive by the end of our walk. Sometimes the old rails were far from the walking path and shaded by lush plants, growing among the rail ties like weeds did in the 1980s.
Near the south terminus of the High Line is a view of an automatic car park that managed to mesmerize a few of us park goers who watched in awe as a unmanned car was lifted by elevator and slid into a snug slot. Much more interesting were the talented street musicians that increased in number as we walked towards the southern end. This is also where a lot of information about the park's history is posted. Near the south terminus are wooden chaise lounges that rested on old rails outfitted with new wooden ties. The lounge chairs, with a great view of the Hudson River, can easily be smashed together like rail cars to the merriment of children playing .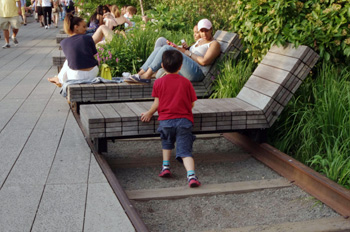 The High Line's scale is more manageable than upper Manhattan's huge Central Park. The two share a quirky characteristic in how the old concrete jungles appear to butt up against the green space of the parks for abrupt visual contrasts.
We got off the High Line on Gansevoort Street and stopped for a late dinner without reservations at a crowded Italian restaurant that turned out to be a chain. There are lots of eateries around but best to plan ahead and make reservations to avoid long waits.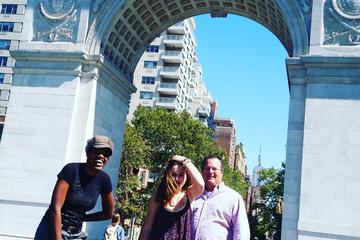 Private Greenwich Village, Chelsea, and High Line Walking Tour
If You Go:
♦ Access to the High Line is possible at Gansevoort Street, 14th Street (elevator access), West 16th Street (elevator access), West 18th Street, West 20th Street, 23rd Street (elevator access), West 26th Street, West 28th Street and West 30th Street (elevator access).
♦ The High Line's summer schedule has the park open daily from 7 a.m. to 11 p.m. (with dramatic night lighting of the greenery).
♦ The High Line Information Line is 212-500-6035 or The High Line on the web for more information.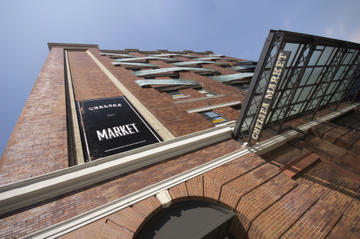 High Line and Chelsea Walking Tour
About the author:
Anna Marie D'Angelo has experience as a successful newspaper reporter and editor in the Vancouver area for 18 years. She now does Communications work and continues her writing passion through travel stories that have been published in major newspapers across Canada and online. Email: anna_dangelo@hotmail.com
All photos are by Anna Marie D'Angelo.