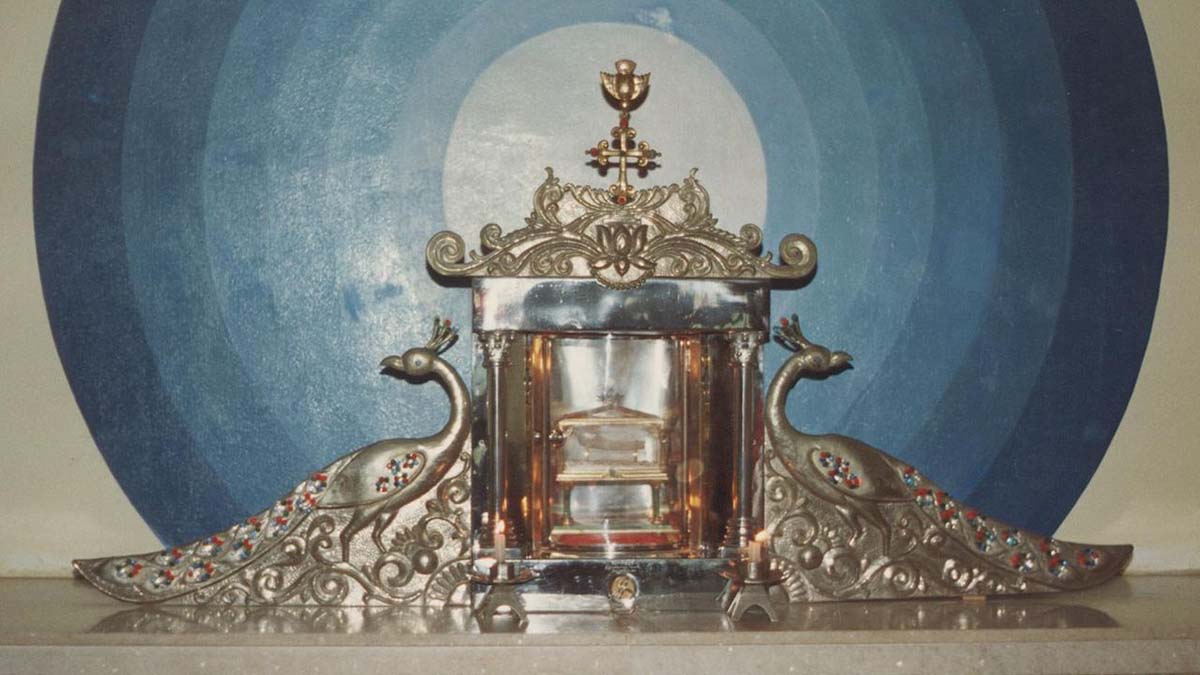 Kerala, India
by Arun Bhatia
I am in Kerala, the southern coast of India, at a port called Kodungallur. The Brits in their 150 years of colonial dominance here till 1947, couldn't pronounce Kodangallur and came as close to the name as their thick tongues would allow by calling it Cranganore. Apostle Thomas had landed at Kodungallur in 52 A.D., soon after the death of Christ.
My visit is more recent and I have come by a rickety government bus. I learn that Saint Thomas' wrist bone [TOP PHOTO] is enshrined here in the Mar Thoma Pontifical Shrine, with its crescent of colonnades in front. A large statue depicts the moment when Thomas acknowledged Christ rising and was then no longer called "Doubting Thomas."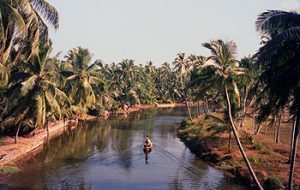 Kodungallar is almost an island attached to the mainland, with the Arabian Sea to the west. To the north and south, there are the mouths of rivers Chetval and Azhikode, and to the east are the charming backwaters. Kodungallur is not on any tourist map but boasts of India's oldest mosque and an ancient church – both of which look like Hindu temples and both, alas, in near ruins. The Portuguese had ruled here, and their fort, known as Kothapuram, is quite derelict. This town's is indeed, the dilapidated glory of a truly ancient port.
The 3rd century B.C. Hindu Emperor Asoka's edicts mention the local dynasty of the Cheras. The first century Roman traveler, Pliny, talked of it as the primium emporium Indae (the first emporium in India) and how it was a sprawling urban complex with trade links to the great empires of the epoch – Abbasid Baghdad, Byzantine Constantinople, the Holy Roman Empire, Moorish Cordova, Tang China, Cambodia and Sumatra.
It is called Kodungallur now, but was the ancient city of Vanji. The Greeks called it Muziris. It was mentioned in the Periplus of the Erythraean Sea, the first century B.C. work on navigation. Hindu sage Valmiki's annal, the Ramayana, refers to this place as Murachi. Tamil poets of the Sangam period (first five centuries of Christian era) talked of Muchiris, where "beautiful ships… bringing gold come, splashing the white foam in the waters of the Periyar… and return laden with pepper." Apostle Thomas landed here in 52 A.D. The Jews came in 69 A.D. after the fall of Jerusalem. The first Muslims reached India by sea here, and Malik-ibn-Dinar, the missionary who introduced Islam to Kerala, built India's first mosque here. This Chera empire capital fell in 1012 after a massive three decade attack by the great Chola emperor Raja Raja.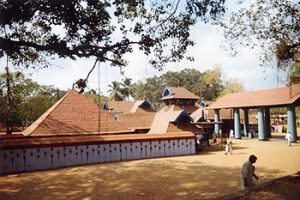 I find that almost all "sights" require imagination because they have withered due to time, conquests, neglect or all three. For instance, Cheraman Perumal, legendary Kerala king who converted to Islam, had a palace but the site has a few broken columns on open ground. The Cheraman Juma mosque, two km north of Kodungallur and located on National Highway 17 is a 7th century edifice, the first one in India. It was rebuilt in the 16th century and looks like a Kerala Hindu temple as the outer walls rise from a tiered base. Only its wooden interior is intact. A large Kerala oil lamp is in the centre, to which Muslims, Christians and Hindus all bring oil on major family events. Women are not allowed inside but the imam (priest) shows male visitors like me around.
On the highway heavy with traffic, I walk half a kilometer south of the ancient mosque, past multi-staged lamps, to the Shiva temple at Thirvanchikulam. It has a majestic gateway, carvings of elephants, deities, gods and goddesses and a majestic Nandi bull, upon which Shiva rides.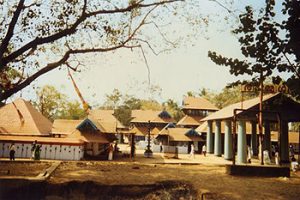 It is the Kali temple about which I had heard so much that had attracted me here. It is in the middle of town, on open ground of seven acres. A typical ancient Kerala temple, it has the majestic awe-inspiring idol of Kurumba Bhagwati (Kali), six feet in height, made from a single trunk of jack fruit tree. With gold ornaments, a Kathakali like crown, a mask, eight arms with weapons and symbols, it is in sitting posture with a crimson cloth below the waist. The aspect is when Kali had killed the demon Daruka. There is a secret chamber all shrouded in mystery with an underground passage. I learn that a curious roof-repairing carpenter once peeped inside and became blind. Since then, no one dares probe it. It is plain scary. Anthropologists speculate that it is a megalith containing material remains of the dead.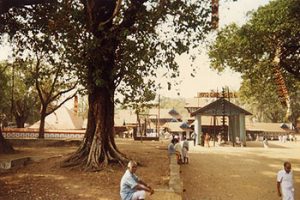 Talpoli and Bharani are the two main festivals here. The former starts on Makara Sankranti (around January 14) with colour and joy. Bharani (March-April), however, is a grotesque festival with devotees getting drunk, singing sexually explicit songs about the goddess, which she is supposed to like. Offbeat legends are told as origins of the Bharani festival. But the goings on offend many other Keralites. Chickens in hundreds were sacrificed with the temple site looking gory, but that practice has been mercifully stopped.
Near a deepasthambha (lamp) mounted on a kurma (tortoise incarnation of god Vishnu), there is a scale that is used for those wanting to weigh themselves against bananas and offer their body-weight quantity as prasadam offering, which is later auctioned to yield to the temple kitty. It is also where the secret passage is supposed to be. I see a toddler cry as her head is being tonsured in a ritual there.
Some day when I work up enough courage, I will visit Kodungallur again to peep inside that secret chamber with an underground passage, to find out if it is really a megalith with remains of the dead.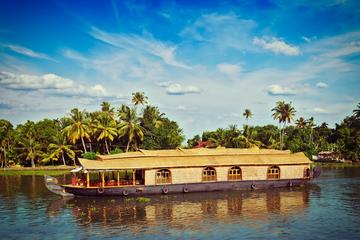 Cochin Shore Excursion Private Tour- Kerala Houseboat Trip with Private Vehicle
More Information:
Kodungallur is 35 km from well-know port of Cochin. Cochin is well connected by rail, road, sea and air. Regular Cochin-Kodungallur buses are available.
Hotel Indraprastham has a modest restaurant, an air-conditioned restaurant and bar.
Kodungallur Wikipedia page
Cochin Tours Now Available:
Cochin City Tour
Sunrise Backwater boat Cruise at Cochin and Breakfast with Local Family
Private Tour of Jewish Synagogues in Cochin
About the author:
Arun Bhatia has been freelance writing since 1952 as 17-year old freshman at University of California at Los Angeles (U.C.L.A), where he contributed to the campus paper and since then has contributed to English and Hindi dailies and monthlies in India on travel, ecology, restaurants, humor, book reviews, interviews, drama reviews.
Photo credits:
Thomasreliquiar Kondungallur – Wrist bone relic of St. Thomas by Joachim Specht / CC0
All other photos are by Arun Bhatia.