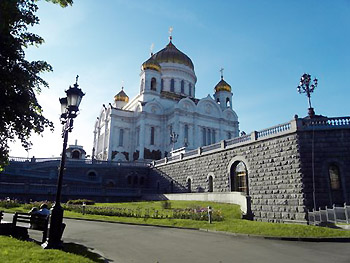 by Maria Kozyreva
When I was a little girl my parents took me to Moscow to visit the circus or dolphinarium. I remember crowds of people and the noisy metro. I even remember how afraid I was to be lost in one of the metro stations. As I grew up and finished secondary school I arrived in Moscow to enter one of its Universities. Exams have passed and I became "a real Moscow student" because I had a chance to live in a student residence, to meet lots of new people and to have a fresh look at Moscow.
For me (and for the majority of tourists) Moscow is a big Russian city with lots of business centers and sightseeing among which were the Red Square, St. Basil's Cathedral, Kremlin and other famous places. But frankly speaking, if you want to get to know the capital of Russia it is not enough to visit only these "standard sightseeing" places. One should know at least a little bit about its history and culture, and try to understand Moscovites and their lifestyle.
I remember how my friends and I began our first tours with simple strolls along Moscow streets with a history book in hands. I was surprised for the first time when I got to know that the structure of the Russian capital consists of rings. Yes, it is! If you look at Moscow city map you will be surprised by its similarity to annual rings.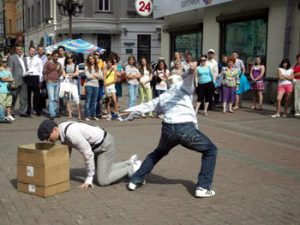 The first one is the Kremlin where the residence of the President of the Russian Federation is situated. Kremlin is a wonder and you will read everything about it in any tourist guide. I would like to attract your attention to the streets that start from the heart of Moscow. For example, Tverskaya. In the 18th and 19th centuries it was the main street in the city. The best Moscow mansions, hotels and shops were built here. Today in Tverskaya you may also see the residence of the Mayor of Moscow and the English Club. At night it's a pleasure to walk along this street with its sparkling lights and billboards but don't forget that it is considered to be one of the most expensive trade streets not only in Moscow and in Russia but also in the whole world.
As you wander about city center don't forget to look at Stoleshnikov Lane that runs from Bolshaya Dmitrovka. This small street is not so famous, its history is neither so captivating. Nowadays the street is stuffed with expensive boutiques and stores but still Stoleshnikov Lane remains one of the most favorite streets for Moscovites. The secret of this small street lies in its special atmosphere. If you arrive in Moscow in winter, please don't forget to visit it. Some restaurants like to switch on classic music so that it is heard outdoors. Snowflakes fall slowly, shop windows and New Year garlands are glowing and it seems to you that you are on the pages of a wonderful fairytale.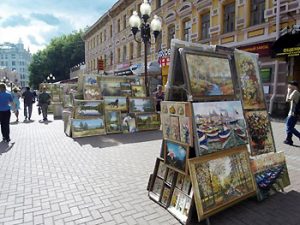 If you decide to go further, you will continue your way following any main street of the city center and sooner or later find yourself in the middle of the next Moscow ring that is called the Boulevard Ring. It is the city's centermost road that begins in the west, passing through major Moscow squares (such as Pushkin and Arbat Square) and ends in the east. So if you follow the Boulevard ring you may see the majority of the city's sightseeing.
If you are in Moscow for the first time it may seem to you that each square in Boulevard ring is almost the same. Yes, they are all similar, they are green and have almost the same appearance. Almost. In reality, each square on this street has its own features. Take, for example, the Gogolev Boulevard (the very beginning of the Boulevard ring) that starts near the Cathedral of Christ the Saviour. (Top photo) I never tire of visiting this Cathedral. Look at its golden domes, at its magnificent white walls. It is considered to be the central Russian Orthodox Church. However some Russians think that it is too magnificent, and in the last few years it has become a museum. But it is still a functional cathedral and one should respect feelings of Orthodox adherents when visiting it, especially during the Divine Services.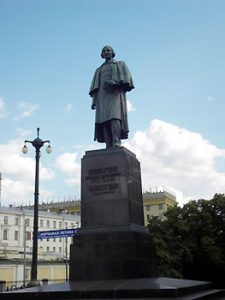 I adore Gogolev Boulevard. I love walking along its small park that ends with the statue of the great Russian writer Nikolai Vasilievitch Gogol. One of my friends whispered to me that she liked to make wishes to Gogol monument. The writer always hears her and makes her wishes come true. Me too, I made a wish. Let's wait and see if she has told me the truth!
Once you reach the monument of Gogol, his boulevard comes to an end and you find yourself in the Arbat Square. For Moscovites, Arbat is not simply a street. It's a "Moscow in Moscow" with its history, traditions and originality. From the XI century Arbat was densely populated. There were lots of wooden houses and churches. Unfortunately during the Revolution, Arbat suffered a lot. It became grey and desolate. In Soviet times the New Arbat appeared and swallowed up many churches, monuments and statues. Moscow didn't like this new street that destroyed the original Arbat. People rudely called the New Arbat "a set of false teeth" as they considered it as an artificial and ugly element that intruded in one of their favourite streets. Fortunately a part of Arbat was preserved and now you can look at it when walking along the Old Arbat street. Do please visit the Old street! There is a lot to see. Would you like to have your own portrait painted? Choose an artist. Any souvenirs? What about Russian folklore? If you are lucky enough you will meet musicians, dancers and even clowns here. Don't forget to take your camera.
What is so important about Moscow's city center? It is that the city center is the center of Moscow's history. If one wants to understand its traditions and culture, he/she should take a curious look at its past.
Copyright © 2009 by Kozyreva Maria.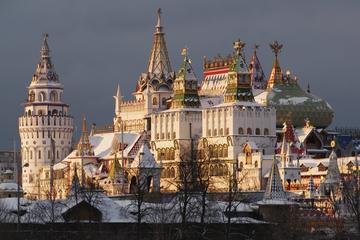 Moscow Private Tour: Izmailovo Kremlin and Vodka Museum
If You Go:
Moscow is an economic and political center of the Russian Federation and is one of the biggest cities in the world. As it is also a business center of the country, the traffic here is rather intense especially in rush hours, so sometimes its more convenient to use metro (news.metro.ru) For Moscow hotels/restaurants: Travel Guide www.moscowcity.com. www.geographia.com/moscow
About the author:
Maria Kozyreva is a freelance writer and interpreter working and living in Russia. She is fond of learning foreign languages as she believes that they open the door to the world. She also enjoys traveling and painting. Contact: fleurlaska@hotmail.com.
All photographs are by Maria Kozyreva.