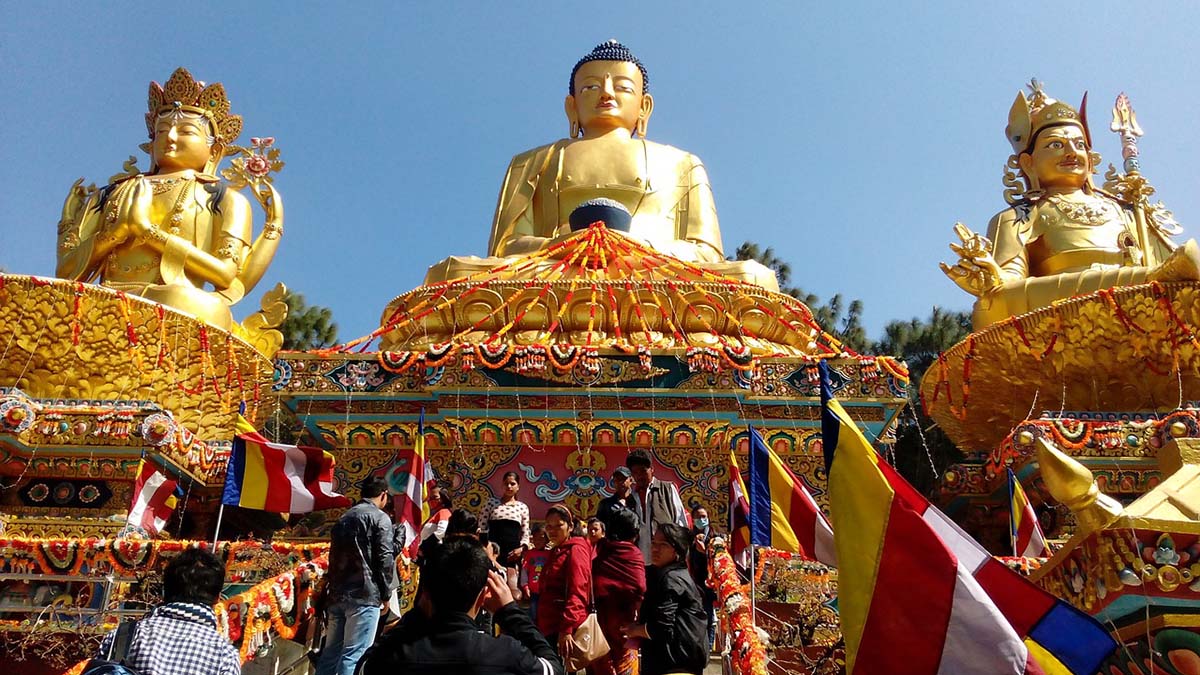 Kathmandu, Nepal
by Brian K. Smith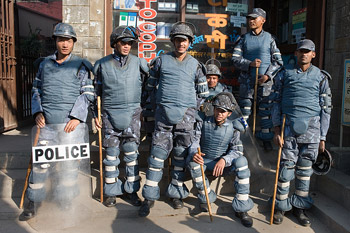 As I walked through the streets of the ancient city a resting group of riot policemen posed for a candid picture. This was a time when civil war was on the mountain kingdom's doorstep. Every day rioting took place in the capital of Kathmandu. It looked as though the country was about to self-destruct.
It did survive that turmoil and moved on with shaky footing until April 25, 2015, when a 7.9 Richter scale earthquake hit. Thousands of lives were loss across the country that day, and more lives in neighboring countries. Many of the beautiful UNESCO World Heritage sites that I had seen were damaged or destroyed. Three weeks later another 7.3 Richter scale hit resulting in more death and destruction.
I think a lot about those sites now. My hotel was close to Durbar Square in Katmandu – being only a brisk 10 minute walk in the cold December morning air. The first morning I arrived just as the hawkers were setting out their antiques and replicas for sale on large tarps in the outskirts of the square. Many invited me to bring them good luck by being their first sale of the day. As I walked around the square it was like stepping back hundreds of years. Beautiful temples washed in a deep red pigment paint and tile roofs in deep burnt umbra color above gave it a true organic feel. The early morning air was impregnated with the rich smells of temple incense and fresh cut flowers as the first orange colored beams of sunlight took the chill away. Ladies, dressed in traditional colorful mountain village clothes, sat on large plastic mats selling strings of brightly colored marigolds formed into necklaces and headbands.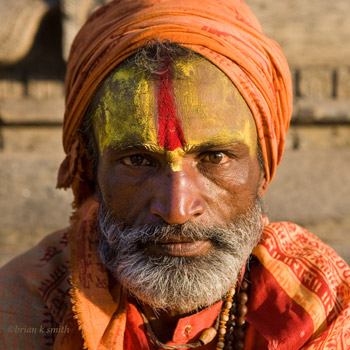 In the afternoon we traveled to the Hindu temple of Pashupatinath. As we came around a corner onto a stone carved staircase and ashram there he sat. I can never forget that moment – the thousand mile stare of the Sadu as he looked through me as if I wasn't there. With his legs crossed in a yoga pose, he was looking over the ceremonies on the other side of the river. Here the recently departed were being bathed in the holy water from the Bagmati River, dressed in colorful silk and placed on carefully stacked wood funeral pyres for their cremation. The holy man did not blink, move, or change any expression. It all seemed surreal me – like I was in a dream. Here I was in the holiest of Hindu temples in Kathmandu, Nepal. A week earlier on my flight to India I had not even planned to visit Nepal as part of my tour. It was close enough to my destination of Varanasi, in eastern India, that the tour company had recommended it as a side excursion during my month long road trip.
Nepal is much different than its close neighbor of India. In the street markets the women are the sellers – friendly, making eye contact and smiling. Not like in India where women are never seen in public. Here, if they are not in their traditional costumes, they wear western clothes. Their faces are not hidden, but instead lipstick and eye makeup accent their features which are a mix of India and Chinese – a beautiful people. Taking the chance to see if a smile would be returned was a worthwhile gamble paid back in double when the child on a woman's shoulders also smiled back at me.
The following day I visited another site in Kathmandu – Swayambhunath, also known as the Monkey temple. Over 1600 years of history sits on the hill overlooking the city. It is revered as one of the holiest sites for Buddhist in Asia. On the road way up to the temple hundreds of monkeys greeted me. When I arrived at the great hall in the main building, the sound of traditional music was pouring out from within. It was incredible to hear the chanting and Tibetan horns being played by the monks. The hall resonated with the sound of the ritual music. Tears rose in my eyes as I felt the notes go right to the core of my body. I had dreamed of moments like this where you become part of all that is around you. Outside the hall I made my way to the largest stupa in Nepal. The gold painted eyes on top looked out across the city and valley below and the mountains and hills behind. Shops around the plaza were full of items to take back home. My favorite was to try many of the hundreds of multi-toned singing bowls.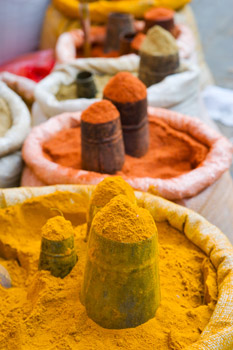 Along the streets of the old city, mixed with temples, were the fruit and vegetable sellers. Everything looked freshly picked even though the temperatures dipped below freezing at night time. Spices were overflowing out of huge containers – cumin, turmeric, and curries. The air had the smell of fragrant local food from the small portable stalls that sold all kinds of savory items. It was a feeling of being alive in those streets – excitement, anticipation, exotic smells and tastes.
One evening my driver, Ali, and I decided to find the night market. We searched for an hour, but could not locate it. Finally we found what looked like some sort of event, maybe a market, and decided to check it out. As we got closer to the gate a group of intoxicated, well-dressed men ran towards us with silk scarves and wrapped them around our necks. Then four beautiful Nepalese women in colorful silk dresses escorted us through the gate to a small greeting hall. There, inside, sat the bride and groom. They both bowed from their pedestal seats and welcomed us in. Ali told me this was not a good idea –we should leave immediately.
I had never been to a wedding in Nepal, and it seemed obvious they were happy to have us. After all I was the only white person there – so maybe it was a sign of good fortune for them as I was not an invited guest. Part of our plan had been to have dinner at the night market, so we were very hungry. In the main area under a tented roof was seating for 1000 or more. At the front was a huge buffet with a wonderful assortment of food. We helped ourselves to a sampling of many items on the 30 foot long table. Part way through eating our dinner, a line formed beside us – it was the families of the bride and groom getting in line for dinner. We realized that we had really crashed the wedding in style! The family members smiled and greeted us as they moved past. Now Ali was really desperate to leave. I suggested after dessert would be a perfect time to head back to the hotel. On our way out I thanked the bride and groom and took pictures with them. They seemed to be very happy with our chance meeting.
That night I dreamed of sitting beside the Sadu. A feeling of complete calm and peacefulness enveloped me. My short four day side trip to Nepal had been an incredible adventure. I knew everything would be okay for my long journey ahead across India.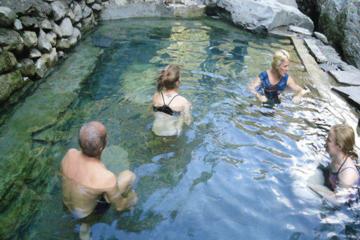 Natural Hot Spring Trek from Kathmandu
If You Go: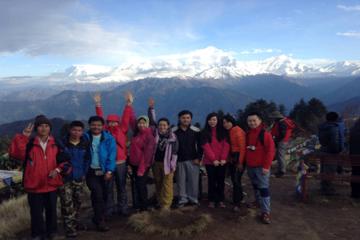 Annapurna Sunrise Trek from Kathmandu
Editor's note: I requested this article on Nepal from Brian Smith as a memorial to this fascinating, historical city that has be so tragically destroyed by the devastating earthquake. I felt sad as I read it. Nepal was always a destination I had dreamed of. We all pray that the Nepalese people will recover from this tragedy and somehow rebuilt, though so many of the important historical and religious sites have now been left in ruin.
About the author:
Brian Smith has traveled to more than 41 countries around the world. His favorite destination in the last seven years has been Asia with seven trips to China, including Tibet. He is a seasoned adventurer and is co founder of Adventurocity with his business partner Rick Green. Their motto is " Why take a trip when you can have an adventure". www.adventurocity.com Brian is a career professional photographer, with a Masters of Photographic Arts (PPOC ). www.brianksmithphotography.com Twitter: @fotocraze
Photo credits:
First Kathmandu photo by Rajesh Maharjan from Pixabay
All other photos by Brian K. Smith.