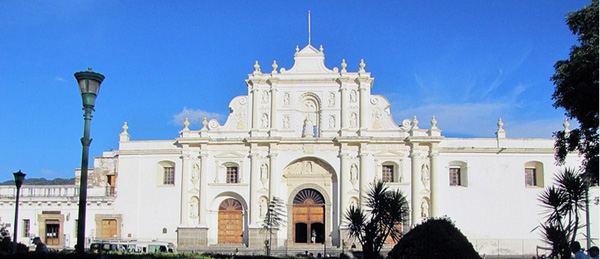 by Jonathon Engels 
In 1541, the crater atop the volcano just south of my apartment collapsed, and the deluge of water caused a massive mudslide, a lahar, that buried Guatemala's then capital, La Cuidad de los Caballeros de Santiago de Guatemala. The result was that a city nearby, the one in which I currently live, got bumped up in status and received the same elongated name. Then, in 1773, after the Santa Marta earthquakes rampaged through Panchoy Valley and left this place in ruins, yet another capital, with a new name this time, was founded in a "safer location".
Nueva Guatemala de la Asunción is now internationally identified as Guatemala City, one of the most dangerous cities in the world. Locally, it is known simply as Guate, and tourists avoid it. On the other hand, the previous capital, known as Antigua Guatemala ("Old Guatemala"), receives over a million tourists annually. In a weird way, those earthquakes preserved all the grandeur of the formal capital. They were probably a saving grace for the tiny city-to-be and one of the major reasons I have found myself walking these streets daily.
"Old Guatemala" Today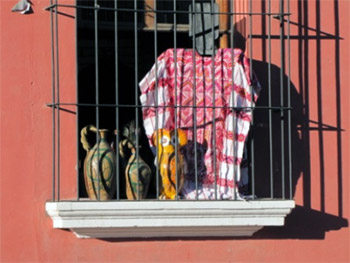 Nowadays, Antigua is a UNESCO World Heritage Site. What the mass exodus of 1773 left behind were around forty once-sturdy stone churches, beautiful cobblestone streets, and a vibrant culture not swallowed by the dirt and danger of today's capital. Antigua's streets are lined with pastel storefronts. Its parks are highly trafficked with pedestrians and thick with greenery. Its population is a fantastic mix of indigenous Maya, locals, international volunteers, long-time expats, and travelers who just can't bring themselves to leave.
In addition to the history and beauty of the city, and despite its name, Antigua is now modernized and mindful of its biggest industry: tourism. Silver, native textiles, tourist tat, or knock-off clothing—The shopping here is fantastic and sometimes a little too irresistible. Restaurants come in variety, from street vendors and cantinas to fancy French bistros and fusion sushi. There are great interactive museums, like touring the jade factory.
Here, there is a no honking law to keep the city tranquil. There is new gun-free police force to fight corruption problems within the old arm-laden police force. People are working to preserve the inherent history, restoring old buildings and outlawing neon. NGOs run fair-trade, organic, self-sustaining, educational workshops for the natives and tourists alike. All in all, it's a community, which, while some complain is not exclusively Guatemalan, immensely cares about this city, this country, and its own people.
What to Do with a Day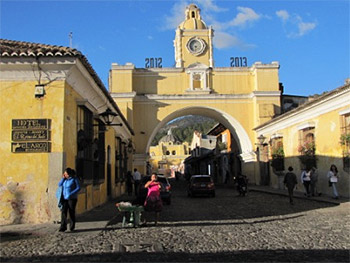 From Parque Central, its shade trees and centerpiece Mermaids' Fountain, things spread in all directions. The ruins, churches, markets, and restaurant-café-bars are too plentiful to take in in one day of exploration, but rather it's best to choose a healthy mix of sites. For me, there are certain highlights I like to use to create the initial wow for visiting relatives:
♦ Shopping: Antigua has a sizeable tourist market, The Mercado de Artisanias, on the west side of town. It's a must for the colorful arrangements of textiles, the adventure of negotiable prices, and the initial wow of what's available to buy here. However, the best places for souvenirs are probably Nimpot, an artisan cooperative with fair prices and the same selection, and Los Gigantes, another cooperative with finer quality options.
♦ Churches: I pass at least three cathedrals on my daily walk to work. For the best of what's to offer, I always include Catedral de Santiago, the massive building on the east side of Parque Central (great photos on clear days); La Merced (and the yellow archway), with a nice little plaza in front of it and beautiful white trim; and Iglesia de San Francisco, which has market of food stalls, handicraft vendors, and beautiful courtyards.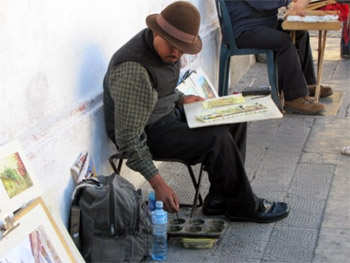 ♦ Ruins: Like churches, ruins sightings occur here on a block-by-block basis. For the most remarkably sprawling specimen, La Recolección Architectural Complex, head to the far west edge of town, beyond the market and "bus station" (a parking lot with a collection of remodeled US school buses, aka chicken buses, which are a sight in and of themselves). La Recolección is a former monastery now surround by parkland.
♦ Coffee and Chocolate: Both are a must here, or anywhere for some of us. Independent cafes are plentiful and unique, and while advertising suggests major differences, I've yet to go into a coffee shop and find myself sipping Nescafe. For chocolate, there are several options, but the Choco Museo adds a little history to the experience and/or Kaffee Fernando's is run by a guy who is very passionate about producing top quality stuff.
Antigua is often regarded as too touristy, a little inauthentic its relative safety, clean streets and sidewalks and the all-too-catering service industry. Whatever the case may be, it is a city that melds cultures, times, and classes in a truly inviting way, which is why so many people choose to visit. As a resident, with the privilege of walking these streets every day, participating in the movement forward and the acknowledging of tradition, life is good and worth sharing with others. Come one, come all.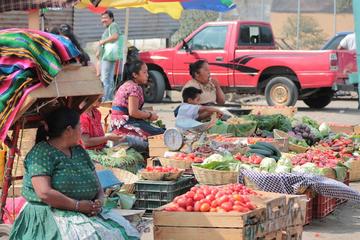 Antigua Market Cooking Class and Choco Museum in Antigua
If You Go:
♦ Shuttles are waiting at the Guatemala City airport to bring you here, about an hour away, for $10/person. Antigua is small, completely walk-able, so a renting a car isn't necessary.
♦ Between May and October, come prepared for some afternoon showers. Generally, the mornings are fairly nice, but the rains inevitably make an appearance.
♦ Antigua has the world's biggest Semana Santa, aka Easter week, celebration, and it is the peak of high season. Prices will double or triple and accommodations disappear way early. It's an amazing experience, but planning ahead is required.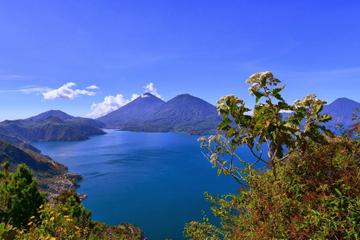 2-Day Chichicastenango and Lake Atitlan Tour from Guatemala City or Antigua
About the author:
Jonathon Engels has been an EFL expat since 2005, just after he earned an MFA in creative writing and promptly rejected life as an instructor of freshman comp. He has lived, worked and/or volunteered in seven different countries, traveling his way between them. Currently, he is in Antigua Guatemala, where most mornings he can be found tucked behind a computer in the corner of a coffee shop. For more from Jonathon, check out his website (jonathonengels.weebly.com) and his blog (jonathonengels.travellerspoint.com).
All photos are by Jonathon Engels