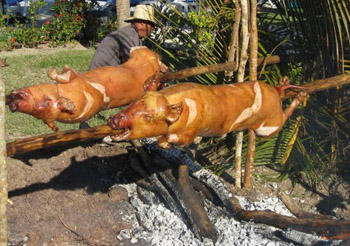 Bariay Bay, Cuba
by Susan Zuckerman
Curls of wood smoke rise above farms, permeating the morning air with a pungent smell and holding a festive promise. Pigs are rotating on outdoor spits all over the Cuban countryside. Today is New Year's Eve, and tonight everyone will feast on succulent roast pork. This is the most important national holiday in Cuba, as on January 1, 1959 the dictatorial government of General Batista was overthrown. This year, 2009, thus holds particular meaning: the 50th anniversary of the Revolution led by Fidel Castro and Che Guevara. But today I am seeking a place of much older historical significance.
On a jeep safari tour, meandering and bouncing through thatch-roof villages and banana and coconut palm plantations, our destination is Bariay Bay in the eastern province of Holguin. This is where Christopher Columbus first landed in Cuba on October 28, 1492. It strikes me that we are celebrating New Year's where the New World was discovered. Our guide, Orestes, however, makes a clear distinction. "Cubans formerly said that Christopher Columbus discovered Cuba," he tells us. "Now we say that his arrival was an encounter between two cultures, European and Carib. Our schools' text books have been changed to teach this."
Before we reach Bariay, our all-day jeep safari tour offers other adventures that immerse us in the culture of rural Cuba. As we navigate deeply rutted tracks through villages, people rush out calling "Felice Año Nuevo!" – Happy New Year! Lively salsa and mambo music drifts out of the houses. Many of us have brought gifts of school supplies and toiletries that we pass to smiling children shyly waiting at their gates.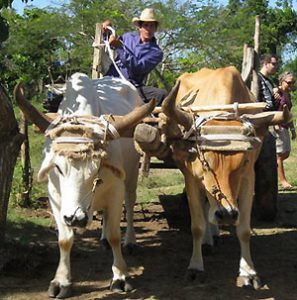 Simply to be in rural Cuba is like stepping back in time. While the farmhouses all have electricity, the windows have no glass, only wooden shutters. We see the occasional 1950s American car, but horses are the most common means of transportation. On this day when families unite to celebrate, many are joyously jammed into horse-drawn carts travelling along the main road.
Our first stop is Rocazul Ecological Park, where we leave our modern jeeps and mount horses ourselves. We are twenty-five on this tour, and a horse is saddled and waiting for each of us. Through hilly open forest we ride at a leisurely pace, serenaded by the songs of warblers, mockingbirds, and Cuban trogans. Back at the ranchero a jubilant band is playing and we're served ice-cold pina coladas.
We then head towards the coast, through unfenced pastures with cows, horses, pigs, and goats all roaming free, and plantations of tall royal palms waving in the breeze. Our canvas roof is folded back and the sun is hot on our heads. My partner is in heaven to be manhandling a jeep through rough terrain. In the back seat two giddy young women, also from our hotel, are wearing bikini tops to improve their tans and seem to be having the time of their lives.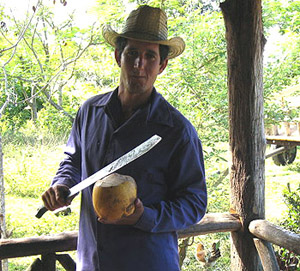 We finally reach Bariay Monument National Park. Our first stop here is an "authentic" Cuban farm. Inside a house roofed with palm-fronds we are treated to coffee made in the traditional method. The farmer grinds the beans with a wooden pestle. He then pours water, heated atop an open fire, over the grounds and through a metal strainer. Served in unglazed clay cups with a little sugar, it packs a delicious jolt. On the back porch a handsome Cuban in a straw hat is deftly hacking the tops off coconuts with a machete. We insert a straw and sip cool refreshing coconut milk. The discarded coconuts are tossed to waiting chickens that seem to love the sweet flesh. Then it's time to ride in a cart drawn by two lumbering oxen. We pass a barefoot man stumbling along the road, swinging an open bottle of rum, a sign that the party mood is already erupting.
Back in the jeeps, we soon come to a headland overlooking the turquoise waters of Bariay Bay. Below is the white sandy beach where Christopher Columbus first landed in Cuba. It's not difficult to imagine the Nina, the Pinta, and the Santa Maria sailing into this sheltered bay, which must have seemed a paradise with it's swaying palm trees. To help us get into the historical mood, a blue-eyed Spaniard in 15th century dress serves us rum, while our guide, Orestes, educates us.
"Bariay Bay was Columbus's second landfall in the New World," he explains, "a few days after landing on the island of San Salvador in the Bahamas. He believed he'd found China, so he sent men to seek the Emperor. Instead they found a native Taíno village. This was where the Spanish first observed people smoking tobacco — and the international popularity of Cuban cigars was born!"
No pure Taíno exist today. Their descendants are blended into the melting pot of Cuba's Spanish, African, and Carib populations. In a grassy meadow overlooking the bay, however, is a reconstructed Taíno village with four prominent statues representing the gods of rain, drought, fire and sun. We watch a costumed re-enactment of a Taíno ritual. Men and women of the same village could not marry, so spear-wielding young men ambush and chase reluctant young women from a neighbouring village, eventually dancing and singing together around the fire.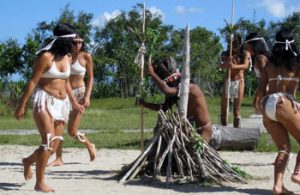 Lunch is served in an open hut with glorious views of the azure bay. For starters we have a salad of diced carrot, peas, onion, and various beans. The main course is a choice of chicken, beef, pork, or pasta. I have the chicken, some of the best I've ever eaten, possibly from all the coconuts on which the chickens have been feasting. It is served with rice, black beans and fries, and washed down with Bucanero cerveza. Dessert is guava paste sprinkled with grated cheese, a perfect combination.
Thoroughly relaxed from the sun, rum, and cerveza, we view the monument built to celebrate the 500th anniversary of Columbus's arrival. It is called "Monumento Encuentro Dos Cultures" (Meeting of Two Cultures). Stately white columns and arches, representing the Spanish, form an arrow piercing into scattered rust-red Taíno idols, symbolizing how this encounter eventually overcame the native culture.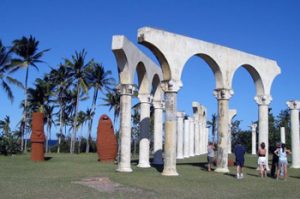 Lastly, we head down to the marina. Instead of sailing in replica ships, it is time to zoom about the bay on jet-skis. Some of us have had enough hot sun for the day, however, and choose to sit in the shade, sip cerveza, and listen to Cuban jazz.
The afternoon wanes. Sunset will soon be upon us. We have a long drive back to our hotel to fancy up for our gala New Year's Eve dinner and entertainment. Orestes is anxious to return home and start partying with his extended family, an evening he says will involve drinking beer and rum, dancing, singing, and feasting on barbecued pork. Since Cubans don't eat meat every day, this is extra special.
The day has been an encounter of cultures in more ways than one. Who knows what the next 500 years or even 50 years will bring to Cuba and the rest of the world? Who knows what 2009 will bring? The global economy is crumbling and Fidel Castro will not likely live to see 2010. But tonight is about celebration. Felice Año Nuevo!
If You Go:
We went to Cuba on an all-inclusive package through Air Canada Vacations. Our hotel, the Blau Costa Verde, was an hour from the airport and city of Holguin, in the far eastern part of Cuba. This is a very rural and mountainous part of Cuba with only a few hotels, much different than the sprawling Varadero resort area, which is near Havana in western Cuba. The beaches of Holquin province are divine!
Jeep Safari tours are available through most hotels. Ours was organized by Air Canada Vacations after we arrived and cost 70 pesos, about $90-$100.
Numerous other tours are available from the hotel, including to the local market in Guardalavaca, the cities of Holguin and Santiago de Cuba, and a catamaran tour that includes swimming with dolphins. Many other means of transportation are available as well: bicycles, scooters, kayaks, and pedal boats. All but the scooters are free from the hotel. You can also rent a car; however, none of the roads have names or numbers.
The average Cuban earns about $30 a month. Because of the US embargo, they are especially lacking in toiletries and school and medical supplies. We took a suitcase of medical supplies obtained through Not Just Tourists and donated it to a local clinic. We also took about $100 worth of school supplies (pens, felts, crayons, notebooks, paper, etc.) and soap, toothbrushes, and toothpaste. These we distributed mostly to children we came upon on our outings, as school was closed for the holidays.
Air Canada Vacations
Blau Costa Verde Hotel
About the author:
Susan lives outside Vancouver, B.C. She has been a teacher for over 30 years and writes historical fiction. This was her second trip to Cuba.
Photo Credits:
All photos by Susan Zuckerman.