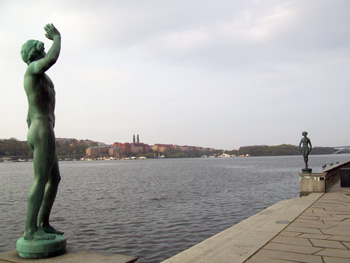 by Marc Latham 
Sunshine and colourful buildings invited me out. Quiet empty streets made me feel at home. I knew the sun was there because I'd seen it rising over Stockholm's highest buildings as my overnight bus from Norway arrived at the city's bus terminal. I knew the classic pastel-coloured architecture from photos, and had seen some bright sparks of paint when arriving.
You can't imagine the loneliness and isolation in this country. In that way, I'm very Swedish — I don't dislike to be alone.'
– Ingmar Bergman, film director.
I'd arrived in the south-east Sweden city after crossing my first international land border for fifteen years. That 1998 African border marked the end of a decade when world travelling had been my main focus. Ending up on the back seat of an overnight bus reminded me of a similar journey when returning to Europe from my inaugural sojourn in 1987/88. Stockholm was the final stop on my personal 2012/13 twenty-fifth anniversary tour.
As for the stage fright, it never goes away… it's agony every single time but I stay focused and I know that once I'm on stage it'll be fine; I'll be in my happy little bubble.'
– Britt Ekland, actress.
I'd been reluctant to leave the wild fjords of Norway, but had always wanted to visit Stockholm. I slept for most of the 23.00 – 05.40 Swebus journey from Oslo Gallerian, but still felt quite tired. My first dawn sight of Sweden had been a large lake: Hjalmaren below Orebro I think.
I initially thought I'd wait in the terminal until the hostel I'd booked was likely to open, but feeling too well slept to sleep I decided to go out and take some photos while the dawn sunshine provided good light.
Stockholm was relatively easy to navigate, and I soon found myself crossing the Vasabron bridge to Stadsholmen, the central island of Gamla stan: literally meaning The Old Town. It now houses the royal palace and cathedral, as well as numerous cobbled alleyways dating back to medieval times. Quaint shops and restaurants line the narrow streets, while the bright eastern seafront of Skeppsbron is probably Stockholm's most famous image.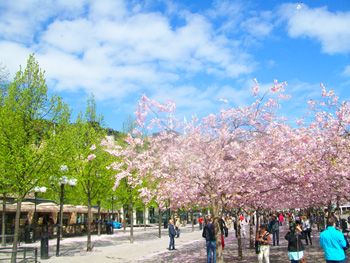 Stockholm grew out of Stadsholmen, and the 13th century island was originally called Stockholm. As the city grew, it kept the Stockholm name, and the island became known as Staden Mellan Broarna: The Town Between the Bridges. It only became known as Gamla stan in the 20th century.
Plague killed a third of Stockholm's population in the 18th century, but it recovered in the 19th century, and grew parallel with technological advances in the 20th century. Sweden's capital is now the most populous city in Scandinavia.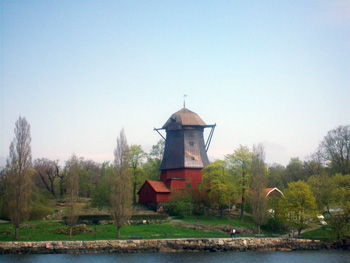 Stockholm means 'log island'. The legend of Stockholm's origins is that a log filled with gold was sent downstream from the old Swedish capital of Sigtuna, after they had trouble from armed gangs, and wherever that log landed would become their new capital.
I returned across the bridge and turned left to the City Hall, passing the equestrian statue of King Charles XIV John (1763-1844) on Karl Johans Torg square. He was born Jean Baptiste Bernadotte in Pau, France, and rose through the ranks of the French army before, during and after the French Revolution in 1789. He was made heir-presumptive to childless King Charles XIII in 1810 and was a popular King of Sweden and Norway from 1818 to his death.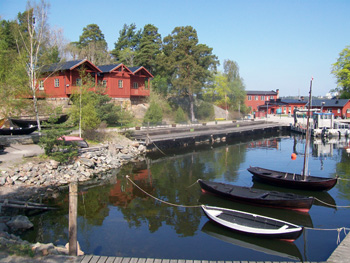 Norway became independent of the Swedish kingdom in 1905. The Bernadotte dynasty still rules Sweden. Napoleon's rule was ended at the Battle of Waterloo in 1815. Abba found fame singing Waterloo to win the 1974 Eurovision Song Contest for Sweden.
After a snooze in a central Stockholm park I eventually booked into the Skeppsholmen hostel, just across the water from Skeppsbron, which has rooms on dry land and a ship moored in the quay. I was on dry land. The ship is the af Chapman, a full-rigged steel ship constructed in Whitehaven, England, and launched in 1888.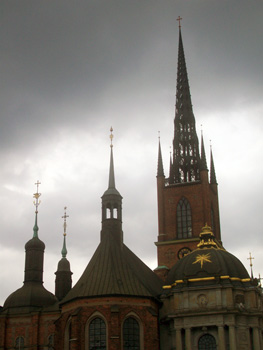 The bed wasn't available until 2pm, so I walked around small Skeppsholmen island to Kungliga Djurgarden (The Royal Game Park) island, stopping along the way for a siesta under the sun in a small park.
For us democracy is a question of human dignity. And human dignity is political freedom.'
– Olof Palme, assassinated Swedish Prime-Minister.
Djurgarden is known as the green island in Stockholm, and in 2010 Stockholm was voted Europe's first green capital by the European Commission. The island houses several museums, including Skansen, which is the oldest open-air museum in the world. The rollercoasters and rides of Sweden's oldest amusement park, Grona Lund, tower above the island's south-west coast. Its thrill-induced screams must have been travelling across the water to Skeppsholmen since it was founded in 1883.
I sailed alongside Djurgarden's south coast the next morning. On another sunny warm May day, Djurgarden's greenery looked delightful from the ferry, complemented by old buildings and a windmill.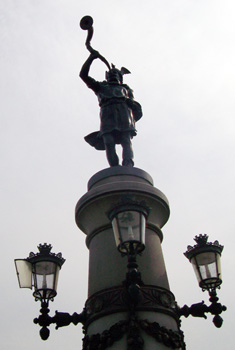 I had taken a ferry from Slussen, at the southern end of Skeppsbron, to the main island of four known as Fjaderholmarna. Opposite Djurgarden's south-east tip we stopped under an impressive Carl Milles statue at Nacker. Fjaderholmarna was nice to walk around, with some pleasant coves, restaurants and craft shops. There were also lots of birds, primarily Canada geese and seagulls.
You have to find it. No one else can find it for you.'
– Bjorn Borg, tennis player.
Having flown into Bergen, on Norway's west coast, and travelled overland, I flew back to the U.K. from Stockholm's Skavsta airport, which is about 100 kilometres (70 miles) south. There are regular buses from the city terminal I'd arrived at a couple of days before.
My flight was on a Saturday morning, and as I walked to the bus station under Stockholm's many gothic roofs, the parks were full of people on another sunny day. In Kungstradgarden (The King's Garden) the cherry blossom drew crowds of people, and inspired many photographs. I took one myself. The falling blossom was the last scenic photo of my twenty-five years of travel.
My path has not been determined. I shall have more experiences and pass many more milestones.'
– Agnetha Faltskog, Abba singer.

Private Full Day Viking History Tour from Stockholm Including Sigtuna and Uppsala
If You Go:
♦ Marc flew between the U.K. and Scandinavia from London Stansted Airport with Ryanair
♦ Marc travelled from Norway to Sweden by Swebus (it is cheaper if you book ahead)
♦ Marc stayed at the af Chapman and Skeppsholmen hostel
♦ Fjaderholmarna website
♦ Stockholm information
About the author:
Marc Latham travelled to all the populated continents during his twenties. He studied during his thirties, including a BA in History, and has been writing during his forties. He lives in Leeds, writing from the www.greenygrey.co.uk website. He has more Stockholm photos on his travel25years.wordpress.com website.
All photos by Marc Latham:
Carl Eldh statues
Carl Nilles statue
Cherry blossoms
Djurgarden Windmill
Fjaderholmama Island
Gothic skyline
Viking statue