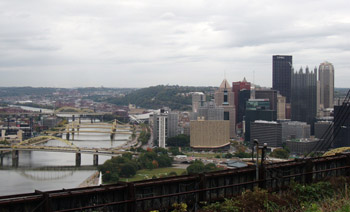 by Roy A. Barnes 
Pittsburgh, Pennsylvania, was once synonymous with steel and the home of some of the most iconic barons of finance and industry, including Andrew Carnegie and Thomas Mellon. But even as the steel industry in America has declined and the barons of generations past are no more, the city can boast one of the greatest collections of offbeat attractions of any major city.
The most fascinating classrooms are on the University of Pittsburgh campus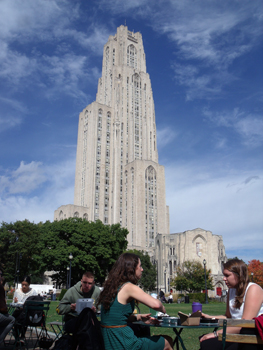 In the neighborhood of Oakland, east of downtown Pittsburgh, resides the University of Pittsburgh campus. Dwarfing this campus is the 42-story high Cathedral of Learning. On the first and third floors of the tallest educational building in the United States resides a collection of 29 different rooms which honor various nationalities who have contributed to Pittsburgh's history, and which must contain interiors that reflect any period before 1787, the year the university was founded.
Known as the Nationality Rooms, they are used for actual college classrooms and study areas. Because of this, I was only allowed to tour a number of empty ones, but the ones I did see left me in total awe. The ones which stood out most for me included the English Nationality Room, which was modeled in Tudor-Gothic style of the British House of Commons and contains more artifacts from that iconic place than anywhere else, including actual woodwork and a fireplace.
I found the most striking, yet homey room to be the Norwegian Nationality Room, built to resemble an 18th century house interior from Norway. The chairs in the rooms feature Viking symbols, adding to the room's ambience and sense of times past.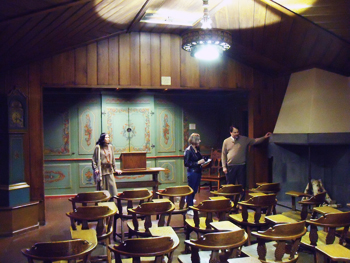 I was fortunate enough to get a tour from the longtime director E. Maxine Bruhns, who came from humble beginnings (deeming herself "a West Virginia hillbilly") to oversee one of the most special collection of rooms college students have the privilege of matriculating in. Her stories about the various rooms were very heartwarming, including the ones about her favorite room, The Early American Room, where some of the artifacts her ancestors owned are located. It's best to make an appointment in advance to view the rooms.
Just across the street from the Nationality Rooms in Schenley Plaza is an eclectic place to eat that celebrates the cuisine of countries the US government spats with. Called Conflict Kitchen, this takeaway stand was serving dishes from Palestine, so I partook of some freshly made hummus and a dish called Rumaniyya, which is a Middle Eastern stew. Past menus have focused on such enemies of the US like North Korea, Cuba, and Venezuela.
The Most Fascinating Trundle Manor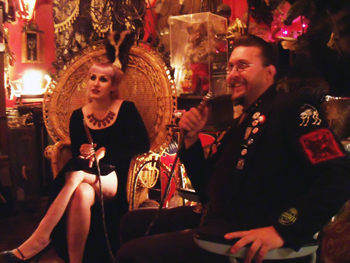 Trundle Manor is billed as "The Most Unusual Tourist Trap in the World Meets the Most Bizarre Private Collection on Public Display." When I arrived at the museum/home located in Swissdale (a borough east of Pittsburgh), I noticed a funeral limousine parked out front as I sauntered up the creepy steps. I was feeling a bit of trepidation over seeing a collection of dead artifacts and even more apprehensive about just how odd the curator, who goes by the name of Mr. Arm, and his assistant Velda Von Minx, would be.
But upon walking through the door, I was warmly greeted by both characters, and I can easily conclude that the manor's billing isn't false advertising, and the two hosts are about as harmless as the jars of preserved animal fetuses and bullocks on display for the curious. Despite the vast amount of reminders of death and hair-raising items from animal taxidermy to large, rusty meat cleavers, jars of mice skins and rat hearts, a sense of peace and tranquility prevailed amid a mix of '20s and '30s novelty and jazz tunes blaring out. Mr. Arm demonstrated his "singing tumor" machine which he concocted. It stars an actual large, benign tumor taken from a belly dancer friend of his. It moves about while music plays. For Mr. Arm, all the consumer inventions available aren't enough for him, so he invents more.
One of the strange phenomena of this place is despite all the displayed artifacts, very little, if any, signs of dust can be found. Mr. Arm stated that this place has never once seen a dust mop, which makes it less worrisome for the couple before they host horror movie nights as well as Halloween parties, the latter which have drawn hundreds of folks.
The tour includes five areas, including the "experimentation room," which disguises the couple's kitchen. Other displayed artifacts include military, occult, and a variety of other jarred specimens. The gift shop features original Trundle Manor items like necklaces which small vials of octopus tentacles or rat claws are the centerpiece, a must for the woman who has everything!
Photo and camera history abound at Photo Antiquities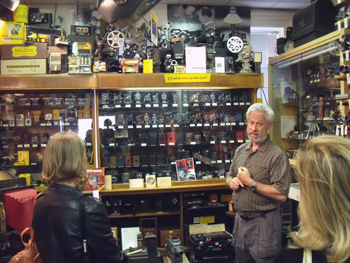 As a travel writer, I've developed a passion for finding and taking great shots of the places I write about. So I enjoyed experiencing the history of cameras and photography at Photo Antiquities, located just north of downtown Pittsburgh. Bruce Klein, the director, intrigued me as he took me down the very black and white as well as colorfully historical road of photography, which began with him showing me one of the earliest ever photographs taken by Nicéphore "Joseph" Niépce during the 1820s. This museum prides itself on being the only 19th century photo museum in the United States and only one of a handful on this planet even though 20th and 21st century photographic history and items are also featured from Polaroid to disposable cameras.
Many of the photographs on display capture a 19th and early 20th century pictorial history of the Pittsburgh area. Daguerreotypes, of the first commercially-available photos, are prominently featured here as well as lantern slides and travel post cards from centuries past.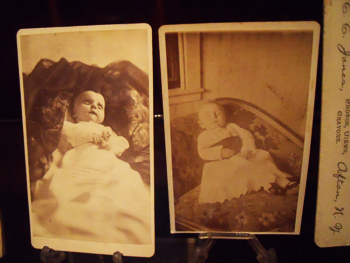 I got to see the special exhibition of 19th century post mortem photos, mostly children, who were made to look as if they were still alive for their final images captured before they were laid to rest. And yes, they did give me the creeps, but my creepy feelings soon melted when I saw more positive 1800s photos of dogs and their owners.
Klein's knowledge of photo history was only outdone by his vast knowledge of photographic equipment in plentiful supply in various exhibit rooms. It seemed that every camera ever made was somehow acquired for this museum, including an 1870s stereo tissue viewer, which when looking through it, one can actually see a color photograph, though color photos in general wouldn't be available for 60-plus years.
In the spring of 2015, the museum is set to host an exhibition featuring the most photographs ever of Abraham Lincoln in one place.
Childhood memories relived at Bicycle Heaven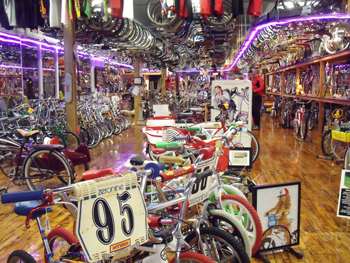 Nice memories of owning a bike as a child flooded my senses again after my visit to Bicycle Heaven, located in an industrial park on Pittsburgh's North Shore. It's the result of Craig Morrow's 30 years of collecting which he had to store the bicycles and parts in various garages around town until he was able to open up this complex that used to be a tractor plant.
Because Bicycle Heaven serves also as a repair shop and dealership, getting to the main part of the museum meant navigating through rooms of countless bicycle parts (which number as many, many millions) and bicycles hanging upside down above my head. But the navigation was well worth it as the museum seemed to feature every bicycle ever made, with models going back to an 1860s wooden "boneshaker," which gave riders quite a jolt.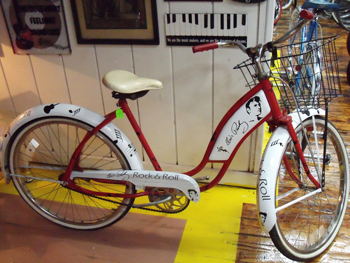 I got to see the world's largest collection of Schwin Stingrays as well as an array of rare, hard-to-find models like the ones made to honor Oreo Cookies, Marilyn Monroe, Coca-Cola, and Elvis Presley. Movie studios have even rented models from Morrow, and I saw one bicycle on display which was used in an upcoming movie called "Fathers & Daughters" starring Russell Crowe. Those interested in tricycles can view the first ever one made during the 1890s.
Bicycle Heaven has all kinds of vintage bicycle signs decorating the walls, plus even more surprises, as Morrow collects more than just bicycles.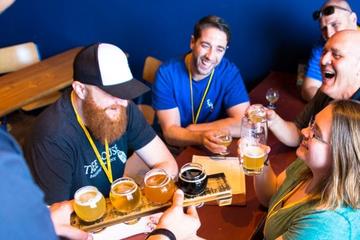 Pittsburgh Brewery Tour with Lunch or Dinner
If You Go:
Also worth checking out…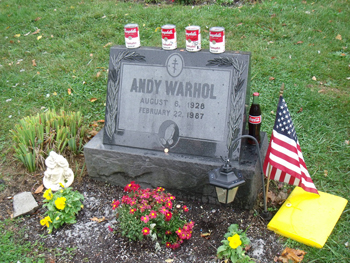 ♦ Andy Warhol's grave can be seen at St. John the Baptist Byzantine Catholic Cemetery in Bethel Park at Connor Road and Pennsylvania Route 88, south of downtown. A live 24/7 webcam monitors the gravesite.
♦ RandyLand is a brightly-painted and decorated home full of artistic expression located in the Mexican War Streets district north of downtown. Its owner, Randy Gilson, is a community activist who has helped to improve and revitalize this historic area.
♦ "Roboworld," located in the Carnegie Science Center, features the only robot hall of fame in the world (honoring movie robots like R2D2) as well as the world's largest permanent robotic display. Other exhibits are interactive, including one where you can play air hockey with a robot plus chat and get thermal readings from others.
♦ I stayed at the Caribbean-themed Parador Inn, just north of downtown in the Allegheny West neighborhood. The spacious rooms have names like Bird of Paradise, Oleander, Lady Palm, and feature comfortable beds, free high speed internet, and access to the parlor, library, and kitchen areas. Free quest passes to the nearby YMCA are available. Guests can enjoy the back yard, which reminded me of being in Key West, Florida.
More Information
♦ University of Pittsburgh Nationality Rooms
♦ Trundle Manor
♦ Photo Antiquities
♦ Bicycle Heaven
♦ Warhol grave webcam
♦ RandyLand
♦ "Roboworld" Carnegie Science Center
♦ Parador Inn
♦ Pittsburgh Tourism Information
About the author:
Roy A. Barnes attended a press trip hosted by Visit Pittsburgh, but what he wrote and shot photos of were of his own accord, and not vetted and/or approved in advance by his hosts. The writer is from Wyoming and is a frequent contributor to Travel thru History.
All photos are credited to Roy A. Barnes and may not be used without permission.