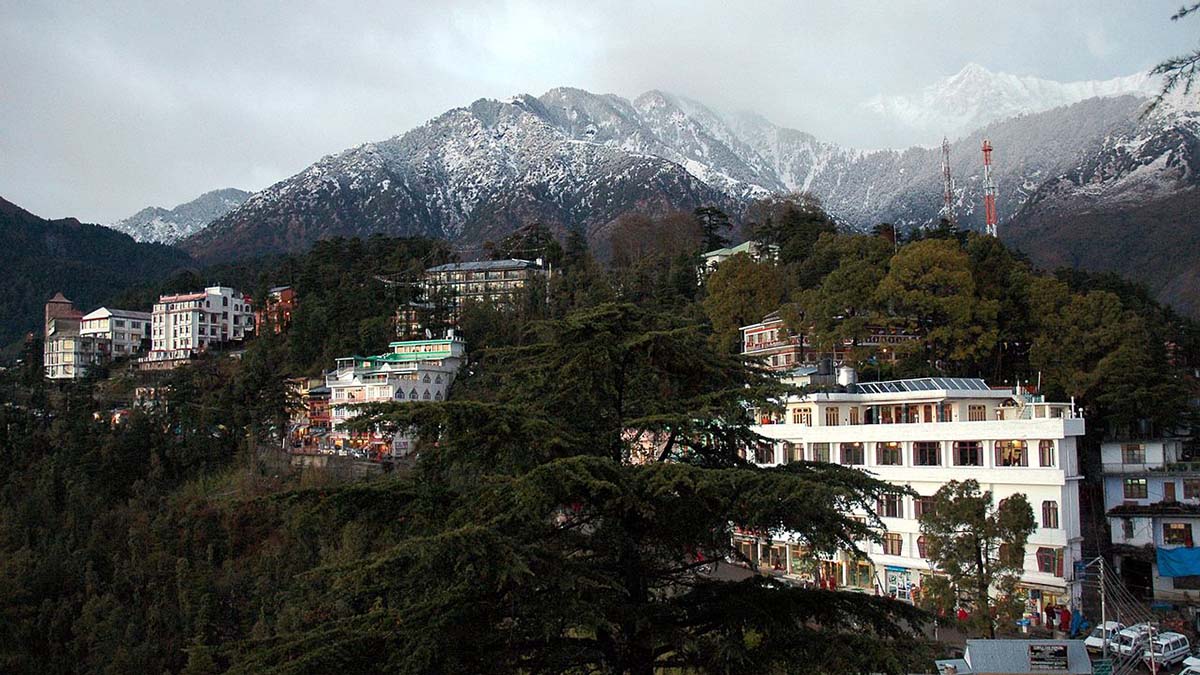 Mcleod Ganj, Upper Dharamshala in Himachal Pradesh
by Chandana Banerjee
"Have you made this?" I ask the Tibetan woman as I run my hand over the sun-warmed beads of the necklace. She looks confused, not used to the English language. I point to the necklace and then point towards her. Her wrinkled face breaks into a toothless smile and she slowly nods an affirmation.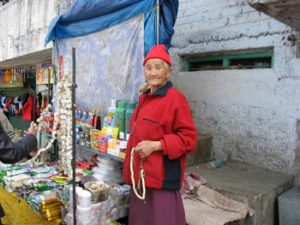 Strung together with large amber, maroon, turquoise and silver beads, the chunky necklace is a bohemian beauty. There are several other necklaces, key chains, charms and beaded trinkets in this makeshift stall on the Temple Road that this chuba-clad ('Chuba' is the traditional dress that Tibetan women wear) owner has made herself. Other stalls flank the narrow road where industrious Tibetan vendors sell everything from antiques to apples, T-shirts to yak cheese, handmade paper goods to bead jewelry. I'm tempted to buy one of these necklaces with smooth-as-pebbles beads, but I decide to save the shopping for later. Having arrived in Mcleod Ganj a few minutes ago, I'm eager to explore the place before I begin to load myself with goodies.
This is my first visit to Mcleod Ganj, a mountain village that's a few hours drive from my home in the Plains of Punjab. After all the interesting things that I'd heard from my Tibetan friend, I had been looking forward to this trip to Mcleod Ganj.
The day is crisp and golden like a slice of crunchy, buttered toast. The snow-peaked Dhauladhars that peek out from behind the hotels and street-side shops; the sky is a bright blue with a few cottony clouds sailing across the visage. Serene and sunny, this seems like a great day to explore this little Tibetan settlement, which is often known as Little Lasha. Located in Upper Dharamshala (Himachal Pradesh), Mcleod Ganj is the home of his Holiness the Dalai Lama and the head quarters of the Tibetan Government in Exile. Home for several Tibetan refugees, this mountain village is packed with compact houses, shops and monasteries.
The first place on my agenda is the Temple Complex, the life blood of this Tibetan settlement, which houses the Namgyal Monastery, a museum, the administrative offices and the Dalai Lama's residence. So, with my cherry-red rucksack slung across my shoulders, I make my way to the Tsuglagkhang (Dalai Lama's Temple). As I walk down the street I come across maroon-robed monks; apron-clad women with rosy-cheeked toddlers in tow; tourists, ambling along or sipping their cappuccinos leisurely at street-side cafes; stall owners busying themselves with the day's work.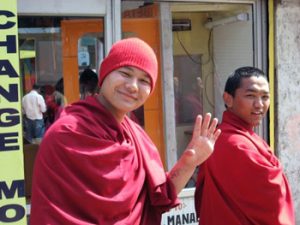 The town is bustling with activity and there is a motley crew of people, devotees, tourists and vendors shuffling in and out of the Temple Complex. I visit the museum first, where the heart rending history of Tibet and the Chinese invasion is depicted through a series of pictures, texts, and relics. A feeling of sadness and helplessness engulfs me as I think of the cruelties inflicted on the shy, peace loving Tibetans. Will they ever get back their country, I wonder.
Solemn and deep in thought, I make my way to the Namgyal monastery that enshrines three magnificent images – an enormous gilt statue of Shakyamuni, statues of Avalokitesvara and Padamasambhava, or Guru Rinpoche, the Indian scholar who introduced Buddhism and Tantric teachings to Tibet in the 8th century. I offer my prayers to Lord Buddha in the wood-paneled prayer room, turn the burnished prayer wheels, and spend a few minutes gazing at the hills and mountain. Strings of blue, red, yellow, green and white prayer flags crisscross across the hills, flapping over houses, hotels and monasteries, like bunting in a birthday party.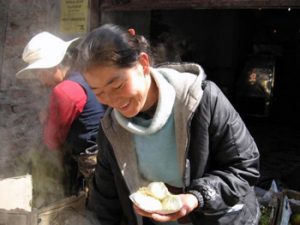 By the time I walk out of the Temple Complex, it's almost lunch time and I am immediately tempted by the piping hot vegetable momos that a vendor is doling out to all those who care for a quick snack. My appetite whetted by a plate of soft, fluffy potato-stuffed dumplings, I make a beeline for the cramped but cozy restaurants located in the center of the town that dish out cuisines from across the world. From Tibetan to Thai, Italian to Israeli, you'll find scrumptious fare of all sorts the restaurants tucked in the alleyways of Mcleod Ganj. I choose Jimmy's Italian Kitchen and wolf down a hearty meal of pasta with roasted garlic and sun dried tomato and mushroom cheddar potato.
After an interesting lunch, I decide to walk up to the Tibetan Institute for the Performing Arts (TIPA), a short distance away from the bus stand. Established in 1959, the TIPA was the very first institution in exile and is the home of lhamo, the colourful and unique folk opera of Tibet. There is a Folk Opera happening at the TIPA and I'm just in time to catch the last performance of the season. Dressed in elaborate costumes, the performers seem to be enacting a humorous piece of theatre. The audience, seated in a semi-circle in the open air courtyard is having a good time, burst into loud guffaws every other second. The atmosphere is redolent with laughter and bonhomie.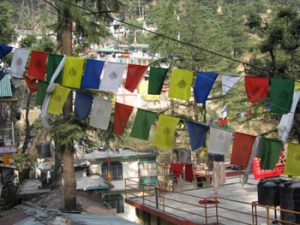 After the performance, I head back to the town to explore the cheerful little shops that are stocked with pretty, colorful things like traditional Tibetan skirts, hand-knitted woolies, incense, Thanka paintings, CDs of temple music, and handmade paper products. I buy a box of incense for the Gods at home, and a few pretty handmade notebooks crafted by the children of the Tibetan Children's Village, a school for Tibetan children in Mcleod Ganj. I also manage to spend some time in the second-hand book shops and buy an armload of books.
A little tired with all the hill walking and sight seeing, I stroll over to a quaint little street side café for a cup of frothy cappuccino. A knot of girls are chatting over their cups of coffee, while a few other tourists are lounging around, enjoying the view of the mountains, reading or scribbling travel notes in their notebooks.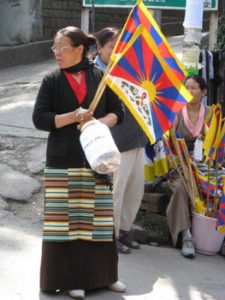 The sun is rolling down the horizon, like a golden tear on a mauve cheek. Little lights begin to flicker along the hillsides, winking through the curtains of gossamer mist; vendors wrap up their makeshift stalls, packing away their wares for the day; Tibetans are bustling back home, clutching bags of vegetables and other essentials, perhaps ingredients for dinner. Evening is quietly descending upon this settlement.
I still have a few more hours to spend in this peaceful little Tibetan town before I retire to my hotel room next to the chorten. I think of watching a movie in one of those basement movie rooms. There's one below the vegetable shop – a dark, cramped little room where they are showing 'The Mistress of Spices'. There are movie shows every few hours and though, these movie rooms are nothing like the glittering multiplexes that we're used to, the experience is quite interesting.
The movie is followed by a quick dinner of piping hot Thukpa and noodles at a little Tibetan restaurant and pastries from Pasty Den, a confectionery shop near the bus stand. My day at Mcleod Ganj is coming to an end. As I walk back to my hotel room, I count up the things that I still need to see and do in Mcleod – like trekking up the Dhauladhars, visiting the Dip Tse Chok Ling gompa, the Tibetan Children's village. There's still lots more to do and I know I'll be back soon to spend more time in Little Lasha.
If You Go:
How to Reach Dharamsala/Mcleod Ganj:
By Road: Dharamsala/McLeod Ganj is well connected by roads from Delhi (529 Km), Chandigarh (259 Km), Amritsar (195 Km), Shimla (259 Km). There are regular tourist and Public buses to and from Dharamsala or Upper Dharamshala i.e. Mcleod Ganj.
By Train: The nearest train junction is Pathankot 90 Kms from Dharamsala. There are regular overnight as well as day trains between Delhi and Pathankot.
By Air: Alternatively, you could fly to Delhi and then take an overnight bus to McLeod Ganj.
For more information: Central Tibetan Administration
About the author:
A lawyer by qualification and a writer by profession, Chandana Banerjee has been writing for newspapers and magazines since her high school days. She now runs her own writing company (Pink Elephant Writing Studio), and writes for digital as well as print media. She lives in India and enjoys exploring the vibrant country. Contact: chandanabanerjee30@gmail.com
Photo Credits:
First Dharamsala view by User: (WT-shared) Jpatokal at wts wikivoyage / CC BY-SA
All other photos are by Chandana Banerjee.