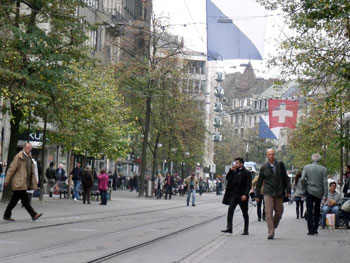 by Roy A. Barnes
Until I visited Zurich , I associated the city with just one thing: high finance. But after my journey last autumn to this city of just under 400,000 inhabitants, I left with a new appreciation of how the old and new of this historical city that pre-dates Roman times are blended nicely like the ingredients of a fine Swiss chocolate bar.
Chocolate Ambrosia in Zurich's Old Town
A few blocks south of Zurich's train station, the city's Old Town covers scores of hilly city blocks with narrow streets. This area is neatly sliced by the Limmat River leading to Lake Zurich, which makes for a fine walk and tram riding adventure via my Swiss Pass or Zurich Card that gave me free access to the public transportation system. Even a cold autumn day didn't dampen the bustling yet peaceful vibes, where I found many locals walking their dogs or transporting their bundled up babies on the well-worn but sturdy cobblestone walkways. There were bikes aplenty too, parked and chained to the posts. Old Town includes the seventh most expensive shopping street in the world, the Bahnhofstrasse (rents average $685 per square foot annually), which runs parallel to the river.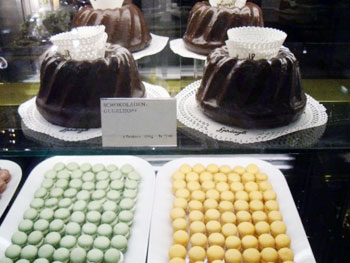 Because the Swiss are known for their quality chocolate making, and combined with my passion for the confection, it was on my agenda to check out some of the shops, nestled among other outlets selling high line fashions, watches, and jewelry. Two chocolate shops, Confiserie Sprungli and Teuscher produced a hearty scent of cocoa that pleasantly flowed through my nostrils. It was a chocolate feast for my eyes, as meticulously-decorated items with such names like Pariser-Konfekt and Gianduia-Rustica lined the shelves of delights, many of which are handmade at Confiserie Sprungli.. Even though chocolate prices range around $50 a pound here, one can keep things more budget-friendly by purchasing the treats in 100 gram increments (around 3.5 oz).
Roman Ruins at the "Bottom" of Old Town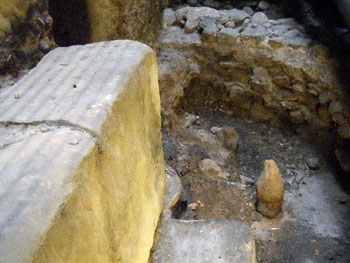 Switzerland is one of the most expensive countries in the world to visit, but ironically, Zurich gives away one of the most important staples of life: water, via its 1,200 public fountains that dispense the crystal clear liquid (my taste buds noticed no chemical taste) from unique statues that have needles on top of them so as to keep pigeons away. I couldn't help but notice St. Peter's church, one of the conspicuous landmarks of the area, for its 28 foot in diameter clock face, the largest in Europe. I wanted a nice vantage point of the Old City, and got it a few blocks north at the Lindenhof. It's called that because of the Linden trees that dominate the park area that overlooks the river, offering great views of the Old Town. It's the highest point of the Old City that dates back to pre-Roman times, when the Celtic Helvetti resided here. Across the river, I spotted the double Neo-Gothic domes of the towers of the Grossmuenster, which dates back to the 12th century, and where the Reformation began in the country.
As my walk proceeded in this snug little slice of Zurich, whose building exteriors were multi-colored in various pastel colors of peach, pink, gray, blue, etc., I came across the remains of some old Roman baths from circa 200 A.D. on a street called Thermegasse (a couple of blocks from St. Peter's), where I walked down flights of stairs to the excavated remains of the bath's heating system. The walkway is a see-through steel mesh. The walls in front of me had pictorial exhibits whose English texts spoke of Zurich's Roman roots as a town and fort.
Stunning Views from Uetliberg, Zurich´s "Top"
The beauty of a place truly shows through, not when the weather is picture perfect with the sun a blazing, but when the weather isn't ideal, as was the case with my ascent to Uetliberg to get a bird's eye view of the area. Once again, with my Swiss Pass, I was able to take a 22 or so minute commuter train ride from the Hauptbahnhof (Tracks 1 or 2) to the base, taking in chalet homes, green soccer pitches, and Switzerland's own brand of autumn foliage that complimented the greenway paths along the tracks. From the station above, I proceed upwards for about ten minutes on dirt paths "beautifully-littered" with fallen red, green, brown, orange, and yellow foliage. As I ascended the mountain top, I noticed tall giraffe-like figurines whose antlers serve as lights. There are numerous hiking and biking paths that cut through lush greenery that makes getting lost a pleasant experience.
At the summit, the fog spoiled my shots of Zurich and Lake Zurich, but it only added to the ambience of the panoramic view of the area, which also offered views of smaller villages and farmland. Here, people don't mind the blustery and gray skies in 40 degree temperatures, for scores of children and their attending adults were having fun in the midst of campfires and picnics. I didn't climb the 72 meter high platform tower, as I was content with my views of well over 2,500 feet above sea level, taking in the best that Mother Nature has to offer.
Zurich West: The "New" Bursting Out of the Past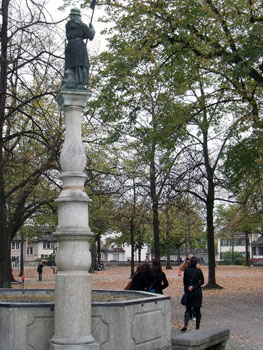 Even though Zurich West is a just a few minutes away from the Haptbahnhof by numerous S-Bahnen commuter trains to Hardbrucke station (including the S9) or around ten minutes by tram, it was as if I stepped out into a totally different world. After disembarking, I noticed I was close to 415 foot high modern skyscraper called the Prime Tower. It's a world that's a cross between a post-modern and old Communist-style city mixed uniquely with new ideas in design that cherishes the old remnants of Zurich's past going back two centuries. This area was once made up of factories and foundries that produced soap, various mechanical parts, etc. In the early 1990s, Zurich West began to revitalize itself, using the skeletons of its industrial past as a basis for what it is today, a bustling multi-cultural melting pot containing trendy clubs and bars with names like "Supermarket", retail and second hand shops (there's a nicely-stocked Salvation Army thrift store that's called "Heils-Armee"), and offices full of white collar workers glued to their laptops.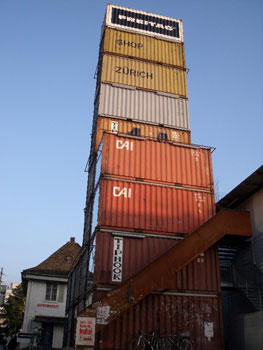 As I walked on the wide walkways among the edifices, I took in such bizarre sights as the the Freitag shop which uses 19 old shipping crates stacked nine stories high to sell handbags and wallets made out of recycled industrial components. And down the street, the outlets in a strip mall called Im Viadukt are nestled inside the arches of a railroad bridge that was built in the late 1800s.
I literally got a taste of Zurich West when I had dinner at Gnuesserei located in a former foundry. The place still retains the fixtures of generations past, where steel covers are used to house the menus and cast iron pots keep appetizers warm, like my really creamy, vinegary hazelnut soup with mushrooms. The darkish brown, black, and orange motif of Gneusserei in low lighting and low ceilings reinforced the autumn season outside. While the dining establishment is considered medium to high-priced in Zurich, you'll get more than your money's worth if you're into atmosphere. The owner, Andrea Hirsiger, is in the wine business, and if you ask him nicely, he may just show you two of his prized possessions: a 1900 bottle of Armagnac, which goes for 49,000 Euros, and some whiskey in a Sterling silver flask that goes for 14,000 Euros. I snacked on some steamed trout fillets and steamed vegetables, as I wasn't very hungry. But if you're hungry enough to eat a horse, you can request their grilled horse fillet. Horse meat in Switzerland is a delicacy.
Disclosure: The writer attended a press trip sponsored by the Switzerland Tourism, but what he wrote are his own impressions and without any vetting by the sponsor.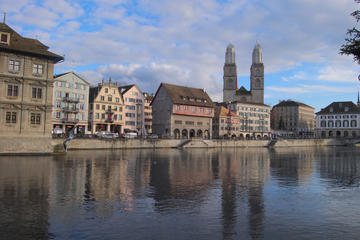 2-hour Private Guided Zurich Downtown Tour
If You Go:
Zurich Websites of Interest
Confiserie Sprungli chocolate: www.spruengli.ch
Teuscher Chocolate: www.teuscher.com
St. Peter's Church: www.st-peter-zh.ch
Grossmuenster Church: www.grossmuenster.ch
S-Bahnen Commuter Trains: www.zvv.ch/en
Freitag Shop www.freitag.ch
Im Viadukt Shops www.im-viadukt.ch
Gnuesserei Restaurant and Gourmet Laden: www.gnuesserei.ch
Swiss Pass information: traintickets.myswitzerland.com
Zurich Tourism and Zurich Card Website: www.zuerich.com
About the author:
Roy A. Barnes is a frequent contributor to Travel Thru History, writing from southeastern Wyoming.
All photos are by Roy Barnes.