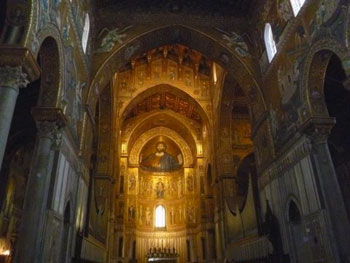 by Jane Parlane
Sicily is synonymous with sun, history, lemons and the mafia. But don't let the mafia scare you into staying away – they aren't interested in tourists. Instead you'll get a warm welcome from most Sicilians who are more interested in showing off their treasures than depriving you of yours.
There are plenty of reasons to visit Sicily, the Mediterranean's largest island, including gorgeous towns, fascinating archaeology from ancient Greek, Roman and Norman times and delicious seafood, wine and cassata.
The ancient city of Palermo, Sicily's capital city, is a great starting point for a seven-day tour by rental car. Having arrived early on an overnight ferry from Naples we taxied to the main railway station where we caught a local bus for the 15km journey to Monreale, famous for its grand Arab-Norman cathedral adorned with colourful glass mosaics dating from the 12th century. The Roman Catholic and eastern orthodox cultures blend splendidly and there's much to admire including the cloisters and bronze doors.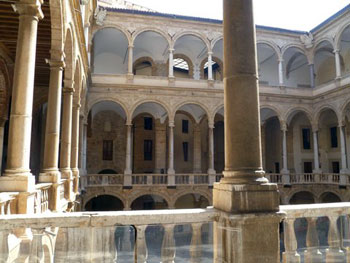 The bus back dropped us at the Piazza Indipendenza, the site of one of Europe's most beautiful castles. The Royal Palace of Palermo, dating from the ninth century for many centuries housed Sicily's rulers and even today it's the seat of regional government. Local politicians are lucky enough to govern from such an architectural gem with its beautiful mosaics, painted roof and marble walls.
In 1599 a local nun was mummified in Palermo so all could still pray to her. Today her body has been joined by thousands more, all lined up like paintings in walls at the Capuchins' Catacombs. There are bodies in their original clothes centuries old, skeletons and even children. It's an eerie sight and afterwards we embraced fresh air, bright sunshine and a Sicilian light lunch of pepperoni, salami, olives, fried eggplant and polenta.
Ancient fishing village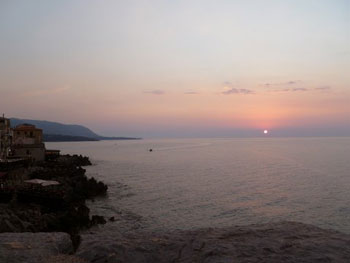 In our rental car it was an easy one-hour drive east to Cefalu, originally a fishing port. Now it's an attractive cobblestoned tourist town with a sandy beach – not completely lined with recliners. Our accommodation was in an old stone house just a minute from the cathedral and main square. It was easy to find a restaurant table overlooking the sea and over a chilled Sicilian wine watch the bright pink sunset explode while families paraded past.
Next day, after a croissant and cappuccino in the piazza, we chose the coast road as far as Tindari where we stripped off for a refreshing swim. Afterwards we headed for Taormina on the autoroute, through tunnels and past Messina until we climbed up the steep hill where the town spreads out. It took a while until we found the entrance to the main car park and its lift took us close to our hotel in the Corso Umberto, the pedestrian-free main street with its lovely alleyways and views down to the Ionian Sea 250 metres below and up to Mt Etna – Europe's tallest active volcano which was gently blowing its stack.
Sicilians promenading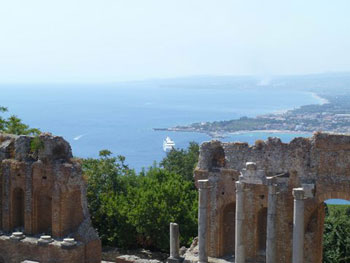 Taormina has many bars where you can sip a Marsala or Campari martini and just people watch. Most evenings you'll see Sicilians decked out in their finery strutting the streets. Alternatively book an opera or concert at the Ancient Theatre dating from Greek and Roman times – sadly the opera was cancelled during our stay. But the swordfish at a trattoria washed down by a local wine and tiramisu to follow eased the pain.
Two days later we arrived at Syracuse, on Sicily's south-eastern corner, once the most powerful city in the Mediterranean. We stayed at Ortigia island, the oldest part of the city, which is linked to Syracuse by a bridge. With its mix of splendid medieval buildings, including a cathedral dating from the 7th century, and Greek and Roman amphitheatres on the outskirts, it's no wonder UNESCO has listed the entire area a World Heritage site.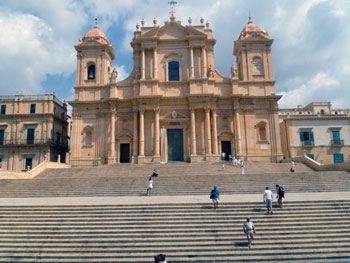 It was an easy day trip the next day to the ancient limestone towns of Modica, Ragusa and Noto, the latter famously rebuilt in 18th century in the baroque style after an earthquake destroyed the town in 1693.
After two nights in Syracuse we drove through olive tree and vine-covered countryside to find the world's largest collection of late Roman mosaics in situ at the Villa Romana del Castale near Piazza Armerina. Also UNESCO protected, the large villa was once owned by Emperor Maximian. Its mosaics are in such good state today because they were covered by a landslide that occurred in the 12th century.
A valley of Greek temples
Our final destination for the day was Agrigento, famous for its Valley of the Temples. It was exhilarating to look out of our hotel window and see Greek temples standing there. This once ancient city, Akragus, was dominated by seven great Doric Greek temples built in the sixth and seventh centuries BC. Today several are still wonderfully preserved making the area one of the world's most important archeological sites. It's easy to spend two hours with a guide wandering the site, especially in late afternoon when the sun lights up the temples. A bonus for us was the spectacular exhibition by world-renowned Polish sculptor Igor Mitoraj cleverly placed among the ancient structures.
We planned to spend our last night in north-eastern Erice. I'd read that it was a medieval town near the coast but did not realise, until our 'sat nav' directed us up a hill, that it was situated on top of a mountain with a dramatic view 750 metres down over the wide plain and city of Trapani. Our hotel swimming pool seemed to be on the edge of a precipice and the town was hidden by an old stone wall. Erice, with its slippery polished flagstones, also tumbles down the hill, with bars offering tempting icy fruit granitas and excellent restaurants like the Monte San Giullano tucked away, vines concealing their stone entrances.
It was an easy drive on the autoroute to catch our flight from Palermo airport the next morning – just over an hour.
Our week in Sicily gave us a great taste of the place – its food, wine, fascinating archaeology and gorgeous medieval towns – we hope to return for a second course another day.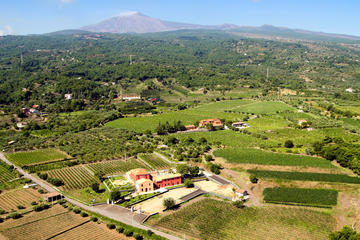 Wine Tasting and Sicilian Lunch at a Winery in Agrigento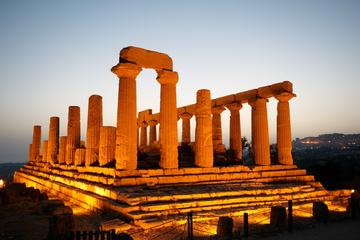 2-hour Private Valley of the Temples Tour in Agrigento
If You Go:
By air:
You can fly into Palermo (Raisi Falcone Borsellino), Catania (Fontanarossa Vincenzo Bellini) or Trapani (Birgi "Vincenzo Florio) international airports with Rome and Milan being the most popular places for connecting flights.
By train:
There are many rail services to Sicily with the trains going on a barge for an hour over the Strait of Messina.
By sea:
Ferries and hydrofoils depart from several cities along the coast of Italy. A hydrofoil service from Naples takes five hours. Several ferry companies offer overnight trips and some will accommodate cars. Ferries go to Sicily from Naples, Citavecchia (Rome), Genoa, Livorno, Salerno, Calabria, Malta, Tunisia and Malta. One of the most popular ferries is from Villa San Giovanni in Calabria to Messina, in eastern Sicily. We traveled overnight on a Tirrenia ferry from Naples to Palermo (www.aferry.com/tirrenia.htm). The cabin was clean and tidy, the restaurant onboard canteen style. Arriving at 6.30 AM gave us a day of sightseeing in Palermo before we collected our rental car in the afternoon and drove to Cefalu on the coast for the night.
By car:
If you are an independent traveller, driving around Sicily is a great way to go, but because of some of Sicily's narrow village streets, I recommend renting a small car. We rented a car from Europcar.
Our timetable:
Day 1 – Palermo and night at Cefalu
Day 2-3 – Taormina
Day 4-5 – Syracuse
Day 6 – Agrigento
Day 7 – Erice
Day 8 – flew out from Palermo
We stayed at the following hotels and booked most of them online at www.booking.com
♦ Palazzo Maria, Cefalu (Our accommodation was in an attractive old stone house)
♦ Hotel Taodamus, Taormina
♦ Hotel Gutowski, Ortygia, Syracuse
♦ Coleverde Park Hotel, Agrigento
♦ Hotel Belvedere, Erice
Restaurants we enjoyed were:
♦ Trattoria Don Camillo, Taormina
♦ Trattoria Archimedes, Syracuse
♦ Ristorante Monte Sa Guillano, Erice
About the author:
Jane Parlane is a freelance writer. She is author of 'Wonderful Waiheke' – a pictorial book about Waiheke Island, 30 minutes by ferry from Auckland, New Zealand, where she lives. She is also a published short story writer.
All photos are by Jane Parlane.