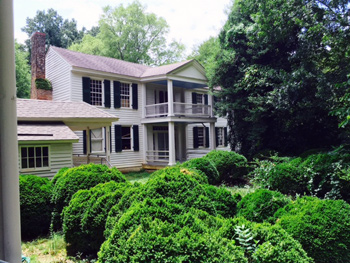 Pond Spring, The General Wheeler Home, Hillsboro Alabama
by Connie Pearson
General Joseph Wheeler fought in more than 300 Civil War battles, was wounded 3 times, and had 16 horses shot out from under him. Some believe that his small size may have been a contributing factor to his survival. He was only 5′ 5″ tall and never weighed more than 125 pounds.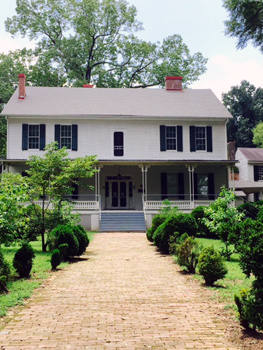 In these days of distaste for the Confederate flag and all it represents, North Alabama continues to take great pride in preserving Pond Spring, the home of "Fightin' Joe" Wheeler, the only former Confederate general buried in Arlington Cemetery. In truth, the Confederate flag never flew in front of Pond Spring. General Wheeler was also important in the Spanish-American War, served in the U.S. Congress, and did much to promote reconciliation of the North and South in the late 1800s to early 1900s. Joseph Wheeler was not just a Southern hero, but much more, he was an American hero.
General Wheeler married Daniella Sherrod in 1866 — after the Civil War — and they moved initially to New Orleans. But her father owned thousands of acres in Alabama and built Pond Spring as an incentive to lure the couple to the state. They accepted his offer and eventually had seven children within reach of their grandparents.
When you step onto the wide front porch of the home in Hillsboro, AL, you understand why it sits perfectly to catch the slightest breeze and provide an expansive view of the surrounding property. Walk through the front door and you are transported to the 1870's. The home is filled with original family furniture, artifacts, period clothing, books and portraits. It is connected to Daniella's parents' home by a covered walkway. Today the Sherrod home contains a small gift shop.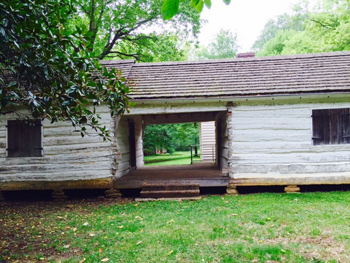 Annie Wheeler, third child of Joseph and Daniella, showed her own patriotic dedication by serving as a Red Cross nurse in three wars She was the last family member to live in the home and was responsible for bequeathing the buildings and all of their contents to the State of Alabama for historical preservation. The 50-acre property has several outbuildings, including a dogtrot log house built around 1818, and an ice house. Delightful stories exist about the railroad track that runs near the entrance to Pond Spring.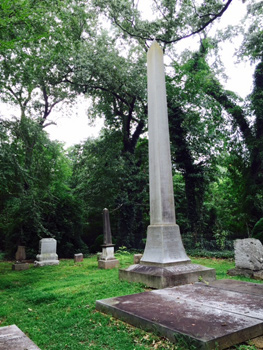 The tallest monument, in the family cemetery several yards behind the house, adorns the grave of Daniella Wheeler. An identical obelisk sits atop General Wheeler's grave at Arlington and is the tallest marker in the entire cemetery, standing an impressive 45 feet. After it was erected, the Arlington Committee quickly enacted a policy specifying future heights and widths of monuments. They were afraid the competition of outdoing others for "bigger and better" would get out of hand. A smart move on their part.
Ms. Kara Long is the current Site Director for Pond Spring and is an expert on "all things Wheeler." Her narrated tours for visitors are filled with facts, anecdotes, and insights gained from obvious research and love for the history of this time period. Ms. Long's tales about Miss Annie Wheeler add to the significance of this home and extend its story all the way to 1955, the year of her death.
Three events are special at Pond Spring every year. The Saturday after Labor Day General Joe Wheeler's birthday is celebrated. Guests receive samples of his favorite cake, an authentic Civil War cannon is fired, and period crafts are on display. At Christmastime, the beautiful home is decorated with live greenery, and musicians perform on the wide front porch. On the last Saturday in March, Miss Annie's Heirloom Plant Sale takes place, where baby boxwoods are a popular item. Those are in recognition of the centuries-old boxwood garden on the grounds.
If You Go:
♦ Pond Spring, the General Wheeler Home, is located at 12280 AL Highway 20 Hillsboro, AL 35643, is open for tours every Wednesday – Saturday from 9:00 a.m. to 4:00 p.m. and Sunday from 1:00 to 5:00 p.m. It is closed Monday, Tuesday, and for state holidays. Check the website for admission prices. School groups are allowed to tour for only $2.00 per student.
♦ During weekdays, the nearest restaurant is Dot's Soulfood Diner. It is about 7-8 miles past Pond Spring. Other choices might be Caddo Cafeteria in Trinity (open every day except Saturday) or Western Sirloin Steakhouse in Moulton on Highway 157.
About the author:
Connie Pearson is a native Alabamian, wife of 44 years, mother of 3, grandmother of 12. A retired elementary music teacher / former missionary / now budding weight-lifter, travel writer and blogger. Visit www.theregoesconnie.com
All photos are by Connie Pearson:
Sherrod home
Joseph Wheeler home
Log dogtrot house
Daniella's grave