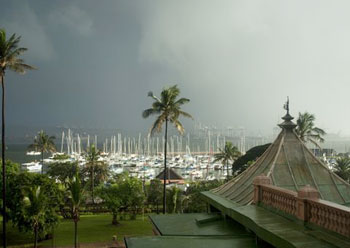 South Africa
by Julie H. Ferguson
The city of Durban on the north-west coast of South Africa does not feature in most travelers' plans. It is steamy in summer, allegedly unsafe, a bit dirty, and the beach strip is rowdy. So why go? To experience the "real" urban South Africa and enjoy value for money. Good highways, an excellent game reserve close-by, and warm hospitality are other draws.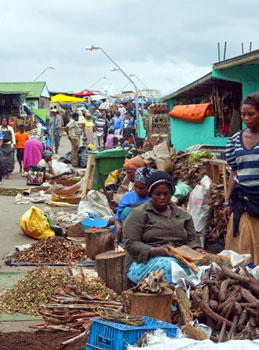 Durban throbs with the rhythms of Black Africa that are not as accessible on the typical tourist track. The aromas wafting from stalls and cafés are unidentifiable, but worth exploring. Street vendors sell everything from beadwork to biltong (spicy, dried meat). The African taxis, actually ten-passenger vans, clog the city streets hawking for business and owning the road. Women carry grocery bags on their heads and kids on their backs. It's high energy here and crowded.
Durban is price-friendly: a bottle of Heineken costs 13 Rand (Cdn $1.86), and the ubiquitous bed and breakfasts average about R300 to R400 per night ($48-$57), even in high season, and are clean and welcoming. The Indian Ocean boasts good surf on white sand beaches and a water temperature of 25C but, best of all, Durban is an easy drive in a rental car to one of the best safari parks. Hluhluwe-Imfolozi is cheaper, but no less comfortable than the famous and bigger Kruger National Park. You can see the Big Five here – lion, leopard, elephant, rhino, and Cape Buffalo – and it's malaria-free.
Instead of staying in a western-style hotel on the beach or in central Durban, I choose to overlook the yacht basin in a hotel that is a Black empowerment project. Durban Manor's faded grandeur acts as a time warp. Built as a Victorian gentlemen's club in the 1890s, its twenty-foot ornate ceilings, massive furniture the size of rhinos, and threadbare carpets over marble floors are more British than Britain ever was. An ancient cage elevator is original. The hotel's hearty breakfasts are straight out of a Victorian country house – silver chafing dishes filled with kidneys, kippers, and kedgeree on a vast buffet; however, dinner is the worst of 1950s British food. The Manor's rooms are large, clean, and air-conditioned, if shabby. In tropical downpours, buckets catch leaks in the public rooms and bath towels sop up the rain pouring in around closed windows. I quickly appreciate Durban Manor's eccentricities, price, and location, as well as a hotel staff who face their challenges with a cheerful shrug.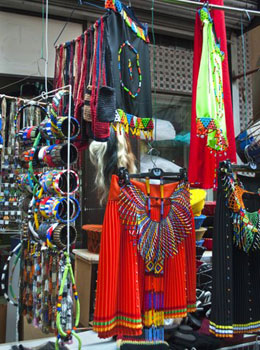 On day three, I take a city tour recommended by locals. Richard Powell and his Zulu assistant, Sthembiso, of Street Scene Tours treat me to a five-hour tour that costs under $40.00 including lunch. This is not your average tour, but an experience that exposes the beat of African Durban. The pair work as a tag team: Richard explains the city's layout and history as we pass the colonial landmarks, and Sthembiso describes the African outlook and way of life as we meander through the Zulu markets and Muslim arcades.
We walk as much as we drive, which makes the experience better than most city tours and ensures good photography. The highlight is my visit to Warwick Triangle – the tangle of markets where Africans shop. Everything is for sale here – food, folkloric remedies, ceremonial items, electronics, and aphrodisiacs. This is not an area in which to walk alone or take photos freely due to illegal items on sale and some African's fear of cameras, but I feel completely safe with my guides. I pass monkey carcasses and goats' heads on sale in the Muti (meat) Market, balls of white and red clay used for body decoration, dyed horsehair for weaving, and all manner of plants and tree parts for traditional healers spread out in the Herb Market.
In the narrow, winding arcades nearby, I see brilliantly coloured skirts for Zulu virgins to wear at initiations, beads and weapons for young warriors, and vast quantities of housewares available to purchase for lobola or "bride-price." Sticky and tired after wandering here for a couple of hours, Richard whisks me off for lunch in a Gujarati cafe.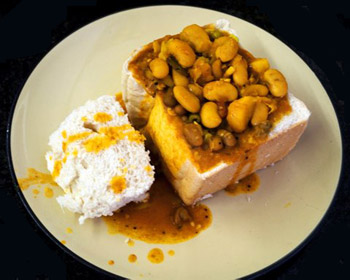 Since Durban was settled, the large East Indian population has offered its traditional dishes all over the city. Their most famous is Bunny Chow. The Indians who caddied at the Royal Durban Golf Club never had time to stop for lunch, so Mr. Bunny created a unique curry sandwich they could munch on the go. He scooped out the centre of half a loaf, filled the hole with a spicy curry, and stuffed the bread back on top. I eat mine with my fingers, mopping up the hot sauce with pieces of bread and loving it.
Richard describes his tours as "Alternative" and, if his others are like today's, they will be worthwhile. I'm sorry to miss the Township Tour but I leave tomorrow for my first safari. The Hluhluwe-Imfolozi Game Reserve is the oldest park in South Africa (est.1895) and once the hunting grounds of Zulu kings who later introduced the first conservation laws. Its name is pronounced "sh-shluey," preferably with a spit! When a family of warthogs greet me and my travel companions at the park gate, our excitement surges. We wind up and down hills on the seven-mile road to Hilltop and encounter zebra, Cape Buffalo, and a tree full of squabbling weaver birds. Here regulations forbid visitors to leave their vehicles for any reason.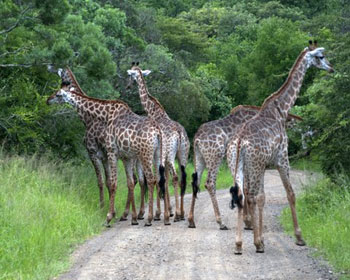 The thatched Hilltop Lodge overlooks a wide valley and is blessed with all the amenities of an excellent hotel, including delicious breakfast and dinner buffets. As I push open the door of our roomy cottage, my first sight is a warning about marauding baboons – the robust grills over our windows speak volumes. Harmless Vervet monkeys gambol all around us.
Game drives set out at dawn and dusk, so our meals have to fit around them. It makes for long days, late dinners, and short nights. A nap in the heat of the day while the animals sleep is mandatory if we want to survive; so are insect repellent, sunscreen, snacks, and water.
At 5:00pm, armed with my camera, a long lens, and binoculars, I scramble onto a high seat in the back of a 10-passenger Land Rover. The canvas roof shields the sun, but otherwise it is an open vehicle that delivers excellent viewing above tall grasses and shrubs. We drive along winding, rust-red trails over hills covered with lush vegetation and through treed valleys with rushing streams.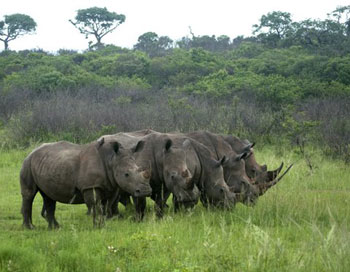 Abruptly the park ranger stops and points out a couple of Nyala (antelope) on a distant slope. Even with binoculars I can barely see them – is this as close as we will get to the game? Then over the next rise, a Black Rhino grazes not 50 feet away. We turn another corner and nearly run into a giraffe. After that, the game appears thick, fast, and close until the sun sets. But the best comes after dark, when we disturb a lion lying in the middle of the trail. He hightails into the bush but stops ten feet away and, with the aid of a spotlight, I can count his teeth when he yawns.
Over the next two days, the safari never stops thrilling – at dawn, seven White Rhino on a hilltop and two cuddling in a wallow, an elegant male Impala with his harem in a sun-dappled glade, five giraffe loping along ahead of us, owls and vultures peering from trees, a crocodile half-submerged in a stream, huge herds of jet-black Cape Buffalo, and one Spotted Hyena scavenging a lion kill.
We quickly learn where and how to spot game, and use our rental car to do a game drive through the southern section of the reserve before returning to Durban. We never see leopard or elephant in Hluhluwe, but the latter are to come in vast numbers – another two weeks of South African adventures lie ahead.
© Julie H. Ferguson 2011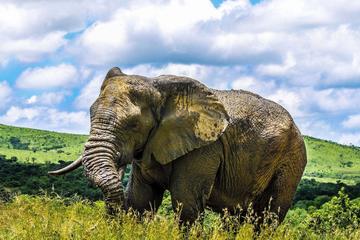 Hluhluwe Imfolozi Game Reserve Day Tour from Durban
If You Go:
KwaZulu-Natal Tourism Authority: www.durban.kzn.org.za
Durban Manor: www.durbanmanorhotel.com
Street Scene Tours with Richard Powell: www.streetscenetours.co.za
Hluhluwe- Imfolozi Game Reserve: www.sa-venues.com and www.kznparks.com
Amatikulu Tours: our package at Hilltop (Hluhluwe), which included two nights in a comfortable two-bedroom cottage, delicious breakfasts and dinners in the main lodge, and two game drives, cost Cdn $410.00 per person. (Additional drives – $42.00 each.) The baboons and vervet monkeys are free. For those who don't wish to rent a car, packages are also available with transport from Durban. www.amatikulu.com
Car rental: Europcar from the airport or central Durban– www.europcar.com
Bed and Breakfasts and guesthouses in South Africa: www.bedandbreakfast.com
About the author:
Julie H. Ferguson is an addicted traveller, a serious photographer, and the author of 17 books, four of which are about Canadian history. She invites you to visit www.beaconlit.com and www.flickr.com/photos/beaconlit.
All photos are © Julie Ferguson 2011.