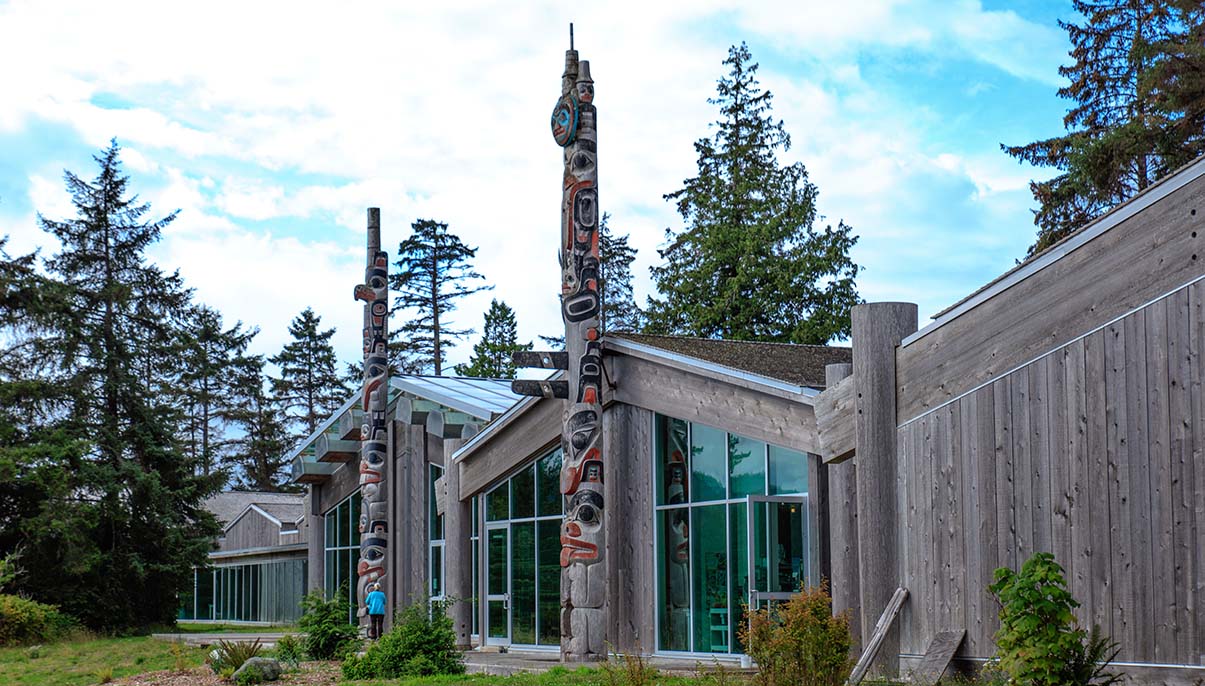 by Bill Arnott
A small plane hauled me north, toward Haida Gwaii – prehistoric land, old growth rainforest and Haida First Nations. It was a departure from the Viking trek I'd been on for four years, in the wake of Scandinavian voyagers. I'd just finished a Norse-Britain excursion, from the Hebrides to Lindisfarne and my dad's dad's hometown of Dunfermline, Scotland. Like research, my travel was following hunches and side-streets, a voyage as pointedly vague as every explorer.
I exited the little plane with a handful of locals and wanderers, gathering packs and duffels. A bald eagle circled, low, directly overhead. At a sculpture park near my home it states, "When you see an eagle you know this is a special place." And I realized I didn't want to find my accommodation. Not yet. There was too much to see.
From Masset I drove south to Port Clements, home of The Golden Spruce. The Spruce is an anomaly, a genetic oddity that makes albinos seem common – a three-hundred-year-old tree with needles entirely gold in colour, in a forest on Graham Island. If you've read The Golden Spruce, you know the story. It was cut down by a protester for reasons too complex, convoluted, to comprehend. Killing makes sense to killers. It was felled with precision, into the Yakoun River.
From the car I walked a footpath through towering evergreens – sentient sentinels, until I saw The Spruce, now on its side, spindly and bare, the colour of bones – a corpse lying in the river. This was a sacred tree. To everyone. Even the man who brought it down.
With a blessing a piece of the trunk, still living, was cut by a native, Elders and Chiefs presiding. And this modest slab of spruce, this part of the land, was passed to a luthier, a gifted Canadian artisan who fashioned the wood into a guitar, an instrument known as Voyageur. The Voyageur guitar crossed the country, the ambitious project of CBC's Jowi Taylor. It encapsulates Canada – a guitar of and for the people. Six String Nation is its story. Imagine a small piece of furniture constructed of generations of heirlooms from every family. Now imagine you pass that around and play it, sing to it – add your stamp to the whole. When Jowi passed Voyageur to me to play on a little theatre stage on Vancouver Island, I felt pride and privilege beyond measure. One of those things bigger than any or all of us.
I took a picture of the Spruce and a glow appeared in the photo I didn't or couldn't see in person, and I recalled the notion of pictures capturing souls. Leaving the forest I noticed a small sign I hadn't previously seen. "Do not look back," it reads, "There is much more to see, feel and love." Leave everything behind. Your life lies ahead. I read this again, slowly. Truth is, under the guise of research, I'd fled here in an attempt to process my father's passing, which had just happened, rather tragically. And here, in the forest, ensconced in spirituality, this oddly comforting sign held me. I felt lightened, burdens dissolving – the result of letting go. It was a feeling, ironically, I longed to hold on to.
I drove a short distance on active logging road, then from gravel to winding asphalt with a centre-line – the Yellowhead Highway that leaps from the BC mainland to these islands. CBC radio – the only station – came and went as I drove. In Port Clements, I stopped at Millennium Park and the Golden Spruce Trail at Saint Mark's church. The Golden Spruce offspring lives here. A sapling, seeded from the original, grows in a small fenced enclosure. It's squat and scrawny, and a large feather had fallen beside it – black with downy white – a dreamy vignette, heavy with optimism. A glimpse of healing.
Driving south I stopped at Balance Rock – a gravity-defying hunk of basalt shaped like a monstrous rugby ball on its side, sitting improbably on a small and natural Precambrian plinth. I hiked through bushes and grazed on wild strawberries and huckleberries. Blacktail deer crossed the road, indifferent to the occasional vehicle, and ravens flew by with a whoosh of wings. I carried on through Tlell to Skidegate, where the MV Kwuna ferried me to Alliford Bay on Moresby Island, and I drove to Sandspit with two new passengers – hitchhikers from the ferry. Dropping a bag in a hostel-lodge I strolled to the pub where everyone ate halibut and chips and drank Lucky lager. Back in my room, with open window I drifted off to the warbling chirp of bald eagles, a soft patter of rain and the aroma of sea.
I woke eleven hours later, breakfast smells wafting in my room – bacon and strong coffee. I stumbled down to where a friendly hippy-in-waiting proffered warm and generous portions of potatoes, eggs and staphylococcus. Remarkably, she managed to sneeze in a hundred-and-eighty-degree arc. The result, a feeling of eating al fresco in a squall – misting with a soupçon of mucous. I toweled off, ate, then jumped in a van going south, to Moresby Camp at the head of a fjord-like inlet where a Zodiac-rhib motored our little group to open water.
This stretch of sea is the Hecate Strait. North is the Dixon Entrance, deep ocean binding Alaska and Canada to the North Pacific. It's a place of explorers – La Perouse, Perez, Cook and Drake – France, Spain and Britain seeking the Northwest Passage to the Orient. All came, courageous, determined, and failed, forced to sail back around the world.
Veering from land we found Steller sea lions barking and flopping on rocks, then we followed the coast, passing petrels in flight, auklets and murrelets on the water. Deer grazed near the beach in thickets of alder and hemlock. Eagles perched in trees where a massive, multi-generational aerie sat in the highest branches of a seaside spruce. The shoreline was textbook Pacific Northwest – red cedar, lilting hemlock, spindly alder, stodgy spruce, rocky shoreline with outsized bivalves, bull kelp, driftwood, jetsam from timber barges and the occasional treasure from Japan – fish floats of coloured glass and bulbs from ships and lighthouses, fragments worn smooth by surf and time.
In her autobiographical Klee Wyck
, Emily Carr wrote of her arrival to this shore, "Skedans Beach was wide. Sea-drift was scattered over it. Behind the logs the ground sloped up a little to the old village site. It was smothered now under a green tangle, just one grey roof still squatted there among the bushes, and a battered row of totem poles circled the bay." Our boat slowed as we entered the same bay, here at Louise Island. Our destination, the ancient Haida village of Skedans – K'uuna Llnagaay – century-old bleached totems, palpable spirits, and silence.
Two Haida Watchmen greeted us, tasked with protecting this site. Beaching the rhib we unloaded onto pea-gravel. Our small group was hushed, the awe of entering a cathedral. I knew this place from Carr's art. She was here eighty-plus years ago, painting this environment. I recognized a cliff face, young alders now grown – a sense of returning to a place I'd never been. We crunched across rocky beach to a grassy rise where leaning totems guard the bay like wraiths, memories entwined with the land.
The Watchmen were a brilliant young woman – the first female Watchman, and a serious man wearing a flat-top flared hat of woven cedar. I've seen these hats in galleries with four-figure price tags, the workmanship millennia of expertise – practical, wearable art. We were led to their cabin and shared lunch outside, seated on logs. After, we followed a trail loosely bordered with huge clam and oyster shells, like a velvet rope around an exhibit. And we walked and gawked and soaked up the space, privileged to witness it all. History here is long, proud and tragic. What physically remains are longhouse foundations, corner posts and carved totems – house and frontal poles, mortuary and memorial poles – falling or fallen, melting back to the land.
From the remains of Skedans we marched through forest – a towering canopy of cedar over thick mossy ground the colour of young clover with a blanket of salal. A woodpecker feather lay near the path, an orangey-red quill, and one of the other tourist-guests, a local naturalist, showed me licorice root, which we plucked from where it grew, high up the trunk of a four-hundred-year-old spruce. It came away like a tiny white radish, the taste of black licorice and dirt.
We endured a long and jarring ride back in the RHIB (rigid hull inflatable boat), then waited in rain while our trailer was replaced. And then our vehicle. Snacks and outerwear were shared. We'd become an impromptu team, surviving elements and shared experience. Eventually we had a bumpy van-ride back to Sandspit where I fell into bed for another long sleep, wondering when the nasal squawk of ravens had become so soothing, and somehow reassuring.
---
If You Go:
You can fly from YVR on a number of airlines into Sandspit or Masset, both on Haida Gwaii's largest island where most amenities are located. You can also ferry from Prince Rupert. There are shuttles but a rental vehicle will give you the most flexibility to explore. Expect mileage to be added to your rental cost, unlike most destinations where unlimited miles are the norm. Accommodation is uncomplicated – predominantly lodges and hostels with breakfasts included. Pack for maritime weather – all conditions in a day – wind, rain, sun and cold. The Haida Heritage Centre in Skidegate is a must – history, performances and interactive learning. Check to see what's going on and allow at least a half day here. There are high end fishing lodges in the area (salmon and halibut being the stars) with gourmet meals and prices to match. Camping, however, can provide equally memorable experiences in this special, spiritual locale.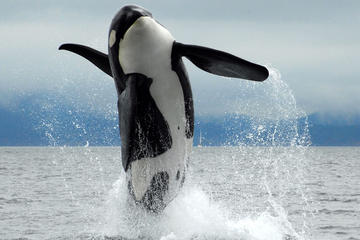 Vancouver Island Whale and Wildlife Tour
About the author:
Author, poet, songwriter Bill Arnott is the bestselling author of Gone Viking: A Travel Saga
and Dromomania: A Wonderful Magical Journey. His articles and columns are published in Canada, the US, UK, Europe and Asia. When not trekking the globe with a small pack, weatherproof journal and horribly outdated camera phone, Bill can be found on Canada's west coast, making friends and more or less misbehaving. www.amazon.com/author/billarnott_aps
Photo credit: Murray Foubister / CC BY-SA