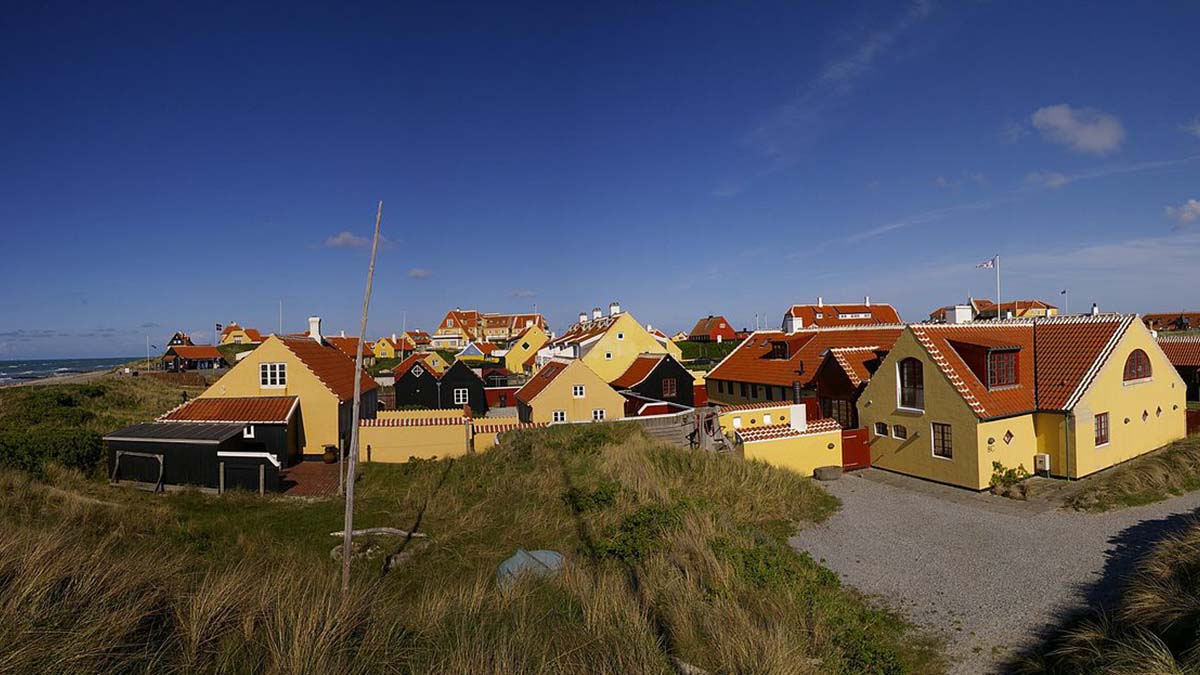 by Nell Raun-Linde
Two seas meet with a vengeance at the northern tip of Denmark's Jutland Peninsula. As the Skagerrak Sea roars in from the west and the Kattegat from the east, they crash and spout and foam. As soon as they start to recede, sightseers rush onto the wet sand bar to stand with a foot in each sea.
"The Top of Denmark, that's where we'll go," my long-time Danish friend, Else, said. "You'll see huge sand dunes, two seas that come together, and incredible art." What a sales pitch. My daughter Paula and I couldn't resist.
We landed in Copenhagen, stopped for a visit in south Jutland, and then headed north. We were ready to explore the seaside towns and beaches in the "Land of Light" where 19th century artists found inspiration in the fresh, bright, clear air.
SKAGEN AND GRENEN
We drove north on a small highway through forests, past a free-range pig farm and sand dunes anchored with heather. First stop: the must-see town of Skagen ('Skane'), where maritime history mixes with art. As we drove through this town that dates back to the 12th century, the Skane-yellow houses captivated us. They all have red tile roofs with strips of white painted on the edges. I thought it might be to keep out the 'varmints,' but we were told it covers the mortar and a stiff wire that holds roofs when fierce winds pass through.
Our first stop in Skagen was the Skagens Art Museum which houses the paintings of famous Danish artists who painted from the l870's in this Land of Light on into the 20th century. Northern Light – the Skagen Painters is a reference book I read before leaving home. I began to get acquainted with Danish painters Michael Ancher, P.S. Kroyer, Laurits Tuxen and Viggo Johansen.
We entered the museum, paid our 70 kroner ($13) fee, and started the self-guided tour in a two-story atrium, where the light streamed in from skylights. I stood before a painting by P.S. Kroyer that I had seen in the book, not prepared for its massive size. The six-foot by eight–foot canvas, A Midsummer's Eve Bonfire on South Beach, shows life-sized people standing around a glowing bonfire celebrating Midsummer's Eve. I felt the heat of the fire. I was there.
A large painting done in 1896 by Michael Ancher shows family and friends gathered around a drowned lifeboat-man. Strong shafts of light in a dark, somber room emphasize the poignant face of his widow, the sorrow of fellow fishermen.
Many more paintings, large and small, fill the rooms, upstairs and down – portraits, children playing in the sand, the bright light of Skagen streaming into Danish country-homes. Some of these are painted by Anna Ancher, also an artist. Her art schooling in Copenhagen was apart from Michael Ancher, Karl Madsen and others who later formed the Skagen colony. They were students at the Royal Danish Academy of Fine Arts in Copenhagen but not Anna. The Academy did not admit women because men and women were not allowed to be taught together.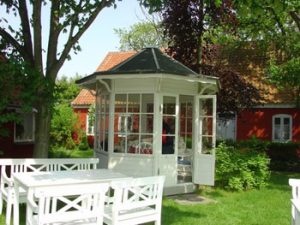 From the museum we moseyed past artists' houses to Broundum's Hotel for a dessert "lunch." The pre-1870's hotel has a famous dining room but we ate in the garden on that warm May afternoon.
Tables filled the garden surrounding the white, lathe gazebo at the far edge of the lawn. A young waiter in a starched white coat and white gloves came to take our order. We both ordered the same: Lagkage, the layer cake with a bit of almond paste on the bottom layer, a bit of jam and custard on other layers, then all stuffed and frosted with rich, butter-yellow whipped cream. Big, red, fresh strawberries topped it all. Else said I must try the hot chocolade. It came with a bowl of the same buttery whipped cream. Oh my! I finished it all.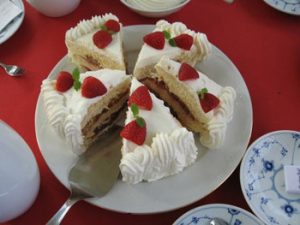 To walk off some calories, we strolled through Skagen's historic district, stopping at shops and the Ancher House Museum. (Anna Ancher was a Broundum before marriage.) Then we climbed in our rented Volvo to drive a few kilometers to Grenen, the small town perched on the northernmost tip of Denmark, a small finger of land where the two seas meet. Visitors have two ways to reach the edge of the seas: walk over the sand dunes for thirty minutes or ride in the Sandormen, a sand tractor, for ten minutes and 20 kroner ($4).
We caught its last trip at 5 p.m. and bumped through the dunes and shore to the edge of the Skagerrak, maybe it was the Kattegat Sea. Everyone hopped out, headed for the shore where the waves of the meeting seas foamed. Barefoot, grown people stood ready to put a foot in each sea. The outgoing tide parted the seas and the crowd rushed through, laughing and squishing across the wet sand. Then, in only minutes, the seas joined together again. Signs warn: 'Often angry seas; bathing prohibited; ferocious tidal currents.' What a wild, edge-of-the-world is this Grenen.
Back in the car near low dunes, we saw a reconstruction of Denmark's first wooden "light" from 1627. A bucket of flaming coal raised high would guide the ships safely past the rocks and dangerous reefs.
RUBJERG KNUDE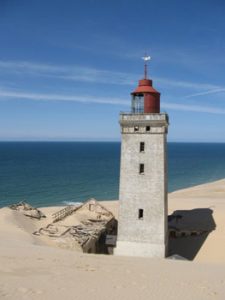 Another day we headed west from Hjorring to the shore of the North Sea to hike the 150-foot high Rubjerg Knude sand dune. Near the top, a partly-buried lighthouse (the Rubjerg Knude Fyr) tries to keep its tip above the swirling sand.
From the parking lot, we followed the path up the dune until there was no path, just sand piled up, up, up. We didn't make it to the top of the highest dune, but climbed just high enough to see the deep blue North Sea. The wind howled as I took pictures and it blew gritty sand into my teeth.
FREDERICKSHAVN
The next morning we packed a picnic lunch and headed for Frederickshavn. We also planned side trips to nearby Bangsbo Museum and botanical garden with its gorgeous ponds and flowering rhododendrons. Trains come to this resort-type city, some direct from Copenhagen. It's a busy port for goods and passengers. Ferries take passengers and cars across the Kattegat Sea to Goteborg, Sweden, about a three-hour ride. They also go to Oslo, Norway and Laeso Island.
Wide sand beaches attract Danes, Swedes, Germans and tourists from the U.S. We climbed grass-covered dunes to stroll sandy Palm Beach with real palm trees. Surprise: the palm trees spend the winter in greenhouses. Tropical weather does not grace this land above 57 degrees north latitude.
Another day we toured the Nordjyllands Kunstmuseum in Aalborg, south of Skagen. We wanted to see the art museum with its spectacular architecture and grounds, its collections of post-1900 Danish and foreign art. The architect, Alvar Aalto, designed stunning and wide open rooms full of light and varying textures. Art as sculpture, art as paintings – some surreal – overwhelms the visitor. It's a must-see stop on your way north to Skagen and Grenen.
During our four days, we barely had time to wander our base city of Hjorring and its modern "mall" with stores, outdoor sculpture and fountains. A stroll through the outdoor arcade is a walk through another art gallery.
Rush as we did, we managed to find and eat yummy desserts in the Kuntsmuseum cafeteria. In seaside villages and gardens, we found fresh-baked waffle cones filled with big scoops of ice cream. Art, food and the sea – what a winning combination.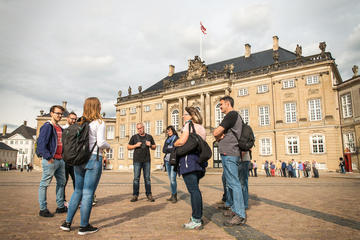 Copenhagen Must Sees
If You Go:
Visit North Jutland website – Check map for Aalborg and north.
Kunsten Museum of Modern Art (formerly North Jutland Art Museum) – See art in Aalborg and views of the magnificent architecture of the museum.
Art Museum of Skagens – Click English or British flag; then see "Information," "Collections" and more. You'll find photos of art, photos of scenery.
BRØNDUMS HOTEL  – No English, but you can see hotel scenes. Wander this 19th century hotel and its grounds, have a snack or lunch in the gorgeous gardens. Write to them at info@broendums-hotel.dk
Visit the Top of Denmark  – Check the "holiday cottages" listed, fun to see.
There is transport from the Copenhagen airport (you can also fly to Billund or Arhus on the peninsula): A car makes touring easy and extensive; trains leave Copenhagen frequently for Jutland.
About the author:
Nell Raun-Linde, a freelance writer with a travel specialty. Published in AAA, Senior, regional, inflight, wine and web magazines; published in San Francisco Bay Area newspapers; resides in historic Benicia, a small Northern California town, incorporated before the gold rush. An almost-around-the-world traveler from the Bering Sea to Cape Horn; from Beijing to Tasmania; from crisscrossing Europe via train and ferry boats to plane and car travel across the US. Travel, reading and family – and wine – are her passions.
Photo credits:
First Old Skagen, Denmark by: John Nuttall from Hampshire, United Kingdom / CC BY
All other photos are by Paula Raun-Linde.