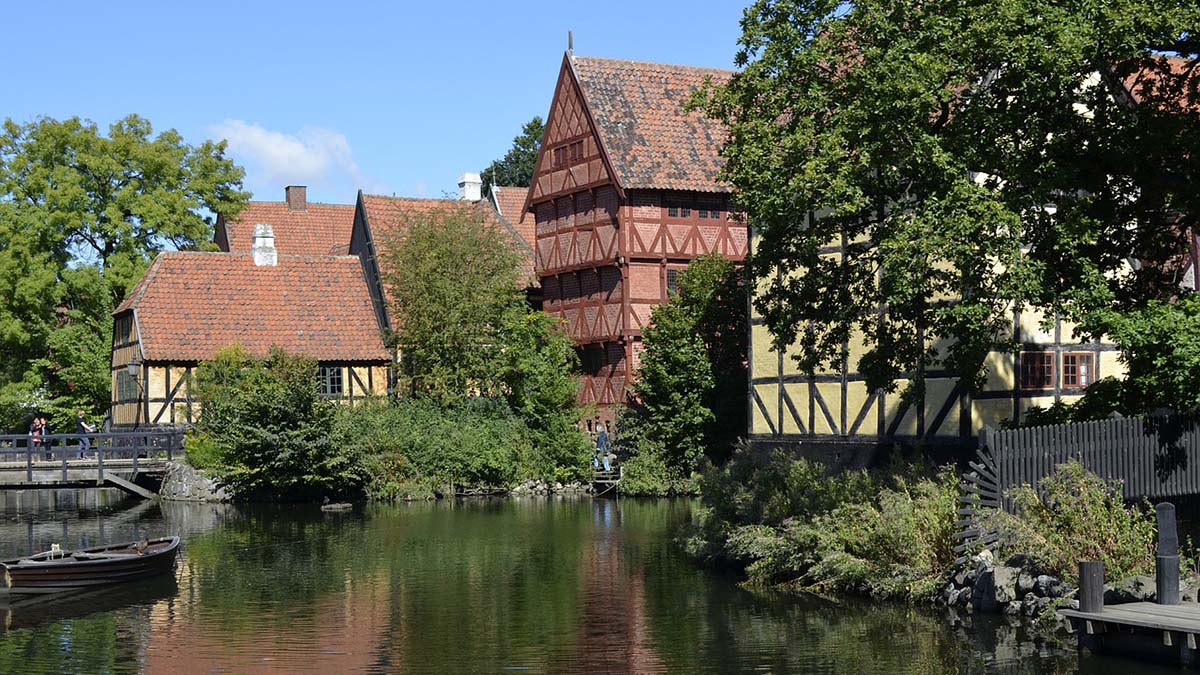 History, Culture, and Even Danish Pastries!
by Diane Chouinard
Out of a whirl of autumn leaves, in one of the most ancient forests of Denmark, south of the City of Aarhus, appears a tall lean figure, dressed in a long black leather coat. Is he a Viking from the past or just a tourist like me, awed by the haunting big trees, some, thousands of years old?
As I walk along the prehistoric trail, Stone and Bronze Age graves, cult sites and reconstructions of Iron Age houses take me on a journey through centuries. Hollowed out lime trees and mossy alder trunks are as old as the legendary naval battles that took place off the coast a millennium ago. When I step into the Moesgard Museum, the tall figure disappears into the mist. Was he just a mirage?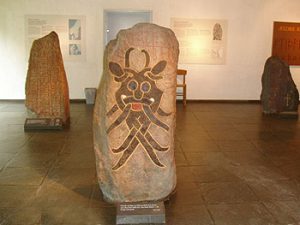 Inside, the permanent exhibition depicts the prosperous life the Vikings enjoyed, due to old Aros' location at the mouth of Aarhus River, until it was devastated by the bubonic plague in the Middle Ages. The Moesgard's logo, a remarkable Stone Mask believed to protect against evil spirits, is displayed with more than 250 rune stones (Photo at left). Combs made out of bones, bronze bracelets and glass beads, woodcrafts and metal tools, furniture, ships and many more artifacts are a tribute to their crafts and trades. The highlight is the Grauballe Man, a completely preserved charcoal grey bog body dating back to the Iron Age. Every summer, on the last weekend of July, a Viking Moot is organized on the Moesgard beach. Warriors recreate their ancestors' fierce battles, artisans and archers demonstrate their skills while their spouses offer a taste of the traditional food.
After my journey through the past, the thirty-minute oceanside ride back to the city offers breathtaking views, as the road meanders through the beautiful suburb of Marselisborg, where the summer Palace of Denmark's Royal Family is located. When they are in residence, there is a changing of the guards at noon.
Back in the center of town, it is easy to find my way around. Despite being the second largest city in Denmark, Aarhus has a relaxed small town feeling. Most important sites are within walking distance. The Cathedral, built in 1201, is at the center of everything. Inside, a magnificent Gothic altarpiece as well as frescoes contrast with its stark white walls.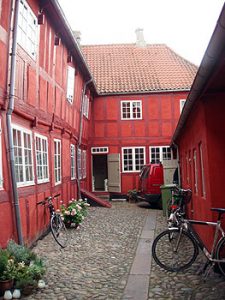 From the square in front, where a modern dragon fountain lies, cobblestone lanes radiate, some for pedestrians only, along which more than 800 shops and boutiques carry unique local fashion designs. North of the Cathedral is the Latin Quarter, the oldest part of town where street names are historical. (Photo at right) Galleries and antique shops abound, but some sidewalks are so narrow, that I have to walk with one foot in the street. Oddly angled, deep pink and saffron yellow stucco houses, right out of a Hans Christian Andersen's fairy tale, are typical of the Scandinavian medieval architecture. They contrast sharply with the newer square and tall red brick houses. Among the many cozy restaurants, I opt for the trendy Olive for supper. I enjoy delicious venison smothered in a rich French sauce with an exotic Moroccan twist, while viewing an exhibition of local artists, displayed on the walls. Because I could bring my own wine, this three-course gourmet meal is quite affordable. The Cab Inn Hotel's location, where I stay, is excellent. Between the canal and central square, its reasonable price makes up for the ship cabin sized room.
On my second day, after a copious complimentary breakfast, I rent a bicycle, the locals' favorite means of transportation. Within minutes, I am down at Denmark's second biggest harbor. From there, I cycle north along the water, through parks and forests. Twenty minutes later, I arrive at the popular walled in beach Den Permanente. The trail continues through a very pleasant and quiet area of beach houses. After a leisurely morning at the beach, I am ready to tour Den Gamle By. A twenty minute stroll from my hotel, by the Botanical Garden, it is Denmark's largest national museum of cultural history. Seventy-five historic houses from all over Denmark, dating from the Middle Ages through to the last century, have been rebuilt. Open all year round, the village's unique exhibitions of old clocks, silverware, furniture, clothes and more than 5,000 antique toys are a voyage in history.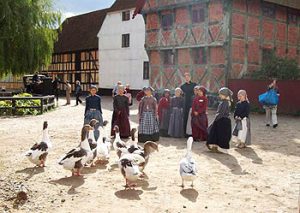 I start with lunch at the Tea Garden. By now, I have learned that before tasting one of the delicious open-faced sandwiches with piled-up shrimps, lox or various cold cuts, I have to swallow all the vowels when ordering a Smorrebrod in Danish. After lunch, I feel as though I am stepping into an old master's painting, as I follow a group of children coming out of the old school, accompanied by their spinster teacher. (Photo at left) A flock of geese joins the parade all the way to the playground, where children ride the old-fashioned merry-go-round and swing boats.
An aroma of freshly baked buns lures me to the shoemaker's house. Dressed in a long apron and bonnet, his charming wife invites me inside her century old kitchen. It is fascinating to watch and sometimes participate in the making of various arts and crafts; beautiful textiles produced by the steam weaving mill, old-fashioned toys, multicolored candy canes and much more, all sold in the shops along the narrow cobblestone streets where I smell, taste and experience the past.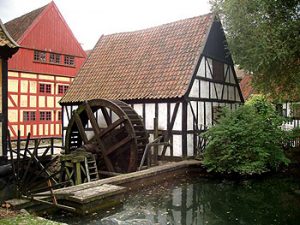 A visit at the Kunst Art Gallery the next morning, brings me back to the twentyfirst century. In the foyer, I come face to face with the sculpture "Boy", by Ron Mueck. Close to five meters high, it is a mere prelude to the superb modern art collection within the four galleries of the museum. Taking a break at the top floor restaurant is a must. While sampling a scrumptious marzipan pastry, I can enjoy a panoramic view of the city's red tiles rooftops.
On Friday, the choice of music venues, bars or discotheques is staggering, especially along the canal, where crowds gather at dusk. The Latin Quarter is also filled with atmosphere, as the Danes welcome endelig fredag, their version of TGIF. At one of the outside cafes, I notice a tall lean man, dressed in a long black leather coat, holding a large mug of beer as he sings Danish drinking songs with a group of friends. He wasn't a mirage after all, but he brought the Viking spirit alive, in an everlasting memory I will always cherish of my stay in Aarhus.
If You Go:
Currency: DKK Kroner ($100.00 CAD = 496 DKK) Credit cards: most places ask for PIN No.
Best time to go: mid-June to mid-September.
How to get there: Copenhagen to Aarhus: 35 minutes by plane; 3:30 by train; many bus lines, some express. If you drive: 3 options: 35 min. ferry from Odden; 2:30 ferry from Kalundborg; Great Belt Bridge, 18 km long (one-way toll $42.00 CAD)
Tourist info: www.visitaarhus.com Tel: (45) 87 31 50 10
Aarhus Tours Now Available:
City Sightseeing Aarhus Hop On Hop Off Tour
Historical Walking Tour in Aarhus
Aarhus Private Walking Tour
Aarhus Private Bike Tour
Recommended Accommodations:
Cab Inn Aarhus Hotel, Kannikegade 14, 8000 Aarhus C www.cabinn.dk – aarhus@cabinn.dk. Tel: 45 86 75 70 00 Small but very clean, comfortable rooms. Private bath. Excellent location. Breakfasts included. From $116.00 CAD
Youth Hostel – Risskov open all year round. North of Aarhus, close to the beach. Bus 1, 6, 8, 9, 16, 56, 58
Museums: www.lescale.dk Tel: (45) 86 12 53 15 Most museums are open every day during high season. Special rates for seniors. Most free for children.
Den Gamle By, Viborgvej 2, 8000 Aarhus C www.dengamleby.dk http://www.dengamleby.dk Tel: 86 12 31 88 Old village of 75 reconstructed houses.
Denmark's largest National Museum of Cultural History. Adults: $20.00 CAD. 9am – 18pm in high season Bus 3, 14, 25, 55
Kunst Art Gallery, Aros Alle 2, 8000 Aarhus C www.aarhuskunstmuseum.dk Tel: 87 30 66 00 9000 works dating from 1770 to present day, Spectacular view from ART Restaurant, top floor. $18.00 CAD. Closed Mon., 10am – 17pm (to 22pm Wed.)
Moesgard Prehistoric Museum, Moesgard Alle 20, 8170 Hojbjerg. www.moesmus.dk Tel: 89 42 11 00 Archaeological collection from Stone age to Viking era. Prehistoric trails outside, Denmark's oldest forest. Adults $10.00 CAD. Tues. to Sun., 10am – 16pm; everyday, April 1st to Sept. 30, to 17pm. Bus 6
Beaches:
Den Permanente – Risskov, Sandy, changing-rooms, picnic tables, BBQ 3 km. n., bus 1, 6, 8, 9, 16, 56, 58, 100
Moesgaard Beach – Marselisborg Forest, 8 km. s., bus 19, largest beach in Aarhus.
About the author:
Born in Montreal, Canada, Diane Chouinard is a composer and world traveller. Her fascinating experiences have led to her become a writer. Her music, which is performed in different countries and her interest in history transcend in her travel writing. She has been living in Vancouver BC since 1998.
Contact: dnchouin@shaw.ca
Photo credits:
Aarhus Old City by Nils Nyvang from Pixabay
All other photos are by by Diane Chouinard.