What to Expect and Things to Do in the Dubai Desert

by Neha Singh
When we geared up for our travel adventure, a Dubai desert safari was the first thing I added to our program. We had plenty of options at our disposal. But with just four days on our hands, we opted for the evening desert safari, and this turned out to be one of the greatest highlights of our Dubai trip. If you are planning for a visit to Dubai and are curious to know what this desert tour is like, we have detailed here our experience of going on a desert safari in Dubai which should prove helpful to you.
Top 5 Reasons To Fall In Love With Dubai's Desert
Dubai's desert landscape is surreal, stunning and also one of the most tranquil spots to visit during your Arabian holiday.
Although it is just a few minutes away from the city centre, the desert feels a whole world away from the city's glitzy part.
It gave us plenty of opportunities to know about the region's inspiring Bedouin culture, heritage and traditional lifestyle.
From desert sunset views to unparalleled golden sands, everything about the Arabian Desert is out of this world.
Not to mention about the diversity of the desert landscape; it is simply breathtaking.
Booking a Desert Safari

This is the foremost of the things to note for your desert safari. We picked our desert safari provider based on the unbiased reviews they got on platforms such as TripAdvisor. They gave us many options to choose from, including Red Dune Safari, Evening Desert Safari, Morning Desert Safari, Overnight Desert Safari and Hot Air Balloon Ride. We wanted to try them all; but due to time constraints, we finally went ahead with the booking of an evening desert safari. It was absolutely worth the money we spent as our desert package was inclusive of activities, dining, entertainment and mostly, the round trip hotel transfers which made our desert safari completely stress-free from start to end.
Desert Safari Locations
Knowing the location is important to choose the right desert safari package. Yes, don't expect all desert safari locations in Dubai to be same. Our desert safari was conducted at Dubai's Al Awir area. If you plan to choose Red Dune Safari, it will be your retreat to the enigmatic, bright red sand dunes of Al Lahbab region. For those interested in hot air balloon ride over the desert sands, you get the unique chance to fly over the protected reserve of Dubai Desert Conservation Reserve in the Margham area. For those who want to venture even farther, there is Liwa Safari that leads you to Abu Dhabi's Liwa Oasis, lying along Rub' al Khali (Empty Quarter) – the world's largest sand desert.
How It Started?
As our evening desert safari was inclusive of transfers, it started off at the right time with a convenient pick up from our hotel doorstep. We were given two options: shared and private. We chose the latter and this added to the overall convenience of our desert trip. Our driver cum guide was super friendly and well knowledgeable about the desert as well as other Dubai attractions. He ensured that our ride to the desert was both amusing and comfortable.
Top Dubai Desert Safari Activities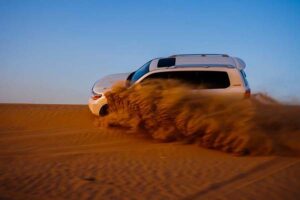 Dune Bash: Once we landed in the desert, we were transferred to another vehicle – a powerful Land Cruiser, for dune bash. This was indeed the main attraction of our desert trip. Again, this vehicle was reserved for our group of four alone. As this electrifying ride kicked off, we had the adventure and laughter moments of the lifetime. Full of twists, turns and unexpected jumps, this ride over the striking highs and deep lows of the desert sands was more or less like a roller coaster ride. It lasted for about 30 to 40 minutes before it culminated at the desert camp. There were brief stops along the way to capture the jaw-dropping desert sunset views.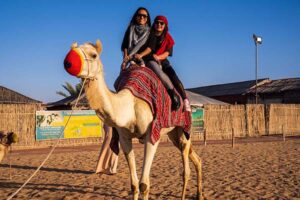 Camel Ride: This was one of the first things we enjoyed upon our arrival in the camp. This is a must-try as you will be surprised to know how friendly this amazing desert creature is. Hopping on to the camel back gives you a totally distinct perspective of taking in the unequaled beauty of the golden desert sands.
Quad Biking: This is another exciting activity that lets you have an intimate look at the soulful beauty and serenity of the Arabian Desert. We paid a nominal extra amount to try this activity. The best thing is that you don't have to be a pro to ride this; even first-timers can ride a quad bike.
Sand boarding: A brief session on the sturdy sandboard was extremely adventurous and fun-filled as it allowed us to test our balancing skills on the desert sands. This is not included in most desert safaris, so extra charges apply.
Cultural Experiences At Desert Safari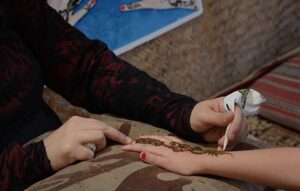 A desert safari in Dubai is not all about thrilling activities. You also get to know about the captivating Bedouin culture with many exclusive experiences, such as falconry, Shisha smoking, and henna tattooing (wherein a professional henna artist adorns your hands with stunning henna designs. You can further take home souvenir pictures wearing traditional Arabian attire. This is a complimentary experience. But if you want your image to be professionally captured, be prepared to pay extra amount. We skipped this, although we took some cool snaps in abayas using our smart phones. Apart from these, you can relax in a traditionally decorated tent, featuring modest yet comfy low-lying furnishings.
Barbecue Dining & Traditional Shows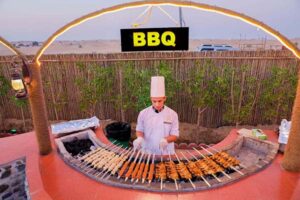 Our dining session in the desert was a true culinary adventure which effortlessly combined the diverse gastronomic flavors with the sheer charm and quietude of the Arabian Desert. From starters, soups and main course dishes to the delicious ever Arabic desserts, the food menu was quite vast and delightful, paired with an endless supply of refreshments. It, however, is vital to note that the quality of food largely depends on your service provider. Alcohol is served in the desert camp but for additional expense.
This desert trip was not all about adventure, culture and dining; there were several immersive traditional shows. Tanura performers nearly took our breath away with their lighted costumes and insanely fast dervish moves, while the belly dancers were simply graceful and gorgeous.
Important Desert Safari Tips
Wear comfortable light clothing. Avoid loose clothing such as skirts, especially if you plan to get active or take part in desert activities.
Skip wearing valuable jewelry and don't carry expensive electronics or gadgets (if not essential.)
As you will be exposed to lots of desert sunlight, be sure to apply a good quality sunscreen and also wear sunglasses and a hat.
With loads of activities included in your desert trip, make sure that you take a light meal before this off-road adventure.
Best time to enjoy a desert safari in Dubai is during winter months (from October to March).
It is highly advisable to opt for an all-inclusive desert safari. That said, it is a great idea if you are confident enough to explore the desert on your own and provided you have a well-maintained 4X4 vehicle.
You can easily hire a 4X4 vehicle in Dubai with or without a driver. If you are planning to drive here, it is required that you bring your international driving license.
Refrain from an activity-packed desert safari if you are pregnant, suffer from any ailment, or have undergone any major surgery in recent times.
For those who want to forego all exhilarating activities and adventure as part of a desert safari, there are exclusive packages like Dinner in Desert which allows you to admire the desert beauty without any vigorous action.
We hope that you enjoyed this report on our desert journey in Dubai. That said, no matter how many articles you have read about desert safaris in Dubai, nothing comes closer to the real experience. So don't miss your chance to take a desert safari while in Dubai! We are sure this above guide will give you some valuable tips to prepare you for this amazing off-road adventure.
About the author:
Neha Singh is a nature lover and enjoys exploring mountains, forests, and lakes. She is always looking for offbeat adventures and enjoys hiking, trekking, and seeing places on foot. She enjoys reading and playing badminton in her free time.
Photo credits:
All photos by Neha Singh
For more information:
Top 10 Things to See and Do in Dubai
The Dazzle of Dubai in a Day