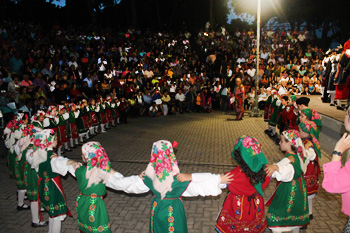 by Millie Slavidou
Every country has its traditions and its history, and we all have different approaches to entertainment. Music, however, seems to be universal. All peoples have some form of music, and it has been called the language of the soul. And where there is music, there is often dance. People of all social classes dance, although the styles may differ, and these days what was once regarded as the province of peasants has come to be regarded as an important national treasure.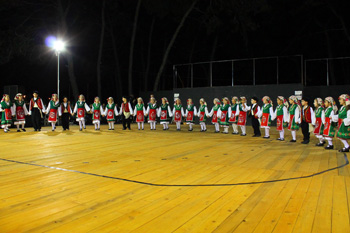 Folk dancing, or the traditional dances of the ordinary people, is something that can be seen all over Greece, and is a very significant part of local tradition. Each region has its own dances, although there are some dances that are common to all, such as the 12-step syrtos kalamatianos. Some of them may appear slow and staid, while others are faster, with intricate steps, and even jumps and very particular moves, such as touching the floor, bending the knee and swaying; there is a great deal of variety. If you travel to Crete and get the opportunity to watch the very impressive Pentozali dance, with its leaps and twirls, this is not to be missed.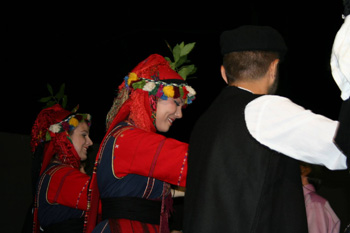 But we are going to concentrate here on the province of Evros. A place where each village is steeped in tradition, and the local costumes reflect that, with different colours, embroidery styles and other details revealing the locations.
During the Carnival season, generally in February, starting 8 or 9 weeks before Easter, many villages organize dances outside in public squares. These may be the gaitanaki, a dance involving ribbons that are twirled around a pole, or the syrtos, a classic Greek folk dance based on twelve steps, with some local variation in whether hands go up or down, and whether you should step forwards or backwards in the final steps. You may recognize this one from film or TV.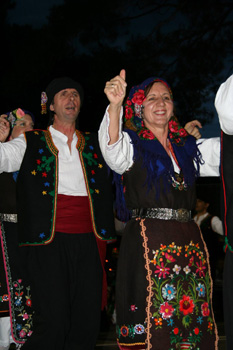 In Pentalofos, a village high up in the hills of northern Evros, close to the border with Bulgaria, I attended a dance at Easter. Local musicians, often playing traditional folk instruments such as the gaida, a local version of the bagpipes, come out into the central square of the village. The first year that I went, they were accompanied by a group of people wearing traditional costumes, but it seems that this is not always the case, as there were no costumes the following year. These people, whether dressed up or not, are dancers, and they begin the dance, to a great deal of applause and cheering from the crowds gathered there. After the first two dances, everyone else starts to join in. It is great fun, and the atmosphere is one of celebration and joy.
One local dance that I particularly enjoyed was dendritsi, a dance with skipping steps and some very slight kicks, or raising the foot. Everyone joins hands in an enormous chain or circle to dance and there is a great sense of community, with people of all ages taking part. All are welcome. And not to worry if you don't know the steps; the locals are happy to show you the ropes and no one minds if you put a foot wrong.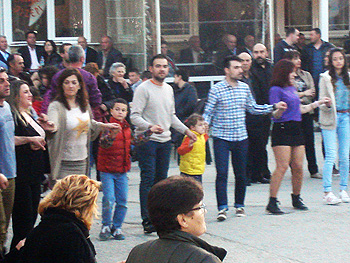 A major event in the folk dancing calendar is the festival that takes place in Alexandroupoli, the largest town in Evros, every summer, generally towards the end of June. A show is put on by local dancing clubs in the open-air theatre, which is close to the sea and surrounded by pine trees. In such a setting, the atmosphere is amazing. All the participants wear impressive traditional costumes, all different to reflect the places where their dances originated. Last year, over 250 dancers took part, including children as young as 5 years old. Live music fills the incredibly crowded theatre, with people sitting on the steps and standing all the way around the stage, tightly packed. Only those who come early will have a seat; the show is extremely popular.
The dancers parade in across the stage, in time with a popular, well-known song. Members of the audience join in with the singing; everywhere people are smiling. Then the individual dances begin. These range from the relatively simple performances by the youngest children – who are cheered and clapped tremendously – to complicated, intricate steps and jumps. Each dance is announced before it begins, so the audience knows what they are all called. There are two singers, each keeping to a particular style and alternating to give each other a rest, as the performances go on for well over three hours. It is a truly incredible experience.
Folk dancing is firmly rooted in Greece's cultural heritage, and it is hard to imagine the country without it. I see it as part of the colour and patchwork of life in Greece: celebrations mean dancing, and public places are for dancing in. And what is life for if not to be enjoyed and celebrated?
If You Go:
Greek Folk Dances:
Greek Dances
Portrait of the Greek dance
Travel: Evros, Greece
Greek Travel – Evros
Visit Greece – Evros River
About the author:
Millie Slavidou is a writer and a translator. As well as being a frequent contributor to Jump Mag, she is the author of the InstaExplorer series for pre-teens, which takes young readers on a journey round the world, experiencing local cultures, traditions and languages along the way. jumpbooks.co.uk/category/millie-slavidou
All photos are by Millie Slavidou.