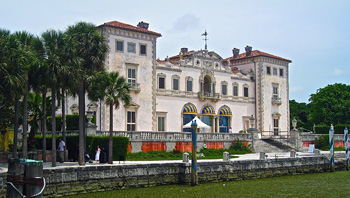 Italian Renaissance Gem in Steamy Miami
by Suzanne Ball
When people think of Miami, they picture sunny beaches, vibrant nightlife, art deco, and authentic Cuban food. But they often miss the chance to visit one of the country's most historical mansions and example of Italian Renaissance style: Villa Vizcaya, described as "the finest private house ever built in America."
Now called Vizcaya Museum and Gardens, the estate was the dream of millionaire James Deering, heir of the International Harvester fortune. One of America's original "snowbirds," Deering began planning his winter residence in 1910. He chose 180 acres of primeval jungle, a few miles south of Miami, directly on Biscayne Bay. He envisioned guests approaching and first seeing the Main House by water, and wanted it to be near the shore so they could disembark as if in Venice. "Place my house on the bay," he directed the architect.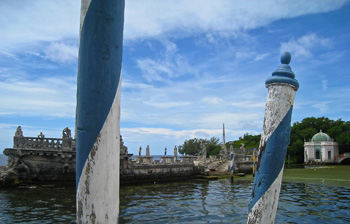 Vizcaya was designed with an open central courtyard, surrounded by four towers. Although the exterior duplicates 18th century Italian architecture, the building was constructed with 20th century techniques to adapt to Miami's subtropical climate. Deering was a trained engineer and insisted on a concrete structure with steel-enforced floors to combat humidity, decay, and termites. He included modern features such as an elevator, telephones, and an "annunciator" to beckon servants from anywhere in the house.
Construction on the Main House began in 1914 and was ready for Deering on Christmas Day, 1916. During the height of construction, Vizcaya hired ten percent of Miami's workforce, as well as craftsmen and artists from Europe. Witold Rybczynski, Professor of Urbanism at University of Pennsylvania, explains the level of detail involved: "There are thousands of craftsmen and workers and iron work and the [roof] tiles came from Cuba … there were old homes in Cuba and they bought the whole roof and shipped them over because they liked the sort of old patina on these clay tiles so it was a very, very thought out project."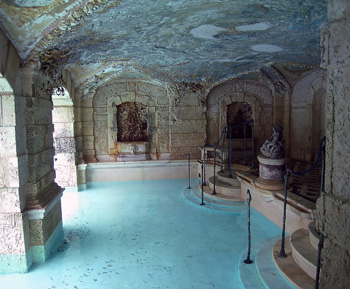 Deering was a renowned and extravagant host. His many guests included actress Lilian Gish, Henry Ford, and President Warren G. Harding. He placed a concrete barge in the bay and used gondolas or motor boats to transport guests for tea and cocktails. He also arranged for concerts and fireworks from the barge, and guests would watch from the shore. Originally, in true Venetian manner, the barge and gardens were accessed by canals. Deering would guide visitors through the canals, ending at the barge or the nearby gazebo.
Then there is the Main House. Over 38,000 square feet, with 54 rooms. Today, visitors can view 34 decorated rooms with more than 2,500 original furnishings and art collections. Each formal room has a theme, color palate and lavish furnishings, often based on different Italian cities or historical periods. On the main floor, Milan inspired the Music Room; Palermo provides a Southern Italy influence in the Reception Room. Deering's bedroom is furnished in the masculine style of the Napoleanic era. Visitors are astounded at the opulence of this winter residence, meant to be inhabited from November till the start of Lent.
Enormous quantities of Italian antiques and artwork were shipped to Vizcaya, overseen by Deering's artistic director, Paul Chalfin. Chaflin was fluent in Italian and an expert in Italian furniture and decorative arts. Upon meeting, Deering and Chaflin struck an immediate friendship that lasted until Deering's death. Vizcaya would be Chaflin's only significant commission, yet an outstanding legacy.
A lifelong bachelor, Deering installed many activities that could especially be enjoyed by male guests; the swimming pool featured a covered grotto that extended into the sunlight. Today's gift shop and café were once a bowling alley, billiards, smoking, and changing rooms. During a 2011 renovation after Hurricane Wilma caused extensive damage in 2005, care was taken to maintain the original marble and terrazzo floors, copper lighting fixtures, and leaded-glass doors.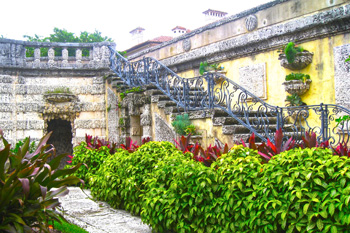 Deering also wanted formal European gardens, adapted to the Florida climate and flora. The garden design included Deering's favorite flower, orchids, with 2,000 specimens placed throughout the estate, and now in the new David A. Klein Orchidarium. The gardens were completed in 1923. Deering would only live for two more years to enjoy his magnificent estate. Suffering from pernicious anemia for years, he died on a steamship returning from Paris in 1925.
The ten acres of formal gardens are spectacular and well-maintained. Local coral stone was used for stairs and planters, with influences from Florence and Rome. Reflecting pools and well-trimmed hedges are abundant. Statues from 18th century villas in Italy decorate the gardens, along with antique busts and vases.
Vizcaya is a popular location for photography, especially for bridal and quinceañera (the celebration of a Latina girl's 15th birthday) events. It has also been the venue for political meetings, including the 1987 meeting between president Ronald Reagan and Pope John Paul II, and the 1984 Summit of the Americas hosted by President Bill Clinton.
2016 is the Centennial of this National Historic Landmark. In the humid climate, preservation of the Main House and its furnishings is ongoing. Vizcaya Museum and Gardens is now maintained by the Miami-Dade County.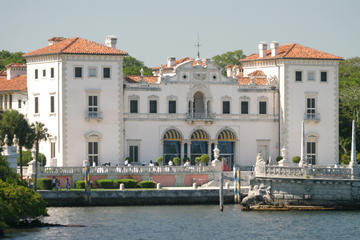 Transportation to Vizcaya Museum and Gardens
If You Go:
♦ Viscaya Museum and Gardens is located at 3251 South Miami Avenue, Miami, FL 33129. Parking is free.
♦ From downtown Miami, Vizcaya is 2.6 miles, about 7 minutes. From Miami Beach, 11 miles, 21 minutes. From South Beach, 8.7 miles, 17 minutes.
♦ Hours: open daily 9:30 am to 4:30 pm, except Tuesdays, Thanksgiving, and Christmas.
♦ General admission is $18, with discounts for children, seniors, students, and military, and veterans.
♦ Accessibility: Vizcaya has limited handicapped access, due to the age of the building. There are many steps and uneven floors. Wheelchairs can use the original elevator; several ramps have been installed. Maps for access points are available.
♦ No photos or videos are permitted within the Main House. Visitors are welcome to take photos in the gardens and on the grounds.
About the author:
Suzanne Ball is a longtime freelance writer, specializing in travel and health topics. After walking the ancient 500-mile Camino de Santiago across northern Spain alone, she published an ebook to encourage other women and solo travelers to plan and pack for their own adventure. Other work has appeared in a Hilton Hotel magazine, Trip101, La Concha, and a variety of online websites and company blogs. Her personal blog was carried by the Seattle Post-Intelligencer. Suzanne loves it all: local, domestic, and international. She is a member of the International Travel Writers and Photographers Alliance.
All photos are by Suzanne Ball:
Main House overlooking Biscayne Bay.
Barge and gazebo, with Venetian posts
Pool grotto
Lower garden with coral stone steps and planters