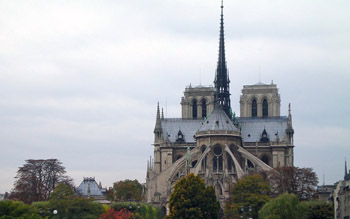 by Anne Harrison
I lay in bed, staring at the flood-lit towers of Notre Dame through my sky-light. Founded by Saint Landry in 651 AD, the Hôtel-Hospitel Dieu was the first hospital in Paris, and still cares for ill Parisians. The ghosts of some 1300 years of medical history glide along its marble corridors, whispering in consultation outside the wards, then pass into the old-fashioned lifts to visit the fourteen quiet hotel rooms hidden on the sixth floor.
Early drawings of the Hôtel-Hospitel Dieu show a main hall divided by pillars into three aisles, with four rows of beds per aisle. Like many medieval hospitals, the Hospitel catered for the poor, offering food and shelter in addition to basic medical care. (With wolves attacking Paris well into the 1400's, this proved a vital social role.) By 1515 the Hospitel spanned both sides of the Seine, and Francis I built the Pont au Double to allow the transport of patients across the river, its name coming from the double denier toll used to pay for its construction.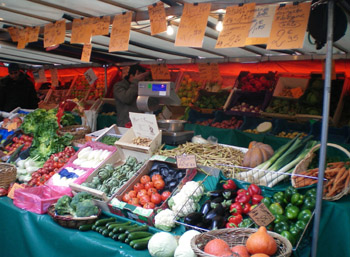 AMBROISE PARÉ (1510 – 20/12/1590)
Ambroise Paré rose to eminence as the King's surgeon, serving four kings: Henri II, Francis II, Charles IX and Henri III. Noted for his humility, Paré once remarked "Je le pansai, Dieu le guérit," (I bandaged him, God healed him). Paré saw knowledge of anatomy and dissection as essential for surgery, and created the Confraternity of Saints Cosmos and Damian, distinct from the Confraternity of Barber Surgeons who were not true doctors, for they did not understand Latin.
This era in French History was marked by both civil and religious war, including the Bartholomew Day's Massacre of August 2nd, 1572. (The signal for the slaughter of the Heugonauts to begin was the ringing of the bells of St-Germain-l'Auxerrois matins.) As a consequence of personal experience, Paré wrote widely on the management of trauma. His 1545 Method of Treating Wounds describes how, lacking boiling oil to put on amputated limbs, he instead used a mixture containing rose oil (which contains the mild disinfectant phenol). To his surprise, this mixture gave his patients a better recovery. Paré also promoted the ligature of blood vessels during amputation to minimize haemorrhage.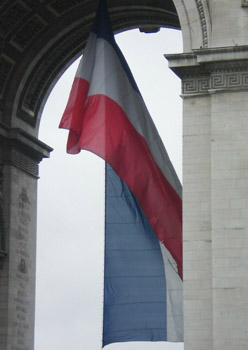 BICHAT (14/11/1771 – 22/7/1802)
Despite refusing to use a microscope, Marie François Xavier Bichat is remembered as the father of modern histology and pathology. An anatomist and physiologist, he initially worked in Lyon. During the Revolution, however, Bichat fled to Paris, where he accepted an appointment at the Hôtel-Hospitel Dieu in 1793.
At this time, the Hospitel employed the then large number of eight physicians and one hundred surgeons. Often housing more than 3500 patients, with up to six patients per bed, it gained the reputation of the most unhealthy and unhygienic hospital in France.
Political instability continued, with the memory of the French Revolution, followed by the execution of Louis XVI and Marie Antoinette, haunting the country. (Louis XVI's diary entry for July 14th, 1789, says much with its brevity: Rien – nothing). During Bichat's appointment, Napoleon was promoted to general, then married the creole Josephine in 1796. (Apparently reluctant, Josephine was encouraged in the match by her current lover). Two days later Napoleon marched off to conquer Italy.
Bichat lies buried at Père Lachaise Cemetery. Once a poor district haunted by outlaws, La Cité des Morts now boasts to being the world's most visited cemetery. Amongst the 300,000 people buried here are Abélard and Héloîse, Proust, Bizet and Jim Morrison.
DUPYTREN (5/10/1777 – 8/2/1835)
Guillaume Dupytren became assistant surgeon at the Hôtel-Hospitel Dieu in 1803, Professor in 1811, then Chair of Clinical Surgery and Head Surgeon in 1816. He also established a benevolent institution for distressed physicians.
His appointments coincided with the Napoleon's First Republic. Even those few parts of Europe Napoleon failed to conquer were influenced by Neoclassicism, and the high-waisted Empire Fashion. Then came the reactionary Congress of Vienna in 1815, establishing a balance of power which somehow lasted until 1914. Yet the ideas of liberalism, equality, nationalism and democracy could not be quenched, as witnessed by the insurrections of 1830 and again in 1848, when barricades and rioting blocked the streets of Paris.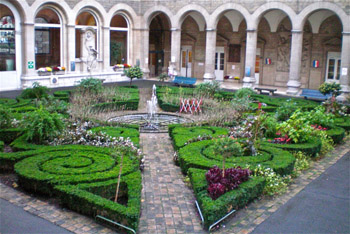 DIEULAFOY (1870s)
Best known for his treatise on appendicitis, Dieulafoy's triad – hyperesthesia of the skin, exquisite tenderness and guarding over McBurney's point – is still memorised by medical students. At this time cholera outbreaks regularly swept through the overcrowded city. Partly for hygiene, but also to develop broad avenues allowing rapid troop movement (and to prevent rioters barricading narrow streets), Baron Haussmann began redesigning Paris. The slums surrounding the Hôtel-Hospitel Dieu on the Ile de la Cité, so vividly described in Victor Hugo's The Hunchback of Notre Dame, were levelled in 1864, and the present building begun in 1877.
To combat both disease and revolution, the Parisian sewers were modernized, and opened for public tours in 1867. Society ladies could be seen floating by in luxury sluice carts, steered by white-clad sewer men.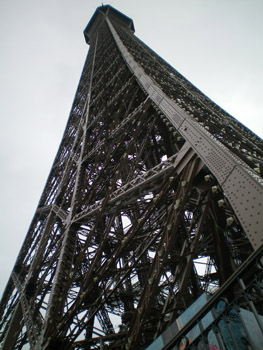 HARTMANN (1860-1952)
Hartmann's appointment to the Hôtel-Hospitel Dieu proved eponymous: Hartmann's procedure, Hartmann's pouch, Hartmann's critical point, Hartmann's forceps, to name a few.
In 1874, a group of artists (including Monet, Degas and Pissaro) organised an exhibition in Paris, and Impressionism was born. Baron Haussman continued to beautify Paris, and in 1889, Eiffel built his temporary tower. The Dreyfus Affair of 1894 divided the country, leading to the rise of the Left and the separation of Church and State. (Consequently, the Augustine nuns left the Hôtel-Hospitel Dieu in 1908, where their order had tended the sick for centuries). This Golden Age of The Third Republic – La Belle Epoch – ended only with the First World War.
TODAY
The Hôtel-Hospitel Dieu remains a working hospital, with a special interest in ophthalmology and dermatology. It is also a perfect place to stay in the true heart of Paris, where the celtic Parisii founded a fishing village on a small island in the Seine over 2,000 years ago.
If You Go:
♦ Hôtel-Hospitel Dieu website
♦ Parisian visitors Bureau
♦ An institution not to be missed: shakespeareandcompany.com
♦ Time Out: a guide to all things Parisian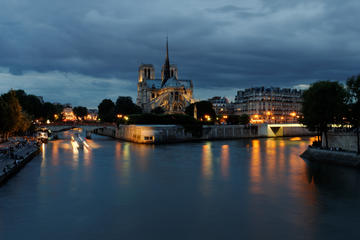 Ghosts of Paris: Private Evening Mystery Tour
About the author:
Anne Harrison lives with her husband, two children and numerous pets on the Central Coast, NSW. Her jobs include wife, mother, doctor, farmer and local witch doctor – covering anything from delivering alpacas to treating kids who have fallen head first into the washing machine. Her fiction has been published in Australian literary magazines, and has been placed in regional literary competitions. Her non-fiction has been published in medical and travel journals. Her ambition is to be 80 and happy. Her writings are available at anneharrison.com.au & anneharrison.hubpages.com
All photos are by Anne Harrison:
The towers of Notre-Dame
A typical Parisian market
The Arc de Triomphe, Symbol of Napoleon's achievements
The inner courtyard of the Hôtel-Hospitel Dieu
Eiffel's temporary tower