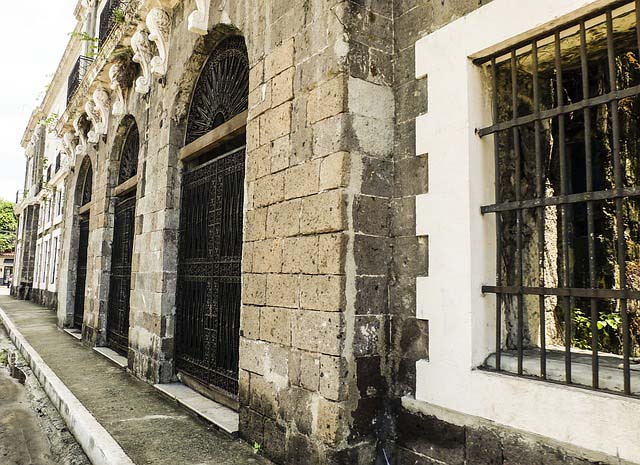 The Philippines is not just any country in Southeast Asia. This archipelagic country is made up of more than 7000 islands, the largest of which is Luzon. Its capital city, Manila, is one of the most densely populated cities in the world. And smack dab in the middle of this chaotic and overpopulated metropolis lies a remnant from a different era – Intramuros, The Walled City.
Intramuros is a district in Manila that used to be enclosed by massive walls. This was built during the Spanish colonial period. It served as the seat of government and center of religion in the Philippines until 1945 when it was destroyed during World War II. Today, Intramuros is a popular tourist destination because of its well-preserved Spanish colonial architecture.
Some of the most fascinating historical sites in the Intramuros that will take you back in time:
Manila Cathedral
The first stop was Manila Cathedral, a Roman Catholic church built in 1581 during the Spanish colonial period. It has been rebuilt several times due to earthquakes and war damage – most recently after World War II when it was completely destroyed except for its facade. The cathedral is beautiful from the outside, but even more so from the inside. The stained-glass windows are stunning and the ceiling is adorned with gold. There is also a large pipe organ that was built in the 1800s.
San Agustin Church
The next stop on our tour of Intramuros is the San Agustin Church. This imposing church was built in 1571 by the Spanish Augustinian friars and is considered to be one of the most prominent religious buildings in the Philippines. It is also one of the oldest churches in Asia as well as a UNESCO World Heritage Site since 1993. Many interesting features distinguish this church, including its architectural style, which draws inspiration from European Renaissance and Baroque styles.  It also has Filipino artisans who were involved in its construction at that time.
Plaza de Roma
We then moved to Plaza de Roma, which is a plaza located in front of the San Agustin Church. It was built by the Spanish in 1599 and is named after Rome, the capital of Italy. The plaza is a beautiful and peaceful place to relax and take in the beauty of Intramuros. It's also a pleasant place to meet up with friends or just people-watch (Filipinos are known to do this a lot).
Fort Santiago
Next on our list was Fort Santiago, which is one of the most famous historical sites in the Philippines. It is a fortress built by the Spanish in 1571 to protect the city of Manila from attack. It was used as a military base and prison during the Spanish colonial period. It was also used as a prison during the American occupation and World War II. Today, Fort Santiago is a popular tourist attraction. The fortress contains the Shrine of San Diego de Alcala and the Rizal Park. This park bears the name of an important Philippine national hero, José Rizal. There are also several museums located in the fort complex.
Casa Manila
Another stop is in Casa Manila. This reconstructed Spanish colonial mansion is one of the most popular tourist destinations in the area, and for a simple reason – it's beautiful. The architecture and decor are straight out of old-world Spain, making it a unique and interesting place to explore. Plus, the staff are very friendly and knowledgeable about the history of Casa Manila, so be sure to ask them for some interesting facts.
Baluarte de San Diego 
After Casa Manila, we made our way to Baluarte de San Diego. Another attraction in Intramuros that shows the picturesque facade of this walled city. This fort was built by the Jesuit priest Antonio Sedeno in the late 1580s and served as a drowning chamber during the Spanish era. Today, it is surrounded by lavish gardens with lush plants, pathways, and fountains. There are many special occasions held there, such as weddings, parties, and other big events.
La Cathedral Cafe
Our final stop is La Cathedral Cafe, the most convenient place to refuel after a day of sightseeing. It is known for its delicious pastries and coffee, which are perfect for a quick pick-me-up or leisurely dining. The atmosphere inside La Cathedral Cafe is very laid-back and tranquil. The cafe is inspired by Spanish architecture, with white walls adorned with paintings in various styles. It also has a small balcony where you can enjoy your meal while gazing at the surrounding views of Intramuros.
Start planning your trip
Intramuros is a place where history and culture meet. Whether you're looking for an adventure or just someplace new to explore, this old city has something that will suit your needs. If you're a vlogger, you could create a YouTube video about this place and promote it as it is engaging and would make relevant content for your audiences that love to travel. Additionally, if time permits, don't forget about all of Manila's offers – there's plenty here worth seeing and doing.
About the author:
Hannah Angni is a passionate content marketer from VEED with an insatiable appetite for travel and adventure. Her passion for travel and learning different cultures helps her share them with others as an expert content creator.
Photo Credit: Image By Sheila Mae Capul from Pixabay