Saratoga Springs, New York
by Theresa St. John 
If you have an extra five bucks in your wallet and want to see something both interesting and different while wandering around the city, you need only walk into Saratoga Springs Historical Museum and Casino, located downtown, in the center of the town's picturesque Congress Park.
A much talked about landmark, it is steeped in both history and rumors of hauntings. Once the handsome wood doors open and you step foot inside, you can say goodbye to the year 2015. You aren't in the present era anymore. Instead you're surrounded by gorgeous fashion of the late 1800's displayed on old mannequins, interesting memorabilia carefully arranged in the Historical Museum's glass cases and views of the impressive high stakes gaming room where it was men and men only who were invited to play, way back when.
Built in 1870 by John Morrissey, a famed boxer and member of the notorious Tammany Hall crew, the Casino was first known as the Saratoga Club House and there were three rules strictly adhered to while it was in business. No ladies, only cash transactions and no locals allowed.
Catering only to the very rich and very famous, the Casino drew the most elite from all over the world. Men who might gamble what could be hundreds of thousands of dollars a night, played together in this exquisite Spa City establishment.
Women were allowed to gather together in the library, over their love of music and gossip, while the men wagered throughout the long hours of the night.
John Morrissey passed away in 1878 and the Club House fell into a state of decline until 1893. when Mr. Richard Canfield purchased it. Although he'd decided to keep the name of the Club House intact, it was the public that dubbed it 'Canfield Casino' and it stuck. Nearly $1 million was devoted to renovations, with a stunning grand ballroom added. This room had vaulted ceilings, colorful Tiffany stained-glass windows and over-the-top chandeliers, which added to the air of splendor Canfield was aiming for.
Downstairs, gamblers could begin with $1 dollar bets. Upstairs, the stakes were much higher, oftentimes as high as $100,000. Only the most elite, arriving from all over the country, walked up the long staircase to play there.
In 1907, anti-gambling forced the closing of the casino. In 1911, the city of Saratoga Springs bought the property for $150,000, a great deal less than the original price.
Today, men and woman alike can wander through sections of the museum, where original furniture from those years are arranged in it's many rooms. Audio recordings greet you in every doorway of the Walworth Memorial Museum which is found on the third floor, allowing guests a glimpse into the wealthy and tragic families who lived in the area, as well as the vibrant political history of the time.
Glass–encased items define the chronological order of the birth of Saratoga Springs, from the 1800s to present day. Mannequins are dressed impeccably in stylish clothes and coveted furs of days gone by.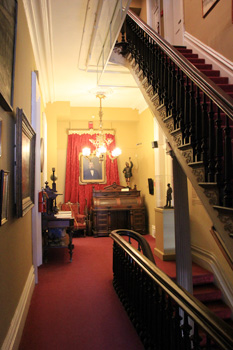 High stakes gaming tables stand among heavy sculptures and dark wood fireplaces. Long, heavy brocade drapes hang from windows that let natural light seep in, lending an air of mystery to the parlor.
Throughout the museum, but especially on the third floor, it's been said that there have been hauntings and much paranormal activity. Of who? Of what? Depends on who you talk to.
Beginning in the mid-90's, when a woman in Victorian dress suddenly appeared in front of a visitor, to unexpected drops in the temperature of several rooms, to physical hair-pulling and shoulder-tapping of guest who come to walk through the hallways, it is hard to deny the spine-tingling accounts of the occult.
At first, the ghostly apparitions were reported sporadically. It was after a display of antique clothing, worn by many prominent women in the area, titled 'Fashion Of Saratoga Springs' was added to the museum, that the sightings increased dramatically.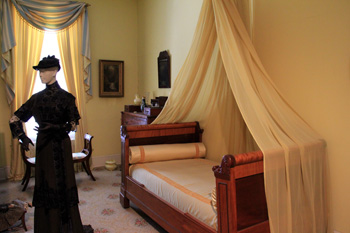 Even the well known SyFy channel had their 'Ghost Hunter' cast visit the museum. Ghostly voices and paranormal activities were made known during the time that the crew was there.
Who knows, for $5 dollars, you could be one of the lucky ones, going home with a ghost story of your own. With or without a visit from a ghost though, you will have left with a bit of rich history that the Spa City is known and loved for.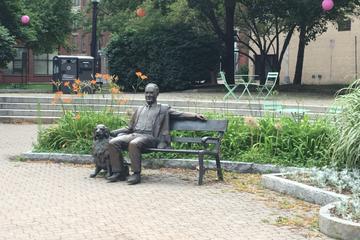 Historic Downtown Albany Walking Food Tour
If You Go:
♦ The museum opens daily to the public, 10:00am – to 4:00pm. $5 for adults – $4 for seniors and students – Members and under 12 admitted free. (518) 584-6920
♦ Canfield Casino can also be rented for elaborate weddings and other functions.
About the author:
Theresa St.John is a freelance travel writer and photographer based in Saratoga Springs, New York. Even though history was not on her radar while in high school, she has a deep interest in all things historical now. She has been on assignment for several magazines and is published in both print and on-line venues. Last year she traveled to Ireland on assignment, which, she states " was a trip of a lifetime." She landed the cover photo and feature article in Vacation Rental Travels Magazine highlighting her adventures there. She has written for Great Escape, International Living, Saratoga Springs Life Magazine, The Observation Post newspaper, Discover Saratoga and is a successful contributor to many stock photography sites. She is the proud mom to two young men and Nonnie to 5 rescued dogs, 2 Chinchillas and a bird. Life is good, she says. Theresa vacations in Fiji this Fall and looks forward to another great travel writing/ photography opportunity in the South Pacific.
All photos by Theresa St.John.