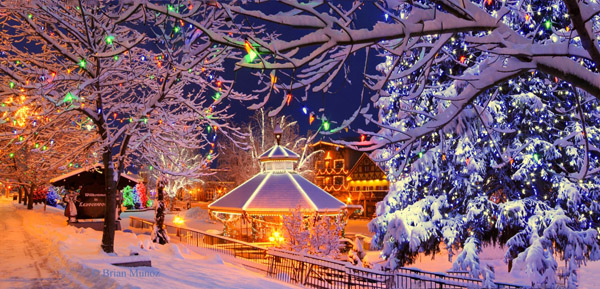 Leavenworth, Washington
by Edward Quan
Want to experience an old fashion German Christmas; yet don't have the time or resources to fly the family to Europe this December? Consider visiting the Leavenworth Christmas Lighting Festival () located in the heart of the Cascade Mountains of Washington State. Where over half a million Christmas lights with an abundance of holiday cheer sparkles in Washington's Bavarian Village, some describe it as American's Ultimate Holiday Town.
Each Friday afternoon on the first three weekends in December, Leavenworth hosts a special holiday lighting ceremony brimming with the sights, sounds and tastes of Christmas. The entire town of only 2000 residents is modeled on a Bavarian village.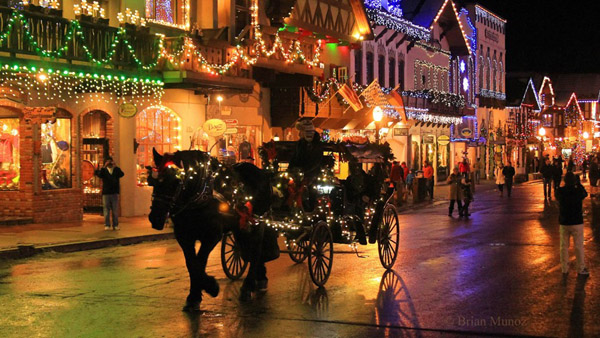 During each festival weekend, you can celebrate the arrival of Santa, Mrs. Clause and Father Christmas plus catch live music at the Front Street Gazebo. Christmas carolers and brass bands entertain festival-goers while your little ones can follow the "cookie crawl." Hail a house-drawn carriage to explore the town while enjoying roasting chestnuts or enjoy the live Nativity scene.
For many Europeans, celebrating Christmas in Germany has become an annual promised weekend getaway. In recent years, Christmas Markets have popped up everywhere, from Nuremberg that host one of Germany's oldest Christmas markets to small medieval villages all over the countryside. The first Germany Christmas fairs dates back to the 15th century, held during the four weeks of advent. Most are found in German–speaking part of Europe and parts of the former Holy Roman Empire that includes eastern regions of France and Switzerland. Celebrated in the town's square where villagers would erect and decorate the largest Christmas tree they could find and surrounded it with festive open-air stalls offering hand-made arts and crafts and tasty treats.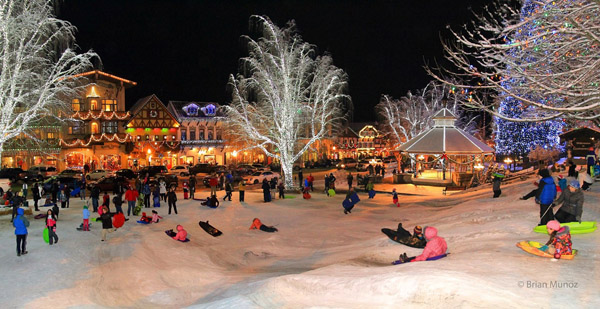 Leavenworth Christmas Lighting Festival will take your family back to a traditional Christmas, away from the commercialism that has taken over the holidays. Like Germany, the village shops are filled with gifts from a simpler past, woodcarving and toys, marionettes and my favorite, nutcrackers in all sizes. A must-see is the Nutcracker Museum (www.nutcrackermuseum.com), where you will learn the origin of nutcrackers and how they became intricate and colorful designs.
Culture abounds within the village during the season with plays, harp concerts, choir performances, hand bell ringer's concerts and musicals. In the surrounding hills, you have snow boarding at Mission Ridge and Stevens Pass. Plus a tube park, sleigh rides and Nordic trails/snowshoeing minutes from town.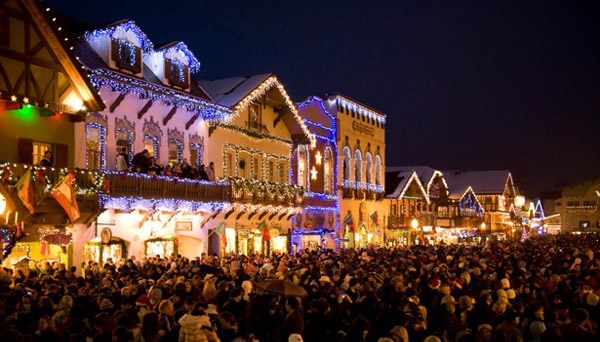 The mountain air always works up an appetite, for foodies, grab a spiced mulled wine or cider from the gluhwein tent. From gingerbread and German sausages to fine dining, you will find a world of options in Leavenworth.
For those that can't make it during Leavenworth Christmas Light Festival Weekends, the holiday lights shine bright all week long from the American Thanksgiving weekend until the end of February.
Discover the magic of an old fashioned Christmas this year in Leavenworth.

If You Go:
♦ By Car – Leavenworth is easily accessible from Seattle WA via US-2 or US-97. Travel time is about 2 hours. Traction tires required during winter months.
♦ By Train – Amtrak services Leavenworth eastbound from Seattle and westbound from Chicago.
♦ By Bus – Trailways offers daily bus service directly from Seattle.
♦ Leavenworth Christmas Lighting Festival Bus Tours – Clipper Vacations offers day trips from Seattle each weekend.
♦ Accomodations – Contact the Leavenworth Chamber of Commerce for hotel availability. Wenatchee is an alternative about 30 miles southeast. Book early.
About the author:
Edward Quan, travel writer has a background in European luxury fashion. He lives and breathes the world of luxury travel. From the style capitals across the globe, Edward Quan covers their influences with designer fashion. May it be art and culture, music and cinema, to history and architecture. Writing exceptional stories on personal style while traveling well, featuring the latest news on luxury hotels and resorts, fine food & wine and of course, shopping.
Photos courtesy of the Leavenworth Chamber of Commerce:
Leavenworth Washington in winter
Horse-drawn carriage
Lights downtown
Leavenworth Chamber