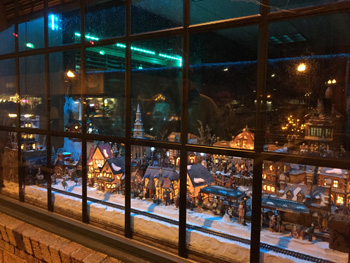 Anacortes, Washington
by Jami Savage 
Anacortes is a beautiful coastal community located in the northwest corner of Washington, USA. Surrounded on three sides by the Pacific Ocean, this small town's connections to the sea can be seen on every corner. Stroll down historic Main Street and you can see the ship-building yard, fishing boats lined up at the boat launch, and Captains picking up supplies at the marine and hardware store. The town and the ocean have been strong allies for over the past 100 years – and this year they decided to really celebrate this connection in a very special way.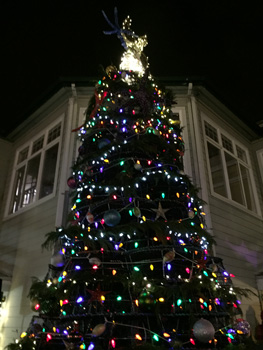 On the first Friday of December the whole town comes together for the annual Christmas tree lighting. The streets are lined with trees lit up in bright white lights. Every shop window is fully decorated with beautiful holiday displays. The streets are closed down for this special event as community members are encouraged to stroll from store to store and vote for their favorite display. Store owners welcome familiar faces into their shops and spoil them with treats and beverages.
At the tree lighting the Salvation Army is on hand to give out hot chocolate and keep people big and small warm. Children ride on parents' shoulders to get a better view. A quartet plays traditional Christmas tunes and a little guy who can barely walk is bouncing along to every beat. The spirit of Christmas is alive and well in anticipation of the bright lights that are about to appear.
Then the fun begins. First you hear a loud bell ringing, and then you see a large man dressed in formal coat and cap. The town crier introduces himself and welcomes the townspeople to the Christmas tree lighting. The buzz is in the air. It's almost time for the countdown to begin.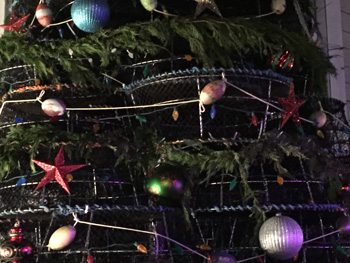 10, 9, 8 – children are shouting! 7, 6, 5 – their voices getting louder in anticipation. 4, 3, 2 – everyone is buzzing, ONE! The cheers erupt as the beautiful tree is lit up and on display for the whole world to see.
The tree is magnificent, standing at two stories tall and like no other tree that has ever been seen. It is constructed out of prawn traps, each carefully stacked on top of one another. Beautiful garlands are wrapped around it and then decorated with swags, lights, and handmade décor. The tree is creative and truly representative of this great little town.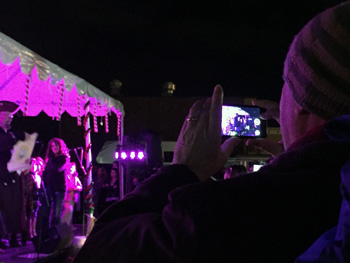 The tree has many other elements that make it extra special. Local community groups including the Boys' and Girls' Club decorated floats that went around the tree like garland. The high-school arts class made beautiful foam starfish that donned the boughs of the tree. Even the tree topper was special this year, with an Angel holding a starfish high over her head.
The small-town vibe of pride was buzzing. People were proud of their beautiful tree, of what it represented and of the fellow community members standing around it. Mayor Laurie Gere said, "This is the best place to live in America!" and everyone who was there agreed. Including the beautiful angel on top of the glorious tree!
If You Go:
A trip to Anacortes should be on everyone's bucket list. There are so many things to explore, from family owned shops, to regional parks, to whale watching and ocean explorations!
When planning your trip connect with the Chamber of Commerce at anacortes.org. They will tell you about seasonal activities and events as well as any special promotions going on in town. They can recommend hotels and restaurants to suit your budgets and even a few special stops for the children, or those with special interests!
Bring your walking boots and be ready to explore!
About the author:
Jami is BC's Family Adventure Blogger who focuses on eco-tourism and exploring new places. You will regularly see her writing stories about solo and family adventures as well as featuring Inspirational stories of other adventurers. When she's not writing, you'll find her hiking, biking or boarding often with her children by her side. Visit www.adventureawaits.ca.
All photos are by Jami Savage.