by Susmita Sengupta
Is shopping a true facet of tourism? Or is it merely a whirl into the materialistic world? This question has often popped up into my mind on our vacations and trips to various countries around the world. More often than not we relegate shopping to an afterthought, a gathering of trinkets as a memento of our journeys. Happily, it becomes a part of my life on my annual extended visits to New Delhi, India.
This teeming, bustling capital of India that effortlessly straddles the old and the new world is a shopper's paradise. Over the years of visiting New Delhi, I have had the opportunity to go to a vast array of markets, malls, stores and bazaars. While this may not sound as the best way to spend vacation time, shopping in Delhi is an experience unlike any other.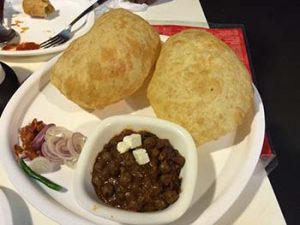 I begin by visiting the neighborhood marketplaces which have a charm of their own as each market has its own unique personality. These are the places that cater to the residents of the locality for all their daily needs. Stop by these markets if you want to try the local cuisine or buy local items at the fraction of the prices charged at more popular places. Most of these markets are laid out in a courtyard fashion with shops all around a central built in plaza or in case of larger available space, the shops will be arranged around the central neighborhood park. On a cold, winter evening during a recent visit, I was tempted by the aromas wafting from the momo cart that was surrounded by people oblivious to the wintry chill enjoying these stuffed dumplings originally from Nepal and Tibet. Instead we opted to be in the relative warmth of the eatery inside the market where the chhole bhature, the Punjabi dish consisting of deep fried bread accompanied by spicy chickpeas was equally delicious and mouthwatering.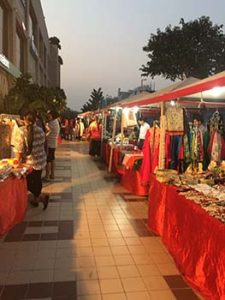 The real tour of Delhi shopping areas should start at the chaotic, crowded bazaars of Chandni Chowk in Old Delhi. Situated opposite Red Fort, the Mughal era fortification and palace complex that was built by Emperor Shah Jahan in 1638, Chandni Chowk or Moonlight Square has a storied history. The market begins at the Lahori Gate, the main entrance of Red Fort and still has shops that can trace their roots to the Mughal era. It was established in 1650 by Jahanara Begum, the favorite daughter of Shah Jahan. The original plan had a pool and a canal running through the center where the moon would be reflected on full moon nights, thus giving the bazaar its name. That does not exist today and the market is a warren of streets full of shops selling everything from books, textiles, food, jewelry, spices, and even medicines, chemicals, electrical goods and more. Each commodity has its own defined streets and areas and certainly visiting these zones is an adventure unto itself.
Chandni chowk is also home to the representations of the different religions in India. The imposing and gorgeous Mughal era Jama Masjid, the largest mosque in India looms over the hustle and bustle of the market while the Fatehpuri Masjid, another Mughal mosque is on the other end. Nearby are the Gurudwara Sis Ganj, the Sikh temple established in 1783, the 16th century Digambara Jain temple and the Gauri Shankar Hindu temple which is dedicated to Lord Shiva.
Less than three miles from Chandni Chowk is Connaught Place, which is named after the 1st Duke of Connaught. It is the heart of Delhi and is a shopping, business, recreational and entertainment center built during the British rule of India. Located in New Delhi, CP as it is known by Delhiites, was constructed in the late 1920s and early 30s in the Georgian architectural style by Robert Tor Russell, an associate of Sir Edwin Lutyens, the architect of New Delhi. Connaught Place is easily recognizable on the map of Delhi as a wheel shape that has two concentric circles in the middle around a central park with roads emanating from the center in a radial fashion. The buildings that form a part of the Inner Circle and Outer Circle are two storied white colonnaded structures with arched walkways. On any given day the place teems with locals and tourists, all there to enjoy the various retail establishments and eat at some of the finest and most famous and historical restaurants of Delhi.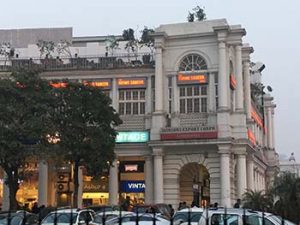 A visit to Delhi is incomplete without once making a trip to Janpath, and its namesake market along the road that starts out from Connaught Place. Janpath meaning People's Path was also known as Queen's Way in the British era and for years this market has been the go to destination for bargain hunters from both India and abroad on the lookout for ethnic style clothes, shoes and fabulous traditional jewelry. Also present are the women from the states of Rajasthan and Gujarat who travel to Delhi so they can sell their handmade miniature paintings and colorful, heavily mirrored and embroidered cushion covers and bags at a higher price than in their home states.
Close to Janpath market is another stalwart of Delhi, the Central Cottage Industries Emporium which was established by the government in 1952 as an outlet to showcase the rich heritage of handicrafts in India. With a department store like setting, this place is a haven for anyone who wants to experience the entire art and craft legacy of India but simply doesn't have the time to visit the entire country. There are textiles, tea, spices, jewelry, furniture, carpets, paintings, pottery, sculptures and more representing all twenty nine states and seven union territories. One can also visit the individual state emporiums if time is not a constraining factor. These places are geared towards selling the handmade highlights of that state. For example at the Rajasthan Emporium you will find pichwai paintings and sculptures, jeweled glass and lac bangles, and traditional outfits while at Kashmir emporium, it would be carpets and embroidered woolen shawls and garments that would draw you in.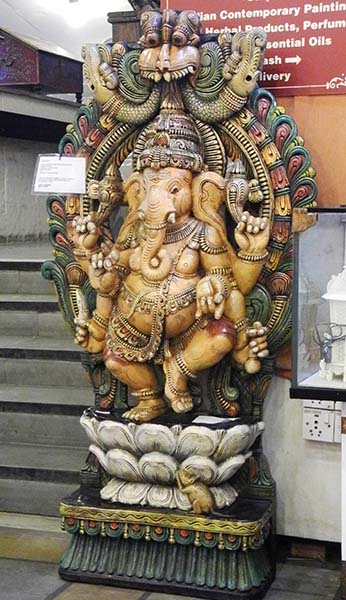 While it's true that a mall visit can really have no redeeming purpose, we do make it a point to go to at least one to catch up on the new world of modern Delhi. The idea of shopping malls arrived in India in the 1990s as the country opened to the global economy. Delhi got its first mall in 1999 and since then shopping malls have proliferated all through the city. The DLF Promenade Mall in South Delhi is a shopping destination full of high-end international stores along with top-notch Indian brands. We particularly enjoy the various food kiosks in the food court that sell everything ranging from burgers, Indian style Chinese food, foods from Punjabi cuisine, South Indian delicacies such as dosas and idlis and Mughlai dishes of kababs and curries.
Of all the variety of shops and markets that I have visited during my annual sojourns to Delhi, the ones that have given me the most joy are the weekly vegetable markets that spring up in a neighborhood during certain days of the week.
Also known as "haat", similar to the western farmers' markets, these are stalls that are set up on a road blocked to traffic for a few hours in the early evening. The sellers bring vegetables grown in the farms that are situated on the Delhi outskirts. There are carts full of fruits which are bought by the vendors from the fruit wholesale markets, thus making them fresher than the ones found in the local markets and stores. Along with the customary mounds of potatoes and onions, eggplants, tomatoes and green beans and peas, there were the vegetables of my childhood that I had not seen in years. Green papayas, large spiky green jackfruits, "mocha", the purplish maroon flowers of the banana plant and the inner white cores of the banana plant stem known as "thor", long green drumsticks and more. Nearby a cart overflowed with pomegranates, the vendor having displayed a few cut ones on top like an open flower with little pink jewels.
So whether you are an inveterate shopper or just enjoy window shopping, Delhi provides an almost endless list of various shopping hubs to suit different styles and budgets. It provides an inimitable insight into the sights, sounds and smells of this city and an expansive look into the whole country.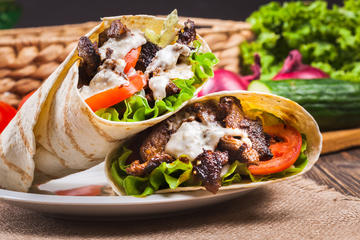 Delhi Evening Food Walk Tour of old and New Delhi – $32.00
from: Viator
If You Go:
The Delhi Tourism Shopping page provides a comprehensive list of all the shopping destinations in the city.
Central Cottage Industries Emporium is located at Jawahar Vyapar Bhavan, Janpath.
Individual State Emporiums are located in State Emporia Complex at Baba Kharak Singh Marg.
Chandni Chowk can be reached by yellow Line of Delhi Metro.
Vasant Kunj Malls is a complex of three malls and is located at Nelson Mandela Road.
Connaught Place and Janpath Market are near each other and are easily accessible by any mode of transportation.
For neighborhood markets and haats, it is best to ask the inhabitants of that area as they will provide the desired information.
About the author:
Susmita Sengupta is a freelance writer who loves to travel. She and her family have traveled to various parts of the USA, Canada, Europe, the Caribbean, Middle East, Southeast Asia and India. She resides in New York City with her family.
All photos by Susmita Sengupta.
A view of Christmas decorations at an upscale mall
A plate of Chhole Bhature with a side of pickles, onions and green chili
Stalls selling art and crafts, clothes and jewelry in the early evening at a neighborhood market
The Georgian colonnaded architecture of Connaught Place
Ganesh statue for sale at Central Cottage Industries Emporium