by Clare Gleeson
If Rupert Brooke had visited Nuwara Eilya he would have felt completely at home. The Sri Lankan hill station, developed by the British in the mid-19th century, retains many legacies of the Raj, despite more than 60 years of independence. Nuwara Eilya is proud of its Englishness.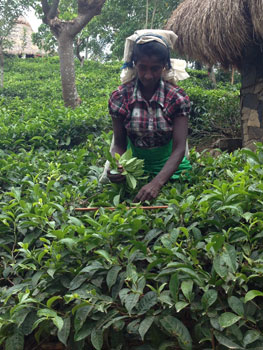 The train from Colombo had brought us nearly 2000 metres up into the Sri Lankan Highlands amid acres of tea plantations. For six hours we climbed higher and higher leaving the urban sprawl of the capital, travelling through tangled jungle to reach the patchwork neatness of the tea country. We left the train at Nanu Oya and bumped along the potholed road to Nuwara Eilya in a taxi, passing hillside tea plantations with names such as Edinburgh and Glasgow.
Nuwara Eilya was founded in 1846 by Samuel Baker, a British Nile explorer. Here in the coolness of the Highlands the ruling British could pursue many familiar country pursuits such as fox hunting, cricket, polo, fishing, golf and horse racing.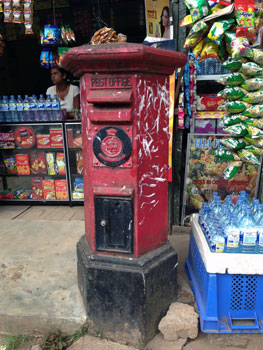 Entering Nuwara Eilya the dilapidated race track was immediately in front of us. Our taxi driver assured us that two meetings a year were still held here although this seemed unlikely. In front of the down-at-heel grandstand the final straight was uneven and unkempt and the fence outside the perimeter of the track was falling down. Ponies available for tourist hire grazed on the track. The condition of the racetrack was a stark contrast to that of the nearby golf course which was immaculate.
Our hotel, the Glendower, built in mock Tudor style, had once been a gentleman's country house and was set in a cottage garden. It had a cosy feel to it, with a billards table and an over-furnished English bar.
Breakfast was a Sri Lankan interpretation of the English meal consisting of fried chicken ham, accompanied by two unusual looking eggs, served on hard white toast. The pièce de résistance was the padded tea cosy featuring villages of the Lake District proudly brought to our table and carefully snuggled over the china teapot by our young, smiling waiter.
Even the weather has a claim to Englishness. Much cooler than Colombo and Kandy, Nuwara Eilya was damp and drizzly for much of our time there. This makes it an ideal climate for the many English vegetables it grows such as leeks, tomatoes, beetroot, beans and strawberries, and has also enabled gardens full of familiar flowers to flourish. Roses, petunias, begonias – everything you could imagine in a herbaceous border – were evident throughout the town and in the impressive gardens of Victoria Park.
Nuwara Eilya is not large and easy to get around on foot but we also used tuk tuks for novelty or to escape the rain. On our first morning we strolled about looking at the variety of colonial homes, many of which are now small hotels. Although some look tired they wouldn't be out of place in an English village and sit on large pieces of land, quite a contrast to most of Sri Lanka's housing. Cows grazing on the side of the road and an old, wet, bedraggled and barefoot man walking near one of the houses made a strange contrast and reminded me that this was Sri Lanka.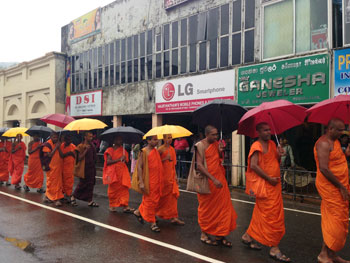 Walking into the commercial part of the town we explored the shops and market before crossing the road to one of Nuwara Eilya's most distinctive buildings to post a card home. Slightly elevated, the pretty Victorian brick post office has a tiled roof, gables and a clock spire. From the outside it reminded me of something from an English village and the lines from Brook sprang to mind 'Stands the church clock at 10 to 3, and is there honey still for tea?' but inside the somnolent air was dispelled by the eager and noisy customers.
Leaving the post office crowds were gathering along the roadside and the rhythmic banging of large leather drums could be heard. Standing by a British red post box we watched a long line of local monks parade through the main street, cheering up the drizzle with their bright orange robes and assorted umbrellas. Some were very young, probably no more than 8 or 9 years old, and policewomen walked beside them.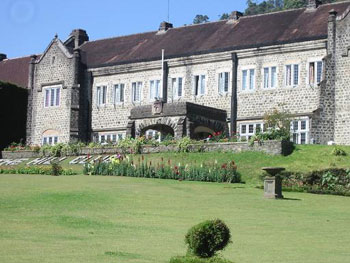 Sheltering from the rain we took a tuk tuk up the hill to the gothic looking Holy Trinity Anglican Church built in 1863. The church has a cemetery full of the graves of British civil servants, soldiers, diplomats, planters, their wives and children. Although cared for this corner of a foreign field felt sad and lonely, marking forever the resting place of those who remained behind long after their families had left for Home.
At the planters' Hill Club that evening we sipped our coffee sunk deep in Sanderson couches in front of a roaring fire. Gazing over us were a youthful Queen Elizabeth and Prince Philip, whose portraits, along with that of the Sri Lankan President, hung above the fireplace. Following gin and tonics we had eaten a four course dinner, completely alone, in a dining room which can seat 50. We had been attended by four white-gloved waiters and the chef hovered in the nearby corridor as we made our selection from the menu. The Hill Club has reciprocal rights with the St James Club in London and a dress code which had placed considerable strain on our travelling wardrobes. I don't think I could have handled being a memsahib but Rupert Brooke would have felt completely at home in this corner of a foreign field.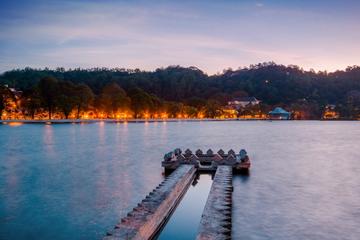 3 Days Private Tour – Last Kingdom of Sri Lanka from Colombo
If You Go:
♦ Getting there: Travel by train or bus to Nuwara Eilya. The train journey from Colombo takes most of the day but is a fascinating trip. There is also a bus from Kandy.
♦ Tuk tuks and taxis are readily available.
♦ Accommodation: Nuwara Eilya has a range of accommodation from small to large hotels. www.nuwaraeliya.org
♦ Eating: A number of restaurants serving Sri Lankan and European food.
About the author:
Clare Gleeson is a New Zealand historian, librarian and travel writer who enjoys exploring her own country as well as those further afield. She has a travel blog at www.thewanderinghistorian.com.
All photos are by Clare Gleeson:
A tea picker
British post box
Post Office
Parade on the main street
The Hill Club – islanka.com