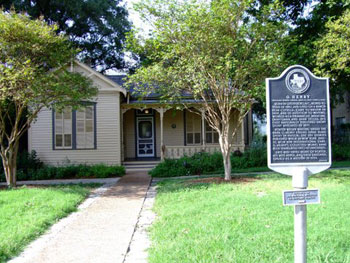 by Laura Roberts
Located in Austin, Texas, the O. Henry Museum is an unassuming bungalow situated just a short walk from the city's modern glass convention center and its shiny new metro rail service. The cream-colored Queen Anne style cottage at 409 East 5th Street resembles many of Austin's quaint and cozy historic homes, but the major difference is that a famous writer once lived here.
The house itself has been moved twice from its original location at 308 East 4th Street , where it served as a rental property during William Sidney Porter's time. The man that would come to be best known as the writer O. Henry rented the property where he lived with his family, working first as a draftsman in the Texas General Land Office and later as an ill-fated teller at the First National Bank of Austin. Porter also produced his own humorous paper, The Rolling Stone, and participated in local theatrical and musical events in his free time.
Before moving to Houston to work full-time as a writer for the Houston Post, Porter collected some unique information and experiences in the Texas capital, which later appeared in his works Bexar Scrip No. 2692, Georgia's Ruling and Gifts of the Magi. Inspired by his work in the Texas General Land Office, Bexar Scrip No. 2692 takes its name from a land grant file that Porter accessed during his daily duties, which had somehow gone astray. In O. Henry's fictional story, the file goes missing because a rich railroad owner steals it in order to illegally obtain a poor homesteader's land. Porter's real-life boss, however, was adamant that such a crime could never have actually occurred, based on the office's own rules and regulations. Whether you are interested in the historical angle of the document or the writer's literary take on ordinary events, the original land grant can be viewed online at the Portal to Texas History at texashistory.unt.edu while O. Henry's short story can be read at www.literaturecollection.com. For those visiting Austin, the Capitol Visitors Center at 112 East 11th Street maintains a permanent exhibit dedicated to the writer called the O. Henry Room, where visitors can tread the spiral staircase described in the story and enjoy listening to a condensed version through old-fashioned telephones.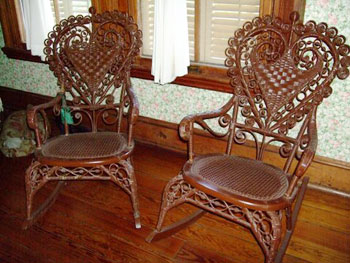 Returning to the O. Henry Museum, visitors can glimpse two more objects that provided inspiration for Porter's writing. The home showcases two wicker chairs, which were allegedly the inspiration for O. Henry's best known story, Gifts of the Magi. The author's wife, Athol, apparently bought him the chairs as a present to decorate their rented home, using money he had saved to purchase her tickets to attend the World's Fair. Inspired by his wife's generous act, he wrote the ironic Christmas story in which two lovers buy each other gifts that neither can use, having sold off their most prized worldly possessions in order to pay for the other's gift. Though the moral is that it's better to give than to receive, O. Henry's infamous twist ending provides a bit of dark humor amidst more typical seasonal tales of sharing and caring.
Though the museum itself is quite small, containing just one bedroom along with a sitting room, dining room, kitchen and gift shop, visitors can enjoy free admission as well as friendly docent-led tours given from noon to 5 PM on Wednesdays through Sundays. Since the space is small and visitors tend to come and go quickly, there's plenty of opportunity to ask lots of questions about the famous writer and his life in Austin.
Two O. Henry Houses?
While you're visiting the O. Henry Museum, be sure to ask the docents about the rival San Antonio O. Henry House. It may not quite get their blood boiling, since the other house is set up as part of a local probation program, but I find it funny that Texas so desperately wants to claim O. Henry for its own that it's got not one but two of his houses listed as historic sites. If you can't make the trip down San Antonio way, their website hosts a virtual tour, as well as an audio tour that you can check out from the comfort of your desk chair.
If You Go: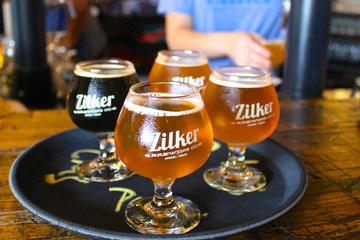 3-Hour Austin Beer and Brewery Guided Tour with Snacks
Austin Events
Austin's museum is home to the fun and funny yearly Pun-Off event, which offers pun-lovers the chance to spar with words in an effort to be crowned Punster of the Year. Held each May, this year's winner was Jerzy Gwiazdowski of Queens, whom you can see in action in the video below:

In addition, the museum also hosts a monthly "Lunchtime Lit" series, with readings and discussions of a different O. Henry story led by docent emeritus J.C. Elkins. The September story will be By Courier, to be discussed at 1 PM on September 28, while the aforementioned Bexar Scrip No. 2692 will be discussed on October 26.
Finally, 2012 marks O. Henry's 150th birthday, which means the museum is gearing up for a special birthday celebration. Though William Sidney Porter was born on September 11, 1862 in North Carolina, his birthday will be commemorated this year on September 15 with a Birthday Crawl from the O. Henry Museum to the Capitol Visitors Center and the Austin History Center. At the museum, featured events include the unveiling of the U.S. Post Office's new O. Henry stamp, a group reading of Buried Treasure at 2 PM, plus a presentation of a new exhibit, co-produced by Richard Linklater, entitled "O. Henry: Original Slacker." The Capitol Visitors Center will host dramatic presentations of Bexar Scrip No. 2692 at 11 AM and noon, in addition to offering a 10% discount on items at the gift shop. The Austin History Center will round out the festivities, hosting a mock appeals trial to reverse Porter's embezzlement conviction at 4 PM. Audience members will have a chance to serve as the jury and decide O. Henry's fate!
Additional Events
The nearby HandleBar (121 East 5th Street) boasts an excellent O. Henry mural on the brick exterior of the building. Inside, O. Henry enthusiasts will find bartenders and wait staff sporting handlebar mustaches, serving local beers and craft cocktails, and hosting events such as the annual Mustache Competition (held this year on August 29, 2012).
An exhibit entitled O. Henry: A Short Story is currently on display at the Austin History Center (810 Guadalupe Street) and runs through October 21, 2012.
About the author:
Laura Roberts is the author of Rebels of the 512, a satirical ninja novel set in Austin, Texas. The founding editor of upstart literary magazine, Black Heart, she is currently completing her novel, The Vixen Files: Naughty Notes from a Montreal Sex Columnist by Laura Roberts (2013-04-15)
, based on her days as a sex columnist in the Sin City of the North.
Photos by Laura Robert