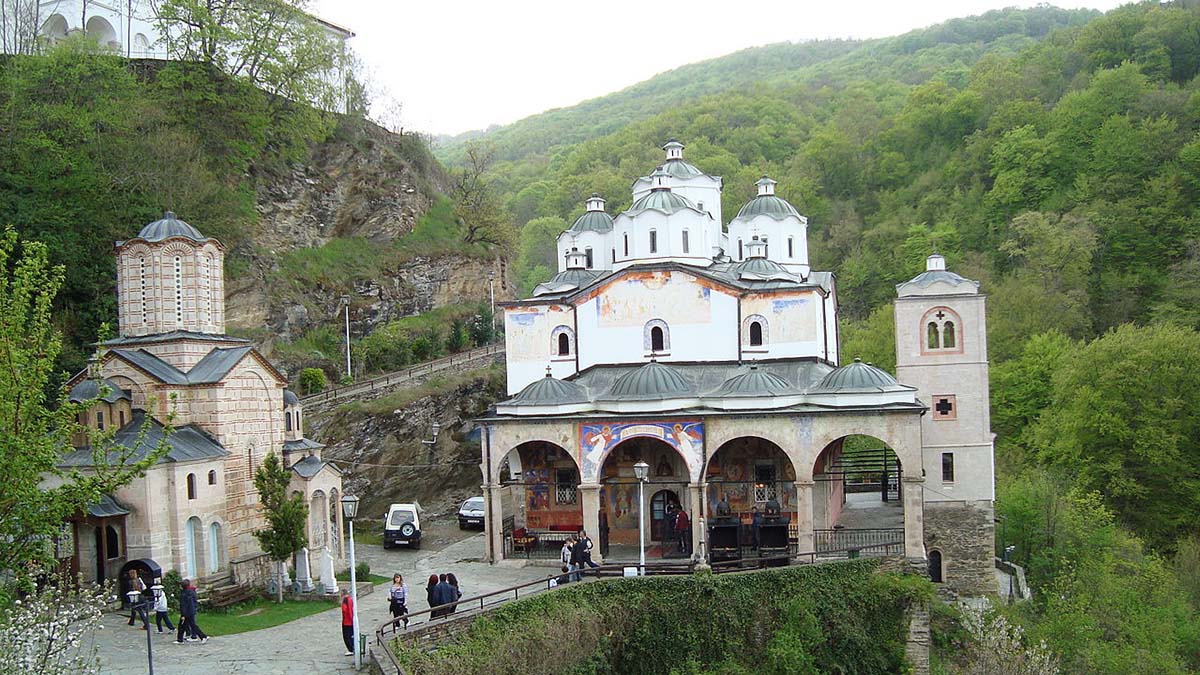 Rome and Venice, Italy
by Anne Harrison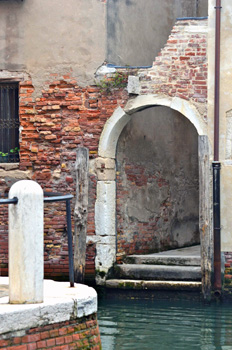 The heavy wooden door closed and I stood surrounded by silence. Flying anywhere from Australia takes a long time, and after a night and a day and a night I was exhausted. Tired and befuddled, I emerged into the chaos of Rome. I finally found a taxi, with a driver who careened down tiny streets where footpaths were more a suggestion than reality.
After he double-parked on the wrong side of the road, I alighted on the Via Sistine. The convent was just a few minutes from the top of the Spanish Steps. Once inside, the world became peaceful. Large wooden doors shut out the chaos of the street, and I stood in the quiet of a marble foyer. Convents and monasteries have offered hospitality for centuries, providing more economical accommodation than most hotels. Italy especially has a plethora of choices. The vast majority accept guests of both sexes, married or single, of any denomination – although some still pose a nightly curfew.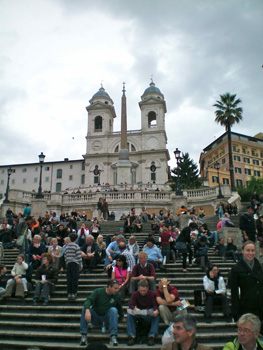 Rooms may be simple, but this does not imply austerity. Convents and monasteries are often to be found in Renaissance palazzos, Medieval walled towns or set amongst lavender fields and vineyards. Many hide artistic treasures; a painting by Rubens, or walls adorned by Fra Angelico. Each religious house has its own character, such as the monastery Convento Sant'Agostino in San Gimigiano which refused entry to HRH The Prince of Wales when he arrived after closing time. (Although probably apocryphal, the story alone makes the place worth a detour.)
In Rome, I stayed at Le Soure di Lourdes. My room overlooked a cloister, and of a morning the singing of the nuns in their private chapel woke me in time for a simple breakfast of rolls, cold meats, and lots of hot coffee.
Rome boasts a convent or monastery in whatever quarter of the city you choose to stay. The rooms of Domus Carmelitana overlook the Castel Sant' Angelo, while from those of Casa da Accoglienze Tabor you can see the Vatican. Near the Colsseum, the Cistercian Monastery of Santa Croce is in a 10th C building. Some of the balconies overlook ancient ruins and archaeological digs.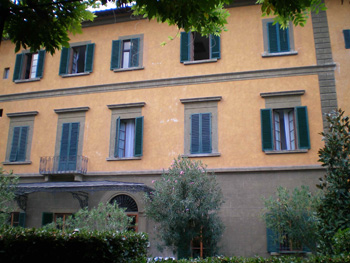 In Florence, the Casa Santo Nome di Jesu is in a 15th C palazzo. I reached my room via a marble staircase, complete with trompe l'oil ceiling of putti and plaster relief. The window overlooked a large garden, complete with kiwi fruit, persimmons, pomegranates, grape vines and wisterias, with trunks as thick as my body. The arbour was a perfect place to sit and pass the afternoon when exhausted by sightseeing.
One evening, as I sipped prosecco and dined off a meal of delicacies from the markets, (plus some grapes purloined from the garden) I sat listening to a baroque choir (who were also guests) practicing for an upcoming performance.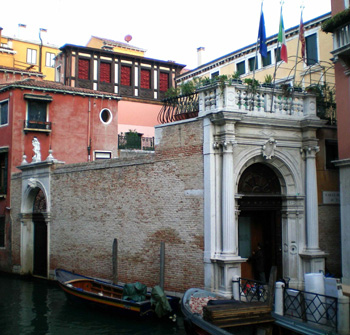 Most convents provide breakfast – fresh rolls and strong coffee are a staple – and often dinner as well. In some, monks still make wine to recipes centuries-old. My first time in Venice, my choice lay at the end of a maze of cobble-stoned side streets and piazzas. The Instituto San Giuseppe stands beside a canal, with a door opening directly onto the water. As I crossed a small limestone bridge a gondola came to a boisterous stop to collect passengers.
The way to my room proved another maze of grand staircases and marble halls. Paintings covered the ceilings and walls – in a room large enough to host a masked ball, a fresco peeked out from under the scaffolding of restoration. Occasionally a nun in a black habit would wander by, smile and give a blessing, before continue on her way.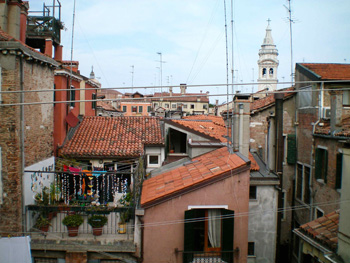 My room was simple and clean. The windows opened onto a terracotta skyline, with clothes strung on a line between two buildings. Across a flower-strewn courtyard a woman in black was busy in her kitchen, filling the air with delicious aromas. Every evening an extended family materialised for dinner. Geraniums hung everywhere in pots. In the distance a camponile tolled away the hours while towering (at a slight angle) over the other buildings,
Everyone should fly into Venice – with a window seat – at least once in their life. Suddenly the history of Venice makes sense, from whenshelter was sought from the invading Goths amongst the swampy, malarial marshes, to her days of seafaring glory. Even from the heavens Venice is breathtakingly beautiful, especially when bathed by an autumn sun while storm clouds swell on the horizon.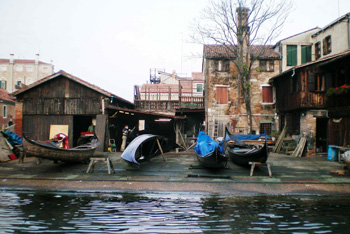 The next essential is catching a boat from the airport to the city, either on the public vaporetto, or by a much faster private boat. Our vessel was all streamlined wood, the skipper as sleek and polished as his vessel. Despite a complete lack of Italian, as soon as my husband began admiring the boat (being a long-time sailor himself) the skipper happily displayed the boat's paces. As the rain finally poured down and visibility vanished, he raced along the narrow channel to the city, overtaking every other boat in a shower of spray.
Next came a gentle cruise through a network of tiny canals. Some were barely wide enough for the boat, the wash lapping against the buildings and doors in a moss-tipped waterline. Crumbling buildings complete with Juliette-balconies and geraniums stood tranquilly along the canal, as they have for centuries. Seagulls called overhead, bridges arched gracefully over the water, and the chaos of travel and Italian airports floated away. We even passed the gondolier repair shop on the Rio San Trovaso, one of the few remaining squeri in Venice.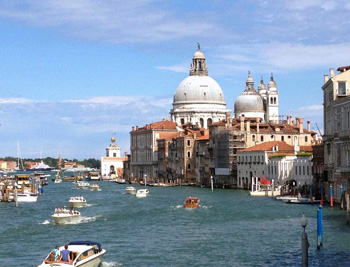 The entrance to the convent Canossian Institute San Trovaso lies on a pretty canal, devoid of tourists. Being in the Dorsoduro area of Venice, the streets are far less crowded than the more popular areas, locals outnumber the tourists, and at night the area is quiet. An elderly nun opened the door, and we walked into tranquility. She led us through an inner courtyard, where some other guests sat sipping wine as their kids feasted on gelato.
Our room was clean, spacious and simple, with a balcony overlooking a courtyard of vines and roses. each morning I woke to the call of seagulls and the sound of church-bells. As is the way all over Italy, each church keeps its own, strict time, with the bells chiming a few minutes apart, never quite in unison.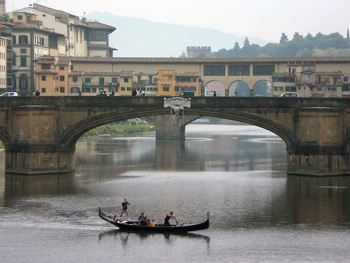 Convents and monastery are not only in cities, but also in idyllic countryside settings. Stays are not restricted to Italy, and some are to be found in the most unexpected of places. An example is the 12th century monastery Kriva Palanka, hidden in the Osogovo Mountains of Macedonia [TOP PHOTO]. It is worth a visit for the medieval frescoes alone.
One I dream of visiting is L'Hospice du Great St. Bernard in the Swiss Alps. Until recently, the Augustine monks bred and trained St Bernard dogs for mountain retrieval work; now they provide a home for the animals over the summer months.
A convent stay may not initially appeal to everyone, but it is something well worth experiencing, not simply as a cheaper substitute for a hotel, but as a travel adventure in its own right. Seen as such, staying in one can only add to a holiday.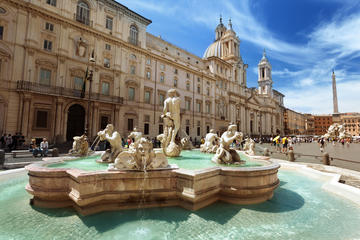 8-Day Best of Italy Tour from Rome Including Tuscany, Venice and Milan
If You Go:
Many convents and monastery now have their own website complete with email and online booking system. The websites below can help you choose:
♦ www.monasterystays.com – An extensive Italian listing
♦ http://www.santasusanna.org/index.php/resources/convent-accomodations – Concentrating mainly on Rome, but with some other Italian cities as well
♦ www.goodnightandgodbless.com – Although the book is more extensive, the website has world-wide listings
About the author:
Anne Harrison lives with her husband, two children and numerous pets on the Central Coast, NSW Australia. Her jobs include wife, mother, doctor, farmer and local witch doctor – covering anything from delivering alpacas to treating kids who have fallen head first into the washing machine. Her fiction has been published in Australian literary magazines, and has been placed in regional literary competitions. Her non-fiction has been published in medical and travel journals. Her ambition is to be 80 and happy. Her writings are at anneharrison.com.au and hubpages.com/@anneharrison
Photo credits:
Osogovo Monastery, Macedonia by MacedonianBoy / CC BY-SA
All other photos are by Anne Harrison:
A quiet alley near our convent
Rome's Spanish Steps
Casa Santo Nome di Jesu, Florence
Entrance to Instituto San Giuseppe, Venice
A room with a view, Venice
The Squero San Travaso
The wonder of Venice
A gondola in Florence, naturally