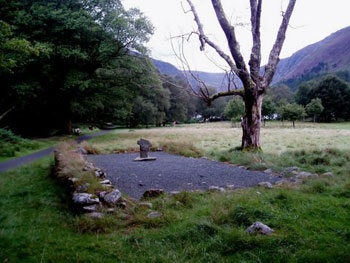 Exploring Celtic History in Ireland
by Becky Garrison
During my first trek to Ireland, I decided to visit Glendalough Valley, one of Ireland's most popular destinations. While the monks abandoned "Monastic City" centuries ago as a result of political and religious upheavals," the remains of a 6th century Christian monastic settlement founded by St. Kevin remain the centerpiece of this town. These hand-built stone structures give a glimpse into a way of life and prayer with an emphasis on stark simplicity and an intimate connection to one's natural surroundings.
I entered Monastic City via the Gateway, the ruins of a two-story building with a cross-inscribed stone on the west wall. Then I circled around small piles of stones where the Cathedral, the Priest's House, St. Kieran's Church and St. Kevin's Kitchen once stood.
After I toured the ruins of Monastic City, surveyed the 98-foot high Round Tower, and walked around the two lakes (glean dá locha means literally "glen of the two lakes"), the touristy chatter started to get on my nerves. I almost hopped on the afternoon bus back to Dublin until I remembered that my room at Glendalough International Hostel was already charged to my credit card.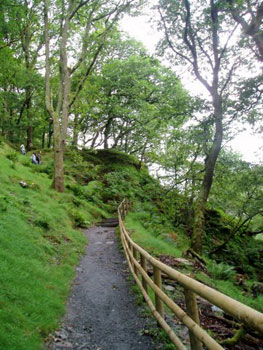 Stuck in Glendalough, I grabbed a quick late lunch from a local food cart and set out for a late-afternoon five-mile hike on Miner's Road. This route took me by the two lakes toward the ruins of an 18th century mining village that closed down in 1965. Rows of purple heather greeted me with pine trees serving as an umbrella to shade me from the sun. Finally I got to sample paradise almost all by myself.
En route, I glanced out at the hole in the rock called "St. Kevin's Bed," a seven-by-three-foot cave located about 26 feet above the lake. According to lore, an angel showed him this site though given the inaccessibility of his bed, one wonders how Kevin managed to ever leave this hole. Like other good hermits, he lived off the land, consuming herbs and fish. Legend has it that as part of his prayer routine, he would stand in ice-cold water up to his neck. While stories abound recounting Kevin's unbridled kindness toward animals, this nature lover had a major dislike of women. According to rumor, he dealt with an amorous woman by pushing her into a bed of nettles.
While I doubt I would enjoy meeting such an ornery coot face-to-face, I soaked in Kevin's spirit by walking along the mossy banks. I capped off the evening by heading into the nearby town and my first pint of Guinness on Irish soil.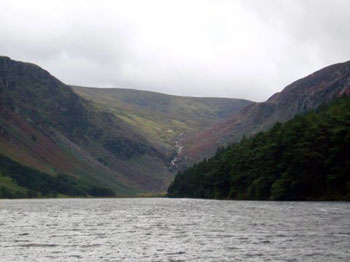 The next morning stopped by the Glendalough Visitors Centre where I bought a trail map. As I surveyed some of the 50,000 acres comprising the Wicklow Mountains National Park, I could see the pine-covered, mossy mountains off in the distance. They appeared to be grinning at me like a Cheshire cat daring me to set out on one of the treacherous climbs not recommended for solo travelers.
"You know you want it."
"If you thought the Upper Lake was remarkable, you ain't seen nuttin' yet."
The adventurer in me contemplated climbing my own personal Mount Everest, but I let my head win this battle and chose to hike the Poulanass and St. Kevin's Cell route. This moderate one mile grade trail would take me by the Poulanass Waterfall and the site of St. Kevin's cell. Once I got embedded deep into the purple heather, I took off my shoes. With each step, the moss encircled my feet, as though to provide me with a pair of nature's own slippers. Along the way, I ended up taking a short detour to further explore the Poulanass Waterfall and Plunge Pools. (The name Poulanass is taken from the Irish poll an eas which is translated "hole of the waterfall.")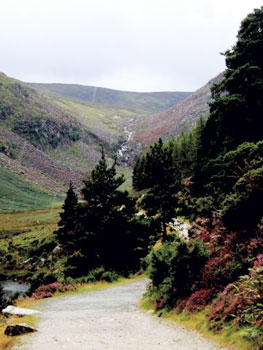 After I climbed down, I stopped by a shack located at the foot of Upper Lake for a quick snack and then set off on the Green Road Walk. This flat mile long trail that meandered around the oak woodlands and then continued to the edge of Lower Lake. Along the way, I passed by the outskirts of Monastic City where I saw more busloads of tourists, most of whom seemed more intent on taking photographs of stones than actually walking on Kevin's soil. Hopefully some of them will leave the city for the hills and have their own encounter with Kevin.
My day concluded with a walk to the neighboring town where I capped off my mini pilgrimage with my second pint of Guinness. Cheers to Kevin.
If You Go:
For additional information about setting out on a pilgrimage to Ireland, log on Discover Ireland
History of the Glendalough and Glendasan Mines (Luganure)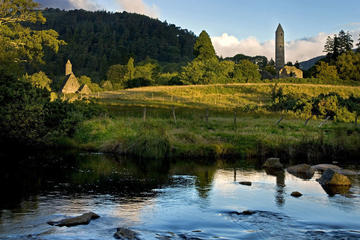 Private Day Tour of Wicklow and Glendalough from Dublin
About the author:
Becky Garrison is a freelance writer who has authored six books with a seventh book in development. In addition to penning a book on pilgrimages for Zondervan (a subsidiary of Harper Collins), she has written articles about destination travel and travel products for several publications, including 52 Perfect Days, Yahoo, Sportsology.net and Killing the Buddha. http://about.me/BeckyGarrison
All photographs are by Becky Garrison.