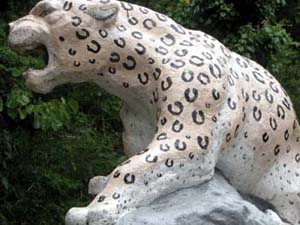 Sochi, Russia
by Mara Baudais
I had walked for two hours—alone with the sounds of an approaching storm.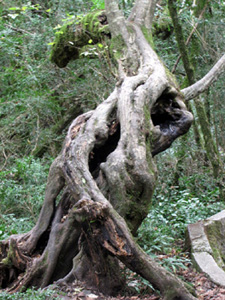 Thunder, then lightning flashed above the forest. Light rain fell, then more. My group, all passengers from my ship that had docked at Sochi, had quickly scampered ahead at the first crack of thunder. Somehow, suddenly it had happened…I was on my own, on increasingly slippery granite, limestone steps, roots and uneven chunks of clay.
I had both a knee and ankle support on an already compromised left leg. As well, I was still recuperating from a very bad case of bronchitis and rib inflammation started by two wasp stings. However, I had resolved to take this tour unless I was bed-ridden, not knowing how difficult this trail was really going to be. I was eager to set foot in Russia since I had Russian great- grandparents who had emigrated to Canada.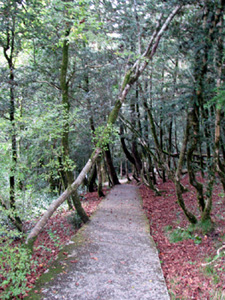 It had become impossible for me to keep up with this very mobile group. At first I found it quite amusing to see the guide on the steps with her wobbly spiked red heels. After the third trip to see if I was still alive, she never returned to me again. That was not quite so funny! I was alone somewhere in this Reserve with a storm brewing and the dusk increasing.
Half way, (according to a Russian sign) I knew there was nothing else to do but go forward. I had to shuffle my feet to keep upright as it was so slippery, other times hanging onto guard rails. I looked for moss, leaves and gravel for traction. I climbed innumerable rock steps, my breathing heavy, my chest and ribs aching. My fever returned. With every uneven step my ankle and knee were jarred. I was conscious of not falling. I had no choice but to keep going.
Then, it appeared–what I had come to see–a corridor of ancient limestone and shale, ten million years old, right angling into the next section. They appeared as elongated dominoes thrust from the Black Sea floor through eons of upheaval as the mountains formed. Pieces of fossilized plant and crustacean life had found their resting place far from the sea bed.
I gently touched the fossils, lingering as long as I could with thunder, lightning and gentle rain as my companions. I fingered the ancient layers, marvelling that at one point in prehistory these same crustaceans below my fingers were once part of a sea. I tried to capture the eternity they held. I now knew being alone was a gift with which to experience this ancient place and I was so grateful for this solitary time.
I remember that moment. There was a closer flash of lightning, an ominous loud roll of thunder. Deepening twilight was quickly creeping towards me soon to cover treacherous steps. The moist smell of decaying vegetation and spores from ferns enveloped me.
I passed a cat, white with orange stripes, curled into a mossy tree root. It had found its home. I still needed to find mine. I came face to face with a wire fence at the end of a path. I retraced my steps for about five minutes, getting back on the main path. I did not want to think about making such a mistake again in the dark.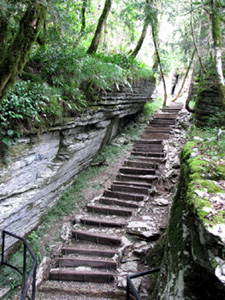 I carried on, into darkness now. Surely it couldn't be much further. Where was the rest of the group? I passed a lone statute of a leopard as if leaping. My steps quickened. Why was this statue here? I later learnt that this area is home to the Persian Snow Leopard, an endangered species.
A few more minutes of walking I came to a mountain hut lit by a porch lantern. My group was sipping tea and looking at simple souvenirs, mainly icons of saints. I bought one in thanks for my safety. I was the only one who bought one. Then, one of the group handed me a cup of steaming tea and said, "Wow, you must have had quite an adventure out there on your own!" I smiled and said, "Yes, an adventure of a lifetime! I wouldn't have missed one step of it!"
The city of Sochi sits at the eastern end of the Black Sea at Russia's furthest area south. It is known as the 'Summer Capital of Russia' and also the 'Black Sea Pearl'. Four million visitors arrive annually. In a subtropical area, it has been a favourite resort since the Tzars. The Caucasian Biosphere Reserve, north of Sochi, is part of the Caucasus Mountains, with 3000 km2 of unique and diverse flora and fauna.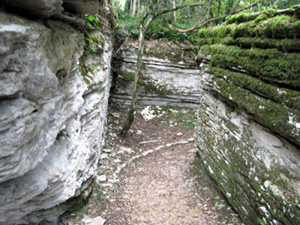 Human habitation goes back 500,000 years and there are undisturbed remnants of 150 prehistoric villages. The area was a prince's hunting reserve called 'Kuban Chase' in the l880s. In 1906 the area was returned to settlers. In 1924 the area was referred to as the Kavkazskiy Reserve. In 1999 it became a UNESCO Natural World Heritage Site, 120 km east to west and 50 km north to south.
The Reserve is at the west edge of the Caucasus backed by the Black Sea. This sea played an enormous part in the unique geology of the area—with karst limestone formations—of many forms. The glaciated landscape ranges from 250 to 3000 metres in height. There is a diversity of ecosystems containing sedimentary, metamorphic and igneous rocks. Ancient geological formations range from crystalline rocks, ancient glacial forms, caves, limestone ranges of the Jurassic and Cretaceous periods. Precambrian to Paleozoic periods are represented by mountain peaks, valleys, 130 high altitude lakes, mountain bogs, 60 remnant glaciers and moraines. There are 130 caves, one being 15 km, the longest in all of Russia. Landscapes are generally Mediterranean mountain forest and meadow.
I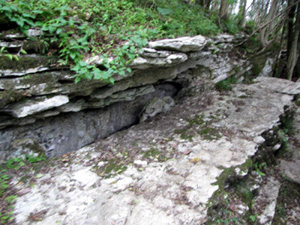 nhabiting this area are 384 species of vertebrates. There are 60 mammal species including wolf, bear, lynx, wild boar, deer, chamois and reintroduced European bison which are globally endangered. There are 246 species of birds, some endangered as well as l5 species of reptiles, 7 of amphibians, 12 kinds of fishes and 2500 recorded insect species from a projected total of 5000.
This area has been home to the Persian Snow Leopard, another threatened species. It was chosen as one of the mascots for the 2014 Olympic Games. In 2009, a Persian Snow Leopard Reintroduction Centre was established. Two male leopards from Turkmenistan and two females from Persia are in the Centre and their offspring will be released into the Reserve. In 2012 a pair of leopards from Portugal's zoo was also brought to the Reserve and in 2013 they had a litter, the first Persian Snow Leopard cubs born in Russia in 50 years. They will be released when independent.
Only wild animals graze here and huge areas of undisturbed forests are unique in Europe covering 60% of the Reserve. There are beech, oak, maple, hornbeam, chestnut, Nordmann Fir, (thought to be the tallest European tree) a unique form of English Yew, pine, spruce and European Box. One third of the total plant life is found only here. Ten percent of the plant life is a relic of an ancient time period.
The yew-box tree-grove through which most visitors hike, the sub-tropical part, contain plants preserved without change for many millennium. More than 200 kinds of herbal and 70 kinds of wood plants live here.
If You Go:
♦ Sochi National Park
♦ Visa: Not necessary by cruise ship or ferry; otherwise visa is necessary, which takes several months.
♦ By Air: Moscow and St. Petersburg as well as flights from Vienna and Istanbul.
♦ By Water: Ferry from Trabzon, Turkey, 3.5 hours,May to Oct. twice a week; from Batumi, Georgia, 4.5 hours, daily.
♦ By Train: 2.5 hours from Moscow.
♦ By Car: Through Ukraine and Turkey, 1660 km from Moscow.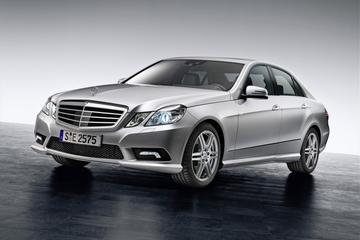 Private Arrival Transfer: Sochi Airport to Sochi Arrival Hotel
A Must Watch:
Caucasus-Caucasian Biosphere Reserve with Sergey Karpukhin's Photography. Fabulous photography and music.


All photographs by Mara Baudais:
Snow Leopard statue
Knarled growths of old trees
First part of the path
To the right of photo, descending onto lower path
Beautiful but dangerous area of steps and pathway
Stratified limestone
Forest and ferns
About the author:
Mara Baudais writes creative non-fiction, travel articles, philosophical essays, memoirs and poetry. These are mainly based on traveling and/or a deeply insightful experience. Besides extensively traveling in Europe, she has visited North Africa, Thailand, Israel, Turkey, China, Inner Mongolia, Tibet, Sri Lanka post-tsunami, Guatemala, Canada (coast to coast), local areas of the B.C. coast and the Yukon. Recently was a six month trip from Great Britain to the eastern Mediterranean and the Black Sea countries. The most recent trip was to Russia with a river cruise, Moscow, St. Petersburg and Sergiev Posad, a medieval pilgrimage town.