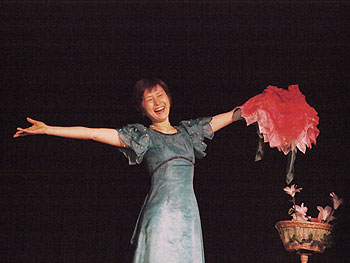 Colon, Michigan
by Kelly Pucci
Greg Bordner smiles as he recalls how Colon, Michigan, a sleepy Midwest village surrounded by Amish farms, became The Magic Capital of the World and home to one of the largest magic events on the planet.
Harry Blackstone, a contemporary of another Harry, Harry Houdini, bought a summer home in Colon in the 1920s, where The Great Blackstone, as he was billed, presented informal magic shows for the villagers and visitors before heading on tour. One visitor to Colon, Percy Abbott, an Australian magician and inventor, stayed long enough to open Abbott's Magic, a manufacturer of magic equipment. The business grew under Percy Abbott's direction and thanks to the hard work of current owner Greg and his late father, Recil Bordner; Abbott's Magic is now the world's largest producer of magic equipment. On any given day Greg fills orders from China, Japan, Europe and Las Vegas.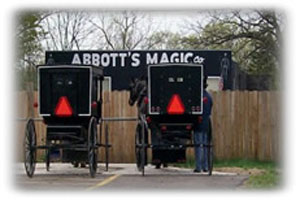 Stop by the Abbott Magic Shop off Colon's main street any time of year for a $5 coloring book that colors itself, or a magic wand for a Harry Potter wannabe – Abbott sells over 25 different models ranging from $8 to $150 as well as illusions that costing thousands of dollars. On Saturday afternoons during the summer the Abbott Magic Shop presents live shows in its 50-seat theatre.
To foster a burgeoning magic community during lean years Percy Abbott and Recil Bordner hosted a small get-together in Colon, Michigan attended by 80 professional magicians who developed a strong camaraderie exchanging advice learned from years of performing before audience. The annual event is now a 4-day celebration of magic attended by professional magicians from Europe, Asia and the United States who entertain thousands of fans in the streets and auditoriums of Colon, Michigan.
Hank Moorehouse, an award-winning magician, travels the world evaluating magic acts, inviting the best magicians to perform in Colon, Michigan. This year's line up includes, among others, Yumi, Japan's favorite female magician and Kerry Pollack who Teller of Penn & Teller calls "One of the most powerful and charming performers I know". Hank, a perennial favorite of magicians and magic fanatics, will perform his hilarious version of Houdini's famous straitjacket escape.
During the 4-day festival The FAB Magic Company, a mega-manufacturer of magic equipment sponsors free magic shows in its main street magic shop and at outdoor locations around town. Owner Rick Fisher sells professional illusions costing thousands of dollars but has a knack for choosing inexpensive, easy-to-master tricks for tourists who impulsively decide to take up magic. A professional ventriloquist, Rick Fisher also sells ventriloquist dolls and instructional CDs.
On August 4, award-winning ventriloquist George Schindler will present a workshop at the Abbot Magic Company. Later that same day, magician "Al the Only" will conduct a tour of magicians' grave sites in a Colon cemetery. Mr. Only travels from Hawaii to present the Lakeside Cemetery Tour, one of his favorite projects.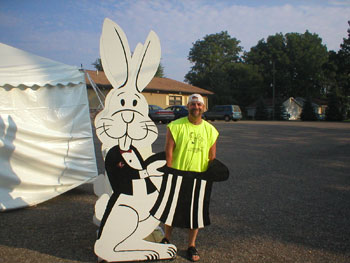 The entire town celebrates its heritage during the festival. Churches and civic groups host fundraising dinners and Tammy Johnson serves up dishes of Blue Moon ice cream and bowls of Buckshot Chili at her retro-café. The Chamber of Commerce provides an evening fireworks show. The library sells gently used books collected during the year at the annual arts and crafts fair.
Spreading the word about magic is a high priority for the people of Colon. Greg Bordner honors Colon's history and continues to foster an interest in magic with a talent show for young magicians held during the festival. Who knows? Maybe he'll discover another Las Vegas magician like Lance Burton or David Copperfield, both of whom competed in Colon talent shows as teenagers. Incidentally, David Copperfield lost the competition.
If You Go:
The 2011 festival runs from Wednesday, August 3 through Saturday, August 6. A combination ticket to all shows costs $170 and individual tickets to some events are available on-site. For more information, contact: Abbott Magic Company, 124 St. Joseph Street, Colon, MI 49040, 1-269-432-3235, email greg@abbottmagic.com. The FAB Magic Company is located at 111 E. State Street, Colon, MI 49040, 1-269-432-4017, email sales@fabmagic.com. Lodging in Colon is unavailable during the festival; however, several motel chains have locations in nearby Coldwater and Sturgis, Michigan.
About the author:
Kelly Pucci is the editor of Windy City on the Cheap, a website for Chicago bargain hunters. She is the author of many articles about Chicago, Europe, Asia and The Magic Capitol of the World – Colon, Michigan
Photographs:
Photos Courtesy of The Abbott Magic Company.