From London to York
by Chris Herbert
Start with a serving of red eye from Vancouver, add a Toronto stopover, stir them up and upon arrival at Gatwick Airport London you have the perfect recipe for testy travelers. Thankfully Jill, our host for the next three weeks, had the antidote. Her compact Ford, laden with my sister Anne, myself and our luggage, safely delivered us to Reading for a much needed pint at a local pub and a good night's sleep.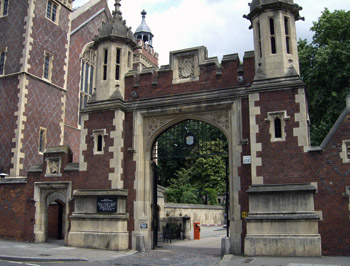 Rising the next morning to very un-English like weather ( read "sunny" ) the three of us headed for Petersfield, south of London. During our stay this would be our home away from home. Founded in the 12th century by William Fitz Robert the second Earl of Gloucester as a market town, Petersfield grew in importance because of its location on a direct route north to London and south to the coast. Like those travelers before us we took advantage of the locale returning most days to a late meal and a pint at the pub. Albeit we had the benefit of modern travel and Brit Rail passes purchased before leaving Canada which offered us sizeable fare savings.
Our excursion to York began with a relaxing train ride north from Petersfield through the English countryside. We enjoyed our stay in the 1752 Micklegate Georgian Townhouse turned hostel spending time with travelers from around Britain and the Continent. Steps from York's historic rail station, once Europe's largest and just minutes to the centre of this medieval town, the hostel was clean and affordable, the bunk beds were comfy even if the showers had to be the snuggest in which I have had the pleasure of lathering up.
York has seen its share of visitors in its time, most welcome some not so much. Among them were the Romans in the first century who called York Eboracum and the Vikings who built the first Minsters. During its long history York has been the centre of the English wool trade and a major railway network. More recently the University of York, the city's museums and a renewed tourism sector have been economic stimulants to this city of 200,000.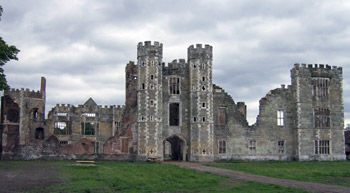 A short visit can't do justice to all that York offers but the highlights of our visit include Jorvik on the site of a Viking village complete with its workshops to latrines. The Shambles, a medieval street were butchers dressed and displayed their wares. Thomas Herbert House on the site of a Lord Mayor of London Christopher Herbert's house of 1620. Could I be related? Of course the Ghost Walk, an entertaining stroll through after hours York and a great way to learn the town's darker history followed by a glass of the local bitters and Cornish pasties at the Golden Fleece Pub. Do you sense a bedtime ritual? To quickly our stay in York is over and we board the return train to Petersfield. Our next excursion, Windsor.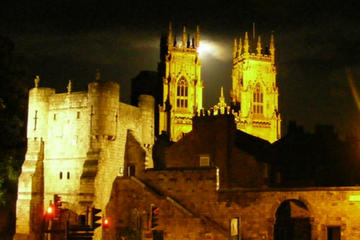 Private Ghost Tour of York
Windsor is known for its ancient castle long the home of the British Royal Family, Eton College and the Royal Windsor Horse Show. Anne and Jill, being equine enthusiasts, couldn't resist the jumping, dressage and carriage grand prix. Not being a fan of the horsey set, I went off to explore side streets, alleys and ancient buildings. Otherwise I might have never come across the historic Spread Eagle Hotel or the ruins of Sir William Fitz Williams 16th century manor house in Chichester, the historic home of the Lord Keeper of the Privy Seal to Henry VIII, or Whip-Ma Whap-Ma-Gate and the 17th century remains of the now defrocked St. Crux Church in York. So following our early morning train ride we went our separate ways with a plan to meet at days end at Eton Train Station. I headed in the direction of Windsor Castle. This being May the tourist crowds were light so my castle and grounds tour around the gardens and a browse about the gift shop was without the usual pushing and shoving.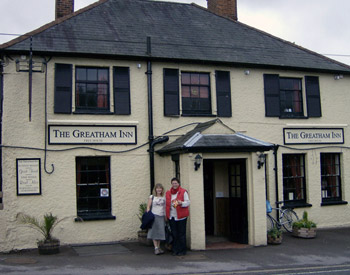 During my walk-about I meandered down narrow roads, past Market Cross House which is said to have a secret passage way used by King Charles II for private trysts. Continuing through public and some private gardens. After a lengthy stroll along the Thames I found myself at Eton College where since 1440 A.D. Olde Blighty's future leaders have been educated. A quick check of my watch and I realize that I have barely enough time for a fly-by sandwich and an Ale at the Bel and The Dragon before I am to meet up with the women.
The next day we choose to stay closer to Petersfield with a visits to Chichester and Aldershot, the latter being infamous for a IRA attack in 1972 during the "troubles". Our well laid plans came to a unexpected halt when we got a flat tire. It seems that compact British Fords lack the space for a spare requiring us to spend the afternoon in the Greatham Inn over an ale while waiting on the UK AA.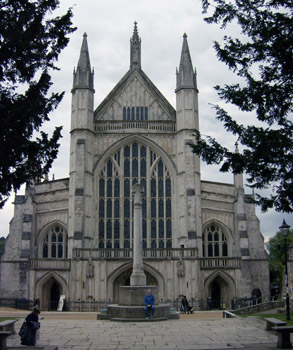 Over that ale we decided that London should be next on our agenda even if we could not agree on what to do once there. Fortunately by the time we had arrived at Waterloo Station a compromise had been reached. We spent the day doing the tourist things. Crossing the Thames by the Waterloo Bridge we continued along Victoria Embankment, through the gardens of the same name finding our way to Covent Gardens. There we stopped at Pips Dish before moving on to Trafalgar Square where we took the Tube to Harrods for a little shopping. I vowed that my next time in London would be spent in exploration.
Winchester is a short car ride to the west of Petersfield. The architecture and history of its' 7th century Cathedral not to mention the church's treasures, including the Winchester Bible and Jane Austen's grave make for a worthwhile trip. We were fortunate enough to be serenaded by the angelic voices of the boys choir and the resonating sounds of cathedral's ancient organ. The tour of Winchester Cathedral is worth every pence. We followed that with the Great Hall, King Arthur's Round Table and a stop at a shop for a 99.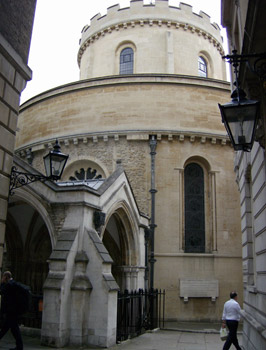 Being a fan of Dan Brown's The DaVinci Code, locating the Knights of the Templar Church was a must do. As my time in England was rapidly passing I needed to get to it. Some say that the Temple Church is so named for Knights Templar, 12th century pious noblemen who set out to protect pilgrims travelling to the holy land. Others insist the Temple Church was a medieval bribe designed to silence the Knights Templar as they knew a little to much of the Catholic Church's looting and pillaging of which they played a major role. Likely there is some truth in either version. After following a circuitous route in an effort to find the Temple Church and about to give up I spotted it nestled between much larger buildings in a back alley between London's Fleet St. and Pump Ct. around the corner from Ye Olde Cock Tavern, fittingly in the centre of a district rife with solicitor's chambers. Unfortunately, this day the church was closed.
I continue my wanderings along Fleet Street to Chancery Lane, Regent St. to Oxford, and Rathbone Place where alongside two young fellows I gaze at the musical wares on display in Hobgoblin Music. Captivated I have a sixties flash back. I see Sgt. Pepper's band strolling along Abbey Rd and Cat Stevens sitting alone with his guitar on a roof top as morning breaks over Shaftesbury. Those young musicians with whom I shared a few moments likely have their own dreams of making musical history.
I had been walking some five hours by then with, my feet and legs are sore, my plans for an afternoon meal dashed. Unbeknownst to me a bank holiday is scheduled for the coming Monday which requires Londoners to queue up out front of each and every pub starting early Friday. So onward I go, hungry and thirsty, in the direction of Waterloo Station.
I'm still determined to stroll along The Mall to Buckingham Palace. I continue through Cambridge Circus past the Palace Theatre where Monte Python's Spamalot is playing and along the tree lined route of Kings and Queens. There I take a seat on a bench in St. James Park to admire the palace. Then it's along Birdcage Walk as I pass Westminster Abbey and Big Ben.
Back on the train I settle in as the English countryside whips past and I rerun our time spent in the south of England. I reminisce about our day trips to Winchester, Chichester and Portsmouth, the country fairs, the London shops, the warm English people and their warmer beer. But now it's time to pack my bags for the red eye home to Canada.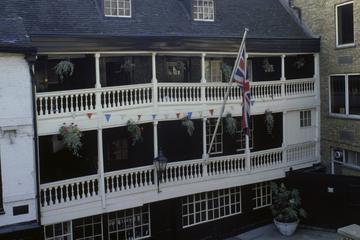 Private Historic London Pub Tour: Royalty and Writers
If You Go:
♦ Take advantage of the savings and off season prices.
♦ Petersfield is central but where ever you choose to stay pick a town on a mainline for quick and easy train travel around the south of England. Take a look at www.visitpetersfield.com. Purchase your rail pass before leaving home. There are several types of passes available. One will surely meet your travel needs at  www.britrail.net.
♦ Hostels in York and elsewhere in England can be found at www.hostelworld.com. Most importantly, explore the alleys and side streets. Have a pastie and beer for me.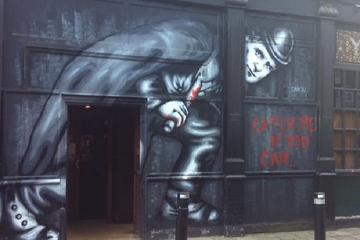 Private Tour: Jack the Ripper Day Time Walking Tour in London
About the author:
Chris Herbert is retired, enjoys travelling and writing about his adventures. When at home he lives on Canada's west coast. If you would like more information about Chris' stories contact him at stilltravelswell@hotmail.ca.
All Photos are by Chris Herbert.