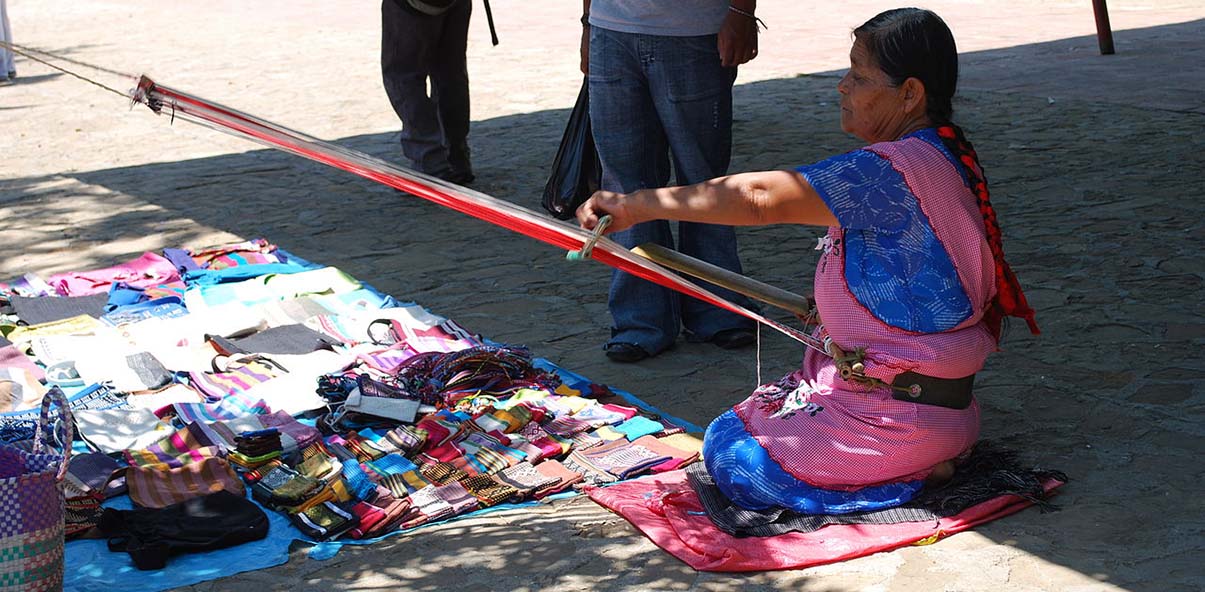 by Deborah Dickerson
She holds up small pieces of bark paper painted with blue-green birds and yellow flowers. "Would you like to buy?" She asks me in broken Spanish. She looks to be not more than 10 or 11. Her eyes are kind and shy. We trade pesos for paintings; then, like an apparition, she is gone.
I sat on the church steps in the middle of the zocalo, looking at my bark paintings, thinking Oaxaca had not changed much from my last visit when I bought a pretty blouse embroidered with red flowers.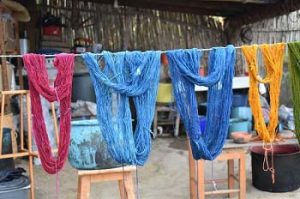 That blouse sparked my passion for Mexican textile art and brought me back here 40 years later
This is the land of the Zapotec, one of 16 indigenous groups inhabiting Oaxaca state. Zapotec translates to "the cloud people." Living in the mountains of south-central Mexico since pre-Columbian times, their traditions run deep. Their ancestors were warriors, builders, and artists. They are weavers, embroiderers, potters, and woodworkers. Their decor and clothing weave rich stories of the people who create them. It tells their place in their world, their identity, their pride.
Exploring the many shops, markets, and museums in Oaxaca City, Mexico brings to life a heritage of exquisitely crafted tapestries and clothing.
In the nearby villages of Tlacolula, Teotitlan del Valle, and Mitla, the making of traditional weavings and embroideries lives on, where you can enjoy, learn about, and purchase, some of the finest woven symbols of community and living culture.
Oaxaca City – Where everything old is new again
A main thoroughfare in the historic center, Macedonio Alcala, is pedestrian-only, making it easy to crisscross back and forth, browsing the shops, restaurants, and galleries.
Colonial buildings painted in peach, cobalt, and saffron hold windows covered in ornate wrought iron. Baskets of red geranium cascade down the walls.
Massive hard-wood doors are open, inviting you to stop for a visit or a taste. The sweet aroma of cafés and coffee houses waft in and out. Sample a smoky mezcal or a blue corn tostada called a Tlayuda, a Oaxacan specialty.
Inside one of these massive doors is Arte Textil Indigena. Stacks of huipiles (blouses), ponchos, shawls, and skirts, woven on backstrap looms or embroidered with images of crabs, birds, and stars fill the not-for-profit shop. Woven brocade tapestries line the walls. The knowledgeable clerks will tell you where each piece was made, by what process, and sometimes, even the name of the artist.
At the Oaxaca Textile Museum, an artist from an outlying village demonstrates her family's craft of weaving on a backstrap loom. The beautifully restored eighteenth-century mansion houses current works as well as curated historical exhibits featuring fabric arts from Mexico and around the world, a glimpse of what you may see on your travels outside the city.
Tlacolula Market – Centuries of socializing
Nobel Laureate poet Pablo Neruda once said, "I went from market to market for years, because Mexico is in its markets."
If the marketplace is the heart of Mexico, the Sunday market in Tlacolula is the heart of Oaxaca.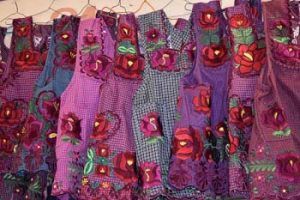 A sea of green, blue, and orange tarps constructs the open-air stalls – a tapestry in motion. A vendor hawks a taste of orange mamey fruit. The smell of barbeque floats by on the warm breeze past a mile-high stack of fresh tortillas waiting for the tangy pork, grilled onion, and stringy Oaxacan cheese.
Much like 200 years ago, the market is still the weekly gathering place for villagers from around the region to socialize, gossip, and trade goods. Subtle differences in blouses, aprons, and headscarves define the villagers. The intricately machine embroidered, and beribboned aprons worn by Zapotecan women occupy an entire row of vendor stalls.
Teotitlan del Valle -Textiles, tapestries, and tales of a thousand years
Known as the village of 5,000 weavers – Teotitlan del Valle (tayo teet lan del vy a) has been weaving since pre-Columbian times. Their woven cotton fabric was so fine the Aztec rulers required tithes of the cloth.
The Dominicans introduced sheep to the region and brought the first wood pedal loom in the 1500s. The villagers began weaving the stunning wool carpets the village is famous for today.
Past the large shops with the tour buses, is La Cupula Bed and Breakfast.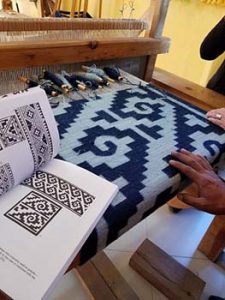 7th generation master weaver Demetrio Bautista Lazo and his wife, Maribel, are the consummate hosts. Demetrio is world-renowned not only for his weavings, but for his old school, yet innovative dying techniques. Wearing his infectious grin, he shares grinding the cobalt, boiling the yarn in the mixture, and hanging it to dry in the sunshine where it turns a luxurious deep blue. The weaving on his loom is a masterpiece in blue and cream
The many workshops throughout the village welcome visitors and are happy to share their processes and offer their weavings for sale.
Mitla – Legends of blood sacrifice
The intricate mosaic fretwork on the walls of the archeological site at Mitla may be the inspiration for the geometrics woven into carpets and embroidered on cloth. Every stone was meticulously carved and put in place without mortar. A testament to the artistry.)
Once the most important Zapotec religious center in Oaxaca, some say it was a cult center dominated by high priests and was the entrance to the underworld. If you're not claustrophobic and not superstitious, you can climb down into one of the two underground tombs.
The villagers here weave fine cotton cloth for household goods like bedspreads, tablecloths, and shawls.
Santa Maria del Tule – A small village with a very large tree
On your way back to Oaxaca, stop in Santa Maria del Tule, not for textile art, but for the tree. And for a pistachio nieve (snow) – traditional Oaxacan ice cream.
The large cypress is between 2,000 and 3,000 years old and has a circumference of over 160 feet at its base, dwarfing the nearby church. Imagine, this tree was a sapling when the ancient civilizations of Monte Alban and Mitla were in their heyday.
For the traveler in search of culture and history, journey beyond the mega-resorts and the margaritas to the hazy mountains and brilliant blue skies of the Tlacolula valley of Oaxaca, where every piece of cloth tells a story.
If You Go: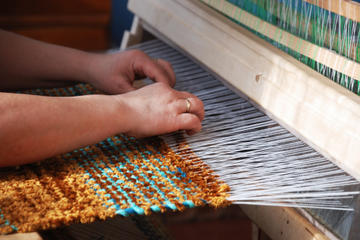 Oaxaca Day Trip: San Bartolo Coyotepec, Santo Tomás Jalieza and Ocotlán de Morelos
About the author:
Deb Dickerson is a freelance travel writer who calls the Pacific Northwest home, although you'll likely find her in a warmer climate when the weather turns gray and cold. Always looking for an adventure and a different outlook, cultural travel is her thing. When going local, she tries to stay off the interstate and enjoys cruising the Scenic Byways and Highways, especially the Oregon Coast. Member of the ITWPA and AWAI, Deb is also a copywriter for the travel and hospitality world. Her work has been published in International Living, Short Weeks Long Weekends, Travel Post Monthly, and various local papers. You can find her here: www.debdickerson.com
Photo credit:
AlejandroLinaresGarcia by Creative Commons Attribution-Share Alike 4.0 International, 3.0 Unported, 2.5 Generic, 2.0 Generic and 1.0 Generic license.