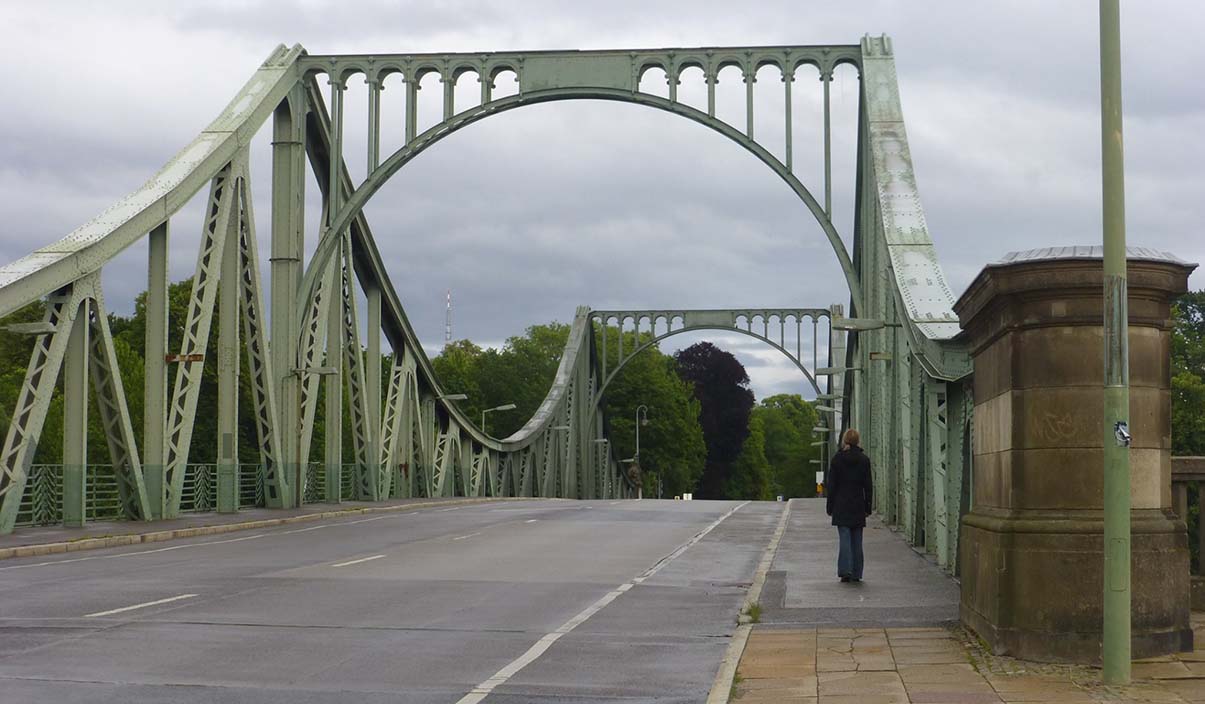 by Angela Lapham
Berlin is such a vibrant city with so much history that I've included it in all my trips to Europe. What's more, it's a springboard for several other fascinating not so far away destinations in the former East Germany…
23 minutes on the train and I'm walking across the Glienicke Bridge, the site of many a Cold War spy exchange. Next I'm touring the palace where the famous Potsdam Conference took place between Truman, Stalin and Churchill, discussing the future of Europe following WWII.
DRESDEN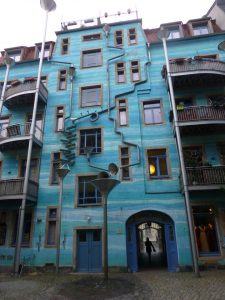 Two hours from Berlin, Dresden is celebrated for its Old Town, beautifully restored after being destroyed in WWII. Its New Town, I discover, is equally intriguing. A hippy area full of street art, live music and conviviality, I start to wonder if I've gone to a music festival! Be sure to check out 'Kunsthofpassage': five apartment block courtyards that have become huge art installations (Located at Görlitzer Str. 21-25).
Likewise, Dresden has some fairly alternative museums. The 'German Hygiene Museum' traces the, at times disturbing though more often amusing, history of twentieth century public healthcare education in Germany. 'The World of the GDR' uses mannequins to depict everyday life in Communist East Germany. And the Museum of Military History confronts such themes as war-induced psychological trauma, animals used in battle, military inspired fashion and toys, and the valuable contributions made by individuals who committed themselves to community instead of military service (compulsory in Germany until 2011).
LEIPZIG
Captivating museums can also be found in Leipzig, another city two hours from Berlin (and famed for its classical composers Bach, Mendelssohn and Wagner). Runde Ecke exposes the former headquarters of the Communist government's secret police (Stasi) and Zeitgeschichtliches Forum explores everyday life in Communist East Germany and the subsequent reunification process. Throughout the city, signs trace the history of the resistance movement against the government, which ultimately led to the fall of the Berlin Wall. I leave Leipzig with a strong sense of what East Germans went through.
CHEMNITZ
An hour's drive/train from Dresden and Leipzig, industrial Chemnitz has not enjoyed anywhere near the same level of redevelopment and as such offers a glimpse into what life was like in Communist East Germany. Of course the 13 meter, 40 ton Karl Marx bust on its main street, Brückenstraße, does little to dispel the image either! Erected following Chemnitz's 1953 name change to 'Karl Marx State,' Marx had no particular connection to the city – a Communist nation commemorating the seventieth anniversary of his death was reason enough!
Any doubts I'd had over whether to make the trip to Chemnitz evaporated as soon as I saw the size of the intricately detailed spectacle before me. What a breathtaking testament to the power of ideology!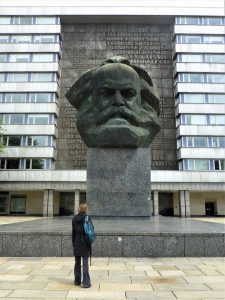 This feeling only intensifies when, walking down Brückenstraße (to the left of Marx), I unexpectedly bump into the most artistically unusual Communist-era monuments I've seen traveling Eastern Europe. Cubic-structured friezes depict pre-Communist scenes of class inequality, Lenin with soldiers and industrial workers, and Marx and Engels alongside an overjoyed proletariat.
Walking away from Marx's head in the opposite direction, I chance upon the 'Park of the Victims of Fascism' (Bundesstraße174) and, in it, another Marx and Engels. Across the park, a large building catches my eye – partly because it's quite grand, and partly because it's decorated in nude male statues. Male statues also frame the doorway. Engaged in scholarly pursuits they signify what is the oldest school in Chemnitz (est.1857).
East German history is also on show at Chemnitz's new, very impressive 'Museum of Industry' documenting 220 years of fashion, cars, electrical appliances, ceramics, and mining.
Some products enjoyed huge international success, such as furniture and home-wares created by the Bauhaus School of Art & Design. Attractive as well as functional, these epitomized the Bauhaus objective to preserve artistic design in an era of mass manufacturing.
Nevertheless, as the museum shows, reunification of Germany in 1989 caused a long list of East German companies to go into liquidation because they couldn't compete with their West German counterparts.
Still, some companies survived, like Germany's oldest chocolate company, Halloren, a thirty minute train ride from Leipzig in…
HALLE SALE
At Halloren I have the opportunity to sample the entire chocolate truffle range and to buy test products before they're released to the public.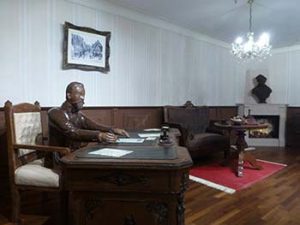 Meanwhile, the museum contains huge chocolate sculptures of Halle Saale buildings (including the Halloren founder's office!), emanating the most intoxicating aroma, and a fascinating exhibition detailing the company's history.
Halloren proves particularly interesting as a case study on the failings of Communism. An excellent video explains the factory never reached its quotas and that it was common practice to exaggerate these – 'Everyone played the game.' Corruption and lack of profit motive left the factory in a state of continual disrepair, which would have seen it end with Communism – had it not been for a buyer appreciating its potential. Likewise, shortages under Communism meant the company was always substituting more expensive ingredients for cheaper vegetable-based ones. I suddenly realize why a proportion of their range is unintentionally vegan!
Halle Saale also has a Beatles museum, the death mask belonging to Martin Luther (on display at 'Markt' Church, where he gave the occasional sermon), and a classical music museum in the childhood home of composer George Frideric Handel.
WEIMAR
An hour by train from Halle Saale or Leipzig, Weimar was the focal point of the enlightenment in Germany. It was also the birthplace of the most influential art movement of the twentieth century, Bauhaus, that this year celebrated its centenary and moved its extensive collection of artworks and artifacts to a new, purpose-built exhibition space.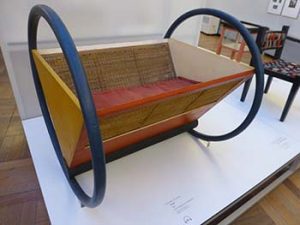 The Bauhaus School of Art & Design became the Bauhaus University. It, together with the Franz Liszt University of Music, gives Weimar a very 'university town feel' – fitting, considering the intellectual climate established there by such writing greats as Johann Wolfgang Goethe and Friedrich Schiller. Both were attracted to Weimar in the 1770s when Duchess Anna Amalia, a big supporter of the arts and education, opened one of Germany's first public libraries, now known as the 'Anna Amalia Bibliothek.' Goethe later became the director of this exquisitely decorated library, and he and other great thinkers are immortalized in busts and portraits to inspire each coming generation.
 Both here and in all of Weimar's cultural institutions an audio device provides self-guided tours in English.
Germany's oldest literature archive, the Goethe and Schiller Archive, is also in Weimar. Architecturally beautiful, it has a spectacular view of the city, built on a hill to better protect it in the event of fire.
There's more to see, however, inside the archive of renowned philosopher, Friedrich Nietzsche.
Nietzsche's sister turned their last home into a shrine to him, erecting a statue and gold letter 'N' in the lounge room and holding lectures and literary teas in his memory. On display is the honorary doctorate he was awarded at twenty five and the first two pages of the original manuscript of his first work, 'The Birth of Tragedy.'
ROCKEN
Nietzsche was buried where he was born, in a miniscule village 23 minutes' drive from Leipzig, in front of the church where his father served as local pastor. Behind the church a sculpture depicts both a famous photo of Nietzsche with his mother and a vision he once had where he attended his own funeral twice. I freely wander the grounds and inside the church, during which time I see not a single tourist or even the church's caretaker.
*Nietzsche's childhood home can also be visited, in the nearby town of Naumberg (For me it was a very quick visit on account of all the displays being in German!). There is a very touching Nietzsche statue in Naumberg too, on Holzmarkt Square.
One could say a trip through Eastern Germany is an education in everything: from philosophy to literature, to music, art and architecture, to the consequences that political and economic upheaval brings. The bonus is that total travel time for the above trip is less than 9 hours by train. Throw in nearby Prague as well!
If You Go:
www.google.com/destination?q=East+Berlin&client=firefox-b-d&output=search&dest_mid=/m/0156q&sa=X&ved=2ahUKEwjbjqXdhoTkAhXtIjQIHYXnCW8Q6tEBKAQwCXoECAsQBw#dest_mid=/m/0156q&tcfs=EhIKCC9tLzAxNTZxEgZCZXJsaW4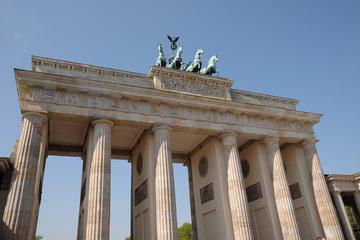 Berlin Multi-Day Tour: Discover Berlin in 4 Days With Private Airport Transfer
About the author:
Angela is a Melbourne-based librarian and history graduate fascinated with Eastern Europe and different cultures and histories in general. Every few years it's time to take off to Europe for another lengthy adventure.
Photos by Angela Lapham